Beyonce jokes about lip syncing as she rehearses for the Super Bowl
It'll take more than a bit of public outrage at her now infamous lip-syncing to hold Beyonce down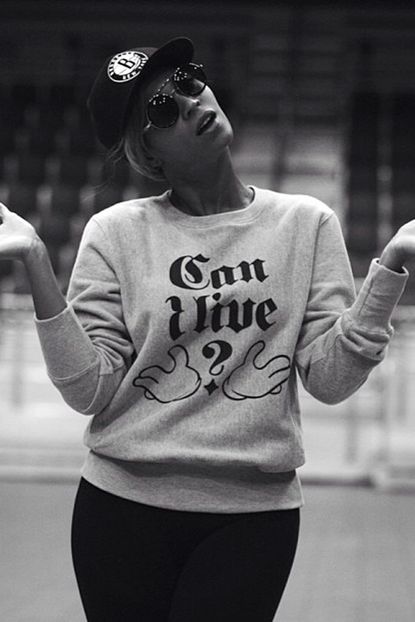 (Image credit: Beyonce/Baddiebey Instagram)
It'll take more than a bit of public outrage at her now infamous lip-syncing to hold Beyonce down
Beyonce doesn't seem to have wasted too much time worrying about the furore that broke out after she appeared to lip sync at Barack Obama's inauguration, as she posts a new series of photos online.
The new snaps, posted on her Tumblr and Instagram accounts, show the singer rehearsing for the upcoming Super Bowl performance, and even poking fun at Lip-Syncgate.
DID BEYONCE LIP SYNC AT OBAMA'S INAUGURATION?
In one of the photos, Bey is seen striking a silly pose while wearing a jumper with the words 'Can I Live?'
Whether it's a reference to her inauguration performance, and the resulting debacle that followed, we'll probably never know. But we like to think it's Beyonce's way of telling us that everything is going to be ok, although, incidentally, Jay-Z has a song called Can I Liv, so she could have been giving a shout out to her hubby.
In the other pics, the superstar and her troupe of dancers are seen hard at work rehearsing for the upcoming Super Bowl half time performance, which will take place next Sunday.
BEHIND THE SCENES ON BEYONCE'S SIZZLING GQ SHOOT
In the photos, Beyonce is seen limbering up while wearing a T-shirt with the name of husband Jay-Z's basketball team, the Brooklyn Nets, on it.
It was thought that as part of the performance Beyonce would be joined on-stage by her Destiny's Child bandmates but Michelle Williams has since come out to deny that.
'She told WRUG Radio: 'That's not confirmed. It is rumoured. I'm gonna be in the musical Fela!. I hate to disappoint the people and tell them that it's not true.'
Are you excited about Beyonce's Super Bowl performance? Do you think she'll sing live? Let us know your thoughts in the comment box below.
FIRST LISTEN: DESTINY'S CHILD DEBUT NEWS SINGLE
Celebrity news, beauty, fashion advice, and fascinating features, delivered straight to your inbox!