Beyonce's stunning behind the scenes video from GQ shoot
WATCH: Beyonce Knowles sizzle backstage on her GQ shoot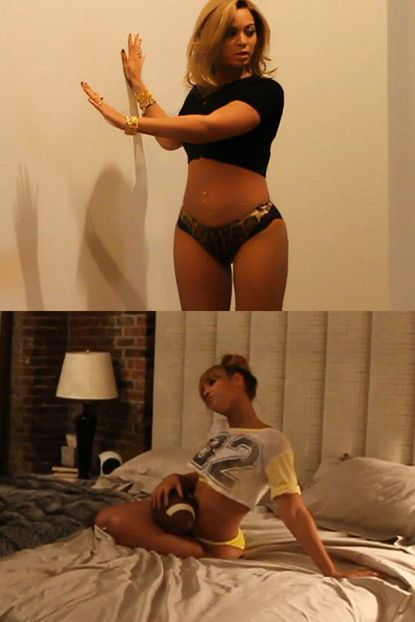 (Image credit: ET/GQ)
WATCH: Beyonce Knowles sizzle backstage on her GQ shoot
We know that we can be a little over the top in our love for Beyonce, but can we all just take a minute to appreciate, yet again, what a woman she is.
Like we needed anymore material for our girl crush, along comes this glorious video of the superstar strutting her stuff for GQ magazine.
During the video Beyonce shows off her sensual side, flirting for famed photographer Terry Richardson's camera, in a varity of barely there ensembles and flaunting her to die for body.
BEYONCE TALKS PREGNANCY AND SHOWS BLUE IVY ULTRASOUND IN TRAILER
As Bey strips down to her pants for the shoot at her own home in New York, she also discussed what it's like to be a global idol, explaining: 'When I was writing the Destiny's Child songs, it was a big thing to be that young and taking control. And the label at the time didn't know that we were going to be that successful, so they gave us all control. And I got used to it. It is my goal in life to be that example.
'I now know that, yes, I am powerful. I'm more powerful than my mind can even digest and understand.'
She muses: 'I worked so hard during my childhood to meet this goal: by the time I was 30 years old, I could do what I want. I've reached that. I feel very fortunate to be in that position.
IS BEYONCE THE NEXT FACE OF H&M
'But I've sacrificed a lot of things, and I've worked harder than probably anyone I know in the music industry. So I just have to remind myself that I deserve it.'
Beyonce also reveals that having her first child, daughter Blue Ivy, with husband Jay-Z last January gave her a new purpose in life.
'I love my job, but it's more than that; I need it. Because before I gave birth, it was the only time in my life, all throughout my life, that I was lost,' she explained.
WATCH: Beyonce sizzle backstage on the GQ photo shoot here...
Celebrity news, beauty, fashion advice, and fascinating features, delivered straight to your inbox!