Ashton Kutcher in talks to become face of 'cougar dating' site
Ashton Kutcher is apparently in talks with the world's largest 'cougar dating' website to become the new face of it, following his impending divorce from Demi Moore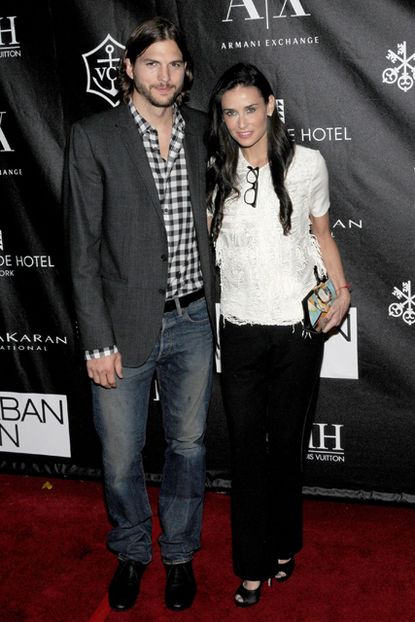 (Image credit: REX)
Ashton Kutcher is apparently in talks with the world's largest 'cougar dating' website to become the new face of it, following his impending divorce from Demi Moore
Ashton Kutcher is apparently in talks with the world's largest cougar dating website to become the new face of it, following his impending divorce from Demi Moore.
British women using the dating site CougarLife have crowned Ashton Kutcher their ultimate toy boy or 'top cub', and now the site are eager for him to become the brand's global ambassador.
ASHTON AND DEMI RELATIONSHIP IN PICS
CougarLife are apparently in talks with Kutcher to promote the world's largest cougar dating website through a series of television advertisements and public appearances.
But somehow we can't see this one going down too well with Demi...
Claudia Opdenkelder, the president of the online dating site, said: 'I don't think that the age difference played a role in Demi and Ashton's break up, they had a beautiful marriage for over five years and, like many relationships, it came to an end.
'Ashton is British women's fantasy younger guy and we're excited at the prospect of him joining our team.'
After six years of marriage Demi, who at 49 is 16 years Ashton's senior, is filling for divorce following claims that the Two and a Half Men actor had been unfaithful.
Throughout their relationship, the pair have been dogged by rumours of Ashton's infidelities but it was one particular 'alcohol fuelled evening' with 23-year-old Sara Leal at the Hard Rock Hotel, during the couple's sixth anniversary weekend, that prompted Demi to kick him out for good.
Sara Leal today insisted that she is not responsible for Aston's and Demi's split, telling TMZ that she was just a 'bump in the road' in their already struggling marriage.
Let us know your views on the matter in the box below.
Celebrity news, beauty, fashion advice, and fascinating features, delivered straight to your inbox!