Arnold Schwarzenegger's secret love child born '5 day's' after his wife gave birth
His wife Maria Shriver and former maid Mildred Baena were pregnant with his children at the same time, according to shocking new reports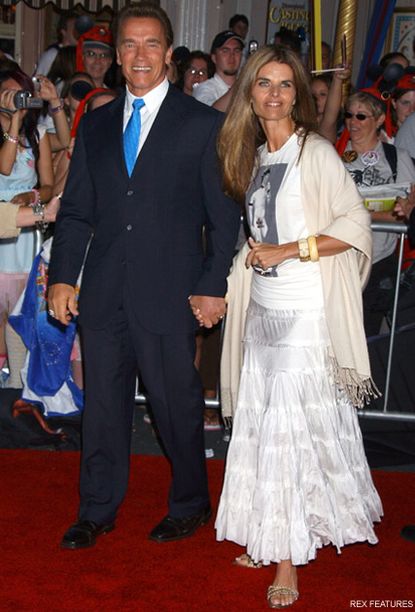 (Image credit: Rex Features)
His wife Maria Shriver and former maid Mildred Baena were pregnant with his children at the same time, according to shocking new reports
Just days after revelations he had fathered a secret love child, it seems the worst could still be yet to come for shamed actor Arnold Schwarzenegger.
US website TMZ has today revealed the ex-politician's wife Maria Shriver and his alleged mistress - housekeeper Mildred Baena - gave birth within 'five days' of each other, meaning the pair were pregnant at exactly the same time.
REVEALED: HOLLYWOOD'S MOST SCANDALOUS CELEBRITY AFFAIRS
According to documents unveiled by TMZ, the actor and Shriver's second son Christopher was born on September 27 in 1997, while his alleged mistress gave birth on October 2.
But it's thought Schwarzenegger was not aware he had fathered the illegitimate tot until the child was two or three years old.
Following the revelations, Ms Shriver has hired leading divorce lawyer Laura Wasser – whose former clients include Mel Gibson's wife Robyn, and Angelina Jolie - to look after her affairs.
But some suggest the Roman Catholic beauty is still in two minds over whether to officially launch proceedings to end her marriage.
Yesterday, the ex-NBC journalist, who had appeared on a recording for Oprah Winfrey's last ever show, released a statement asking for 'respect and privacy' during the difficult months ahead.
'This is a painful and heartbreaking time,' it read. 'As a mother, my concern is for the children. I ask for compassion, respect and privacy as my children and I try to rebuild our lives and heal. I will have no further comment.'
Schwarzenegger's four children Katherine, 21 Christina, 20, Patrick, 18, and 14-year-old Christopher are reportedly in turmoil over the recent turn of events, with Patrick changing his name from Schwarzenegger to Shriver on social networking site Twitter yesterday.
The full extent of the reason behind Arnold Schwarzenegger's marriage split was reveled to the media earlier this week, by the actor himself.
The ex-Terminator star has confirmed he fathered a child with a long-standing female member of household staff over a decade ago, but kept the news a secret from his wife until earlier this year.
'After leaving the governor's office I told my wife about this event, which occurred over a decade ago,' the printed statement read.
'I understand and deserve the feelings of anger and disappointment among my friends and family. There are no excuses and I take full responsibility for the hurt I have caused. I have apologised to Maria, my children and my family. I am truly sorry'. What are your thoughts on the latest scandalous revelation? Let us know in the comments box below.
Celebrity news, beauty, fashion advice, and fascinating features, delivered straight to your inbox!