The story behind Princess Diana's iconic hairstyle is rather unexpected
Before the 'Rachel cut', there was the 'Diana Cut'...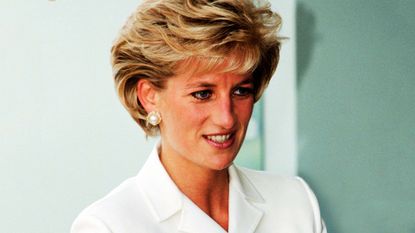 Before the 'Rachel cut', there was the 'Diana Cut'...
Aside from watching the Royal family traverse the world on royal engagements, take part in multiple charitable endeavours and make our hearts melt with BTS photos of Prince George, Princess Charlotte and Prince Louis, the nation, nay the world, appears to have an unwavering obsession with Princess Hair.*
*Princess Hair being the term that we have appointed to the seemingly otherworldly hair that the women of the Royal family possess (lets all just take a moment to picture Kate Middleton's hair... just wow).
But let us put aside Duchess Kate's brunette mane of perfection for a second, and focus on that iconic Princess Diana hair style, the one that spawned legions of lookalike short dusty blonde crops in the 90s.
But how did the iconic crop come to be? Well, it turns out that the origins of Diana's Princess hair was actually a bit of a happy accident.
In his book, Hair by Sam McKnight, the legendary hair maestro has opened up about styling Diana's famous locks.
Speaking to the Daily Mail, Sam recounts the first time he worked with the princess, on a shoot in 1990 with French fashion photographer, Patrick Demarchelier.
For the shoot, McKnight got tricksy with her hair and used magic (well, kirby grips) to temporarily turn Diana's then shoulder-length hair into *that* iconic short crop.
Turns out, Diana was more than pleased with the look, and, according to McKnight asked him to make the change permanent after the shoot had finished.
'What would you do with my hair if I gave you free rein?' she asked him. 'I would cut it all off,' he replied, and that was all it took to convince the princess to do away with her shoulder-length hair.
And her new chop went IRL viral. 'You saw it everywhere' explained McKnight. 'On the High Street, on newsreaders — it was a real counterpoint to big Eighties hair, part of a sportier, more androgynous look, but, because it was Princess Diana, it was still hugely feminine.'
Celebrity news, beauty, fashion advice, and fascinating features, delivered straight to your inbox!
Holly Rains is the digital editor of Marie Claire UK. She has over 10 years journalism experience, working as an editor and writer, specialising in digital media, content strategy and dog breeds. Prior to Marie Claire, she has held senior staff positions at ELLE UK, Grazia and Company magazine.
Holly is a frequent speaker, panelist and interviewer on a range of subjects including media trends, careers and entertainment. From working with Reuters to provide global red carpet coverage for events like the BAFTAs, to discussing fashion and beauty trends on network TV, she was also the host of the Marie Claire series 'Holly's First Dates', where she regularly interviewed a mix of inspiring woman and A-list celebrities (including Jack Black, Dakota Fanning and Renée Zellweger) - a series which garnered half a million views in its first two months. And was approved by The Rock.
Her love of office-based meetings means that the days of discovering the melting point of Cadbury's Flakes are long gone, but when she isn't dreaming of scheduling in meetings, she likes to think about social media, and how best to avoid it whilst still retaining the title of 'digital' editor. She also likes learning about emerging technology, Influencers and how to become a Financially Responsible Adult.
Contact Holly: holly.rains@futurenet.com