I've found seven of the best affordable alternatives to the Dyson Airwrap
Salon-worthy hair for half the price? Yes please!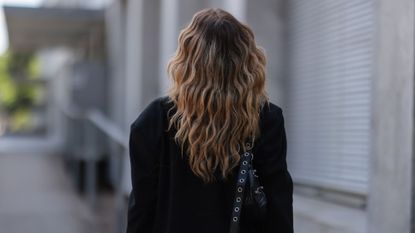 (Image credit: Getty Images)
We've all heard of the Dyson Airwrap. It's the hair tool of all hair tools. It's the best hair dryer, best straightener and best curling wand all wrapped into one. The only problem? It's also pretty expensive.
Since the popular tool came out, lots of brands have released their own versions, and some are much more affordable than you'd think.
Best Dyson Airwrap dupe deals
Whether you're looking for a Dyson Airwrap alternative or are after the original tool at a discount, we've added the best deals to be found below. The products below are all currently on sale for Cyber Monday, but the deals won't last long, so we'd suggest you hop to it.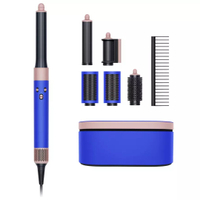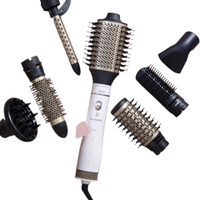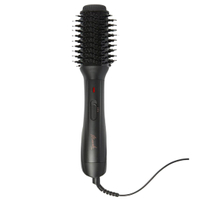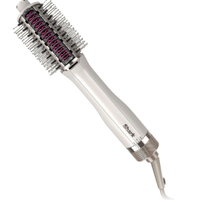 Of course, nothing beats the original hair styler. However, I have tested lots of Dyson Airwrap alternatives, and in my opinion, they do a very good job. Just check out my video below.
To give this piece as much breadth as possible I enlisted the help of the Marie Claire UK team who, as beauty and shopping experts, have tried a fair few hair tools in their time - some of which honestly do give scarily similar results to the iconic Dyson Airwrap.
Our testing criteria:
What's the price? Price is important. We already adore the Dyson Airwrap, but we're looking for affordable alternatives here - all of the tools you'll see in this list are under £100 (a bargain compared to Dyson's £479.99 offering).
How many functions does it have? The Airwrap is famed for its versatility, with various detachable heads that can be used for multiple purposes. Alternative tools with multiple head attachments will be given extra brownie points.
How easy is it to use? Is the tool lightweight? Does it have a rotating head? These were all burning questions as we tested out these tools.
What were the results? Obviously we're not going to recommend hair tools that don't deliver. Whether it was the volumising and smoothing effects or the effortless-yet-professional-looking finish, the results these tools provided reminded us in some way of the Dyson Airwrap.
It was only right that we shared these recommendations with you, so keep on scrolling for all the information you need, and get ready to say hello to your best hair yet (for less).
The best affordable Dyson Airwrap alternatives:
1. Mermade Hair Blowdry Brush
Specifications
Price: £69
Heat settings: Low, medium and high
Number of attachments: One
Cord length: 2m
Wattage: 1200W
It can take a little while to get the hang of this tool, but Tara Simich, founder of Mermade Hair, has lots of tips and tricks. "The tool can be used on wet hair to give it a salon quality blowout, or on dry hair to revive your mane. For volume, section hair and use a heat protectant and holding spray - our Mermade Mist combines both - then on each layer place the oval brush near the root and brush away from the head while gently rotating."
"The more you angle the brush to the ceiling, the more volume you will get. For more curve, wrap the hair around the barrel and hold for a few seconds." Easy, right?
Grace Lindsay, Ecommerce Writer says: "If a simple but effective blow dry brush is what you're after, then this is the one for you. I was so impressed by this hair tool from Mermade Hair, and for the price, you really can't go wrong. The combination of a hair dryer and round brush means you can dry and style your hair at the same time, for that 'just left the salon' look.
The brush comes with three heat settings so you can choose one that best suits you. I have pretty thick, naturally curly hair that can take a while to dry, so I tend to use the hottest setting. The result? Sleek, straight hair that would usually take me hours to achieve. I still use my straighteners to add that finishing touch, but this tool has made my life so much easier, and I don't think I will ever use my normal hairdryer again."
2. Revlon One-Step Volumiser Plus
Specifications
Price: £46.99
Heat settings: Cool, low, medium and high
Number of attachments: One
Cord length: 2.5m
Wattage: 1100w
I'm sure you've all heard of the Revlon blow dry brush, but did you know that the brand now has the Revlon One-Step Volumiser Plus? This brush is a new and improved version of the original bestseller, and I'm a big fan.
Similar to the Mermade Hair tool, this brush comes with an oval head to help add volume. What I love about this head though is the fact that it is detachable, making the brush easy to pack in an overnight bag or suitcase.
It comes with four heat settings, including a cold setting that can be used to lock in the style. The ceramic titanium barrel provides even heat distribution, which helps to reduce damage.
Grace says: "This is definitely one of the most powerful blow dry brushes I have ever tried. All I do when I get out the shower is brush out my hair, remove any excess water with a towel, apply a heat protectant and I'm good to go. I always section my hair for the best results, and pop the brush on the high setting, as the brand recommends using this if you have thick hair."
Valeza Bakolli, Junior Shopping Editor says: "I've owned and loved this blow dry brush for ages, as somebody with lots of fine hair, my hair is both flyaway-prone and has a tendency to fall flat if I straighten it too much. Luckily, this tool smoothens, volumises, and straightens in one go, plus at under £50 it's an absolute bargain. Do note: it's best used when your hair is damp rather than sopping wet."
3. BaByliss Hydro Fusion Hot Air Styler
Specifications
Price: £45.99
Heat settings: Cool, medium and high
Number of attachments: One
Wattage: 700W
This tool comes with a 50mm rotating ceramic barrel, which comes with soft polishing bristles for smoothness. It has two rotation speeds and two heat settings, plus a cool setting so that you can set your style into place.
Shannon Lawlor, Executive Beauty Editor says: "I love the fact that the brush can spin, as it allows you to have full control over the tool and you can get it right up to the root of your hair."
Valeza says: "The rotating head on this tool is a real game changer, if you have a lot of hair it can take some effort to wrap entire sections around the tool manually, so this is great for when you want a quick and effective blow dry. I love that you can change the direction at the push of a button, so you won't have to hold the tool awkwardly to get your perfect curled ends."
4. Amika Hair Round Blow Dryer Brush 2.0
Specifications
Price: £94.90
Heat settings: Low, medium and high
Number of attachments: One
The Amika Hair Round Blow Dryer Brush 2.0 comes with both short and long bristles, and three adjustable heat settings so you can choose whatever works best for you. The short bristles are designed to increase bounce and shine, whilst the long ones are designed to detangle and smooth. Win win.
Shannon says: "The fact that this one has a large barrel might put you off at first, however, it means that you can dry your hair much quicker than normal. It's also surprisingly lightweight, so no achy arms here. If you have long or thick hair, this might be the one for you."
5. Bellissima Air Wonder
Specifications
Price: £69.99
Heat settings: Cool, medium and high
Number of attachments: Eight
Cord length: 3m
Wattage: 1000w
Grace says: "If you're wanting to invest in a slightly more advanced styler, but still don't want to spend a fortune, then I can't recomme