The best hair dryers of 2023 for every hair type–tried & tested by our beauty team
Plus, the experts explain how to choose the best hair dryer for your best hair yet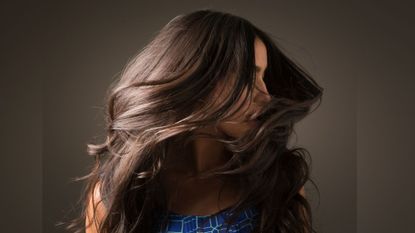 (Image credit: Getty Images)
The best hair dryer is an at-home device that can make or break a hairstyle. (Much like the best hair straighteners and the best curling wands). They're essential. So if yours isn't cutting it then let us help you find the best hair dryers worth putting your trust in.
Yes, the best hair brush, scalp treatments and hair oils play a part in creating your 'do, but the blow dry is what will make or break a hairstyle. So it's worth taking the time to figure out exactly what your hair needs and which of the best hair dryers will work best for your hair type.
Whether you're into a low-maintence glow dry or want to stay up to date with the latest hair trends, a hair dryer that works for your hair type is always worth the investment. We asked the experts what to look for when seraching for the best hair dryer and tried & tested them to give you our honest opinion. Enter: the best hairdryers of 2023.
How to choose the best hair dryer?
The truth is that while most hair dryers can look very similar, they weren't all created equal, and some will be better suited to your hair type and particular needs. You need to look at power, speed, and the attachments in the box.
"I love all of the tech to sit inside. I also like a bit of weight, a long barrel, and a good wide nozzle. For me, the most important part is the way the air meets the hair. A controlled stream of air allows control of the hair," says Adam Reed, celebrated hairdresser and founder of Adam Reed London and Arkive Headcare.
Syd Hayes, Session Stylist to the stars and Babyliss Ambassador looks for a few things when choosing a hair dryer. "Firstly it has to be powerful, there are lots on the market that just don't have enough power to get through every different hair type. Secondly, heat is also important. I don't want to overheat hair, but you need to know it's there. And thirdly the weight of the hairdryer is key. I go to the gym for heavy weights I don't want to be lifting them all day with my dryer." Hayes says.
The Dyson Airwrap alternatives prove hair dryers have come a long way in terms of development and what you can get for your money.
"If you can get a dryer with a self-cleaning function like the BLOW has, it will prolong the life of your dryer," says Michael Douglas, Celebrity hairstylist at mdlondon.
You also want to check which attachments come with the best hair dryer, "It's also important to use the nozzles that come with a dryer. I see lots of people throw them away when they get a new dryer. Those nozzles are key to create shiny smooth blow dries as they concentrate the hair to move in one direction. To stop flyways and create a smooth style, use low speed and low heat and dry the hair from the roots to the ends, downwards from above and not blowing up underneath," Douglas tells Marie Claire UK.
How to choose the best hair dryers for curly hair?
Choosing the best hair dryer for curly hair is no easy feat, you want to look at all the key points as you would in the best hair dryer, but in a tool that works for curls.
"A diffuser attachment is key for curly hair – it essentially diffuses the hair and stops it being blown everywhere so the curls are contained and can form easily," says celebrity hairstylist Michael Douglas. When "drying curly hair specifically, you want high heat and low speed so that you are creating minimum disturbance while concentrating the dryer on sections to allow the curls to form," Douglas explains.
What should you look for before buying a new hair dryer? Whether you're looking for the best ionic hair dryer or you've your eye on one of the best T3 hair dryers, here's what to keep an eye out for:
What to look for to find the best hair dryer for your hair type
Power
If you have particularly challenging hair, then you want to know that your dryer is going to be able to deal with it. Hayes says that the important thing when drying your hair at home is to actually turn down the power, so as not to overdry the hair.
"Power is one of the most important things to look for in a hairdryer – ideally look for a 1600w motor – this is key to get the results you need as you'll be able to style your hair quicker and with more control," explains Douglas.
Speed
It's important that your hair dryer can dry hair quickly, with a high-speed setting, but have the ability to slow down for controlled styling. Reed recommends using the medium settings of both heat and airflow to allow for a really great finish.
Ionic technology
The water in your hair, post hair wash, is positively charged, the ionic technology creates negative ions to counteract the moisture. Fancy words for anti-frizz and smoothing science. You find the same technology is some of the best hair straighteners too.
Cool shot
You might have spotted the cool setting on your dryer and never bothered using it because maybe it didn't make sense to you. But the cool shot is actually like popping the cherry on top of the cake - it seals the hair cuticle, leaving hair looking shiny. "A cold button is absolutely essential for finishing and setting the hair," says Reed.
As well as cooling you down after a long hair-drying session, temperature controls are important. "Make sure your dryer has a range of adjustable heat settings and use the cool shot button which most people forget but it's really useful. When you use heat to style your hair, your hair goes through the glass transition stage as it cools down and using a blast of cool air at this stage, will quicken this process and prolong the style you've created," Douglas tells us.
Cord length
"Long cables are a great feature too," says Douglas. "There's nothing worse than not being able to see in a mirror when you're drying your hair, as plugs aren't always where you need them," he explains. You might not have a plug by your mirror, you might have to plug it in the hallway but do your hair in the bathroom. It matters.
Weight
If you have super long, thick hair you want to make sure you're checking the weight to avoid any arm arche. Even if a hair dryer is super speedy, powerful and smoothing, if it's heavy, you'll never enjoy using it. Douglas agrees, "A lightweight dryer is a bonus as everyone know the feeling of achy arms when you use a heavy hairdryer for any length of time. This is especially the case for thick hair which tends to take longer to dry." I couldn't agree more - small but mighty is the aim.
Best hair dryers of 2023: Tried & Tested by Marie Claire UK's beauty team
The Marie Claire UK beauty team put many hair dryers to the test to find the very best for your hair type and needs. We took into consideration how quickly our hair dried, how many settings there were, whether we were able to smooth hair easily, the weight of the tool, and how easy it was to blow dry our hair.
1. mdLondon Blow Brushless Dryer
mdLondon Blow Hair Dryer
Best hairdryer for all hair types
Specifications
Power : 1600w
Speed Settings: 3
Ionic Technology: Yes
Cool Shot: Yes
Cord Length: 3 metres
When a celebrity hairstylist with over 30 years in the industry releases a hair dryer, you know it's one to watch. It's not just our beauty team that rates the Blow as one of the best hair dryers. It won the best hair dryer in our Marie Claire UK Hair Awards, with hair stylist Adam Reed praising it for its incredible results and lightness.
It's small but mighty, weighing in at 360g it's one of the lightest hair dryers we've ever tried but with a whole lot of power. The Blow dryer meets all the criteria we are looking for in the best hair dryer, plus a little more. With three speed settings, an ionic generator and it's self-cleaning. There's a long and short nozzle in the box for smooth hair, and the option to add a diffuser attachment to the basket for curly hair. It's built with a silent motor so you can still listen to your favourite podcast while you dry (which will take half the time with this power).
2. Bellissima Diffon Supreme
Bellissima Diffon Supreme
Best hair dryer for curly hair
Specifications
Power : 770 W
Speed Settings: 2
Ionic Technology: Yes
Cool Shot: Yes
Cord Length: 3m
The key to curly hair is knowing how to take care of it. It tends to be drier than its wavy counterparts, so direct high temperatures can frazzle. Diffusers (and nourishing styling creams) are curly hair's best friend.
A hairdryer and diffuser in one tool, while it may make it sound heavy and clunky - it's anything but. The shape makes it super easy to hold and shape curls in the way you wish. With a digital heat control and ionic technology to balance out the positive and negative ions, it's the best hair dryer for curls that stay smooth and shiny.
3. BaByliss Travel Hair Dryer
BaByliss Travel Hair Dryer
Best travel hair dryer
Specifications
Power: 1600W
Speed Settings: 2x
Ionic Technology: Yes
Cool shot: Yes
Cord Length: 2.5 M
Let's be honest, when looking for the best travel hair dryer, you don't want it to take up too much space in your luggage, you don't want to spend much on it, but you do want it to give you one heck of a blow-dry. You can rely on BaByliss. This travel version is just as good as its full-sized dryers, because it doesn't compromise on its power, it folds neatly down and comes in under £30. Perfect.
4. T3 AireLuxe Professional Hair Dryer
T3 AireLuxe Professional Hair Dryer
Best hair dryer for smooth hair
Specifications
Power: 1900 W
Speed Settings: 2x
Ionic Technology: Yes
Cool Shot: Yes
Cord Length: 2.7 M
The innovation in this dryer is a bit of a masterpiece, featuring five heat settings, an auto-stop function and the cool shot function for locking in your style. It's quick-drying without fluffing your hair into oblivion, and surprisingly lightweight for such a technologically advanced tool; the digital IonAir technology helps boost shine for much smoother hair overall. If drying your hair easily results in unmanagable hair, this one is for you.
4. ghd Helios Dryer
ghd Helios Dryer
Best hair dryer for fine hair
Specifications
Power: 2200 W
Speed Settings: 2X
Ionic Technology: Yes
Cool Shot: Yes
Cord Length: 3 M
Fine hair doesn't require as much drying time as other hair types, but if you've got a lot of it it can still be a task. You need a dryer that doesn't turn your locks into a flat, unimpressive haystack. When it comes to the best hair dryers, we can't not mention ghd; it's probably the first name that springs to mind in the world of heat tools. Helios is an amalgamation of its much-loved Air and the discontinued Aura. Most hair dryers use carbon brushes that wear out over time, causing the motor to stop working. But brushless motors like the ghd Helios dryer use magnets and electronics to drive the motor, which in turn extends the life of your dryer. This motor type is also lightweight, super quiet and delivers a strong airflow for fast, smooth results.
5. Dyson Supersonic Hair Dryer
Dyson Supersonic Hair Dryer
Best hair dryer for thick hair
Specifications
Power: 1600 W
Speed Settings: 3X
Ionic Technology: Yes
Cool Shot: Yes
Cord Length: 2.8 M
Thick hair takes longer to dry, which is a pain (and not just for your arm), What you need is a smart hair dryer that speeds the process up, whilst still being kind to your strands and your biceps. Enter the Dyson Supersonic. No doubt you've heard of the Supersonic - arguably the most famous hair dryer in the world. Yes, it's expensive, but it is beyond clever. Not only has it been designed so that the motor sits in the handle, rather than the head (thus redistributing the weight), but it's also a super speedy motor, which speeds up your blow-dry time. If you are prepared to part with the money it really is worth it. Professionals, experts and beauty editors are obsessed with it. Oh, and did you know there's also a curler, the Dyson Airwrap, too? We've rated it one of the best curling wands on the market.
6. Parlux Advance Light Ceramic Ionic Hair Dryer
Parlux Advance Light Ceramic Ionic Hair Dryer
Best hair dryer that professionals use
Specifications
Power: 2200 W
Speed Settings: 2X
Ionic Technology: Yes
Cool Shot: Yes
Cord Length: 3 M
Parlux was always the professional stylist's first choice of hair dryer brand because the professional-grade dryers are considerably less weighty than others. Soon, brands like Dyson made its way into salons, but you can still find Parlux in many a stylist's hand because they're that good. You can even buy a 'Melody Silencer' add-on to keep the noise of your dryer to a minimum.
7. Cloud Nine the Airshot Hair Dryer