Holidays 2014: 8 Must-Visit Destinations That Make Us Want To Book A Holiday Today
Fantasising about your next big escape? Well don't book anything until you read this... and prepare for your 2014 holiday to be extra special.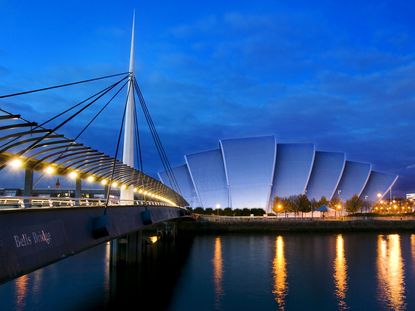 Fantasising about your next big escape? Well don't book anything until you read this... and prepare for your 2014 holiday to be extra special.
1. Glasgow
Now hear us out, because Glasgow could be this summer's perfect mini-break destination. The Commonwealth Games hit Glasgow in July and travel insiders expect a resulting year-long buzz in this friendly city, which boasts a vibrant art, theatre and music scene. And after last year's scorching British heatwave, we're willing to take a punt on a sunny Scottish summer, too.
2. Peru
Peru has always been popular with tourists wanting to explore Machu Picchu and the lost world of the Incas, but the new London trend for Peruvian cuisine has created an added buzz for 2014. Get set to go on your own culinary adventure round this gorgeous Latin American hotspot - and don't forget to taste some guinea pig for the full experience!
3. Japan
Japan has always been on our must-visit wish list but has never been considered a particularly affordable long-haul destination. But now, with the yen in a slightly weaker position, could be a great time to visit this incredible country for the first time. Take in the frenzy of Tokyo and try to catch the breathtaking cherry blossom season if you can.
4. Brazil
2014 is a big year for Brazil, what with the World Cup and all. The buzz has been epic, and Lonely Planet has even named the country its number one must-visit destination of the year. What are you waiting for? Get ready to live it up in Rio immediately.
5. Alcati, Turkey
Turkey has always been a popular summer holiday destination thanks to its gorgeous beaches and almost-guaranteed great weather. Bodrum has long been thought of as Turkey's most stylish resort, but insiders are now rating Alcati as the up-and-coming place to go, with its laid-back atmosphere and crystal clear Aegean waters.
6. Riga, Latvia
Riga officially becomes a 2014 European Capital of Culture later this month, so there's never been a better time to visit, with lots of festivities lined-up all year. Riga's also one of the most affordable destinations in Northern Europe, and boasts a vibrant culture, with Art-Nouveau architecture, a beautiful historic quarter and lots of parks. Perfect for a romantic mini-break, with all those cute steeples and turrets.
7. Macedonia
The Macedonian government has given its capital, Skopje, a huge makeover for 2014, and a host of cool hostels have popped up alongside a thriving restaurant and club scene. Elsewhere, the beautiful Lake Ohrid and the ancient city of Stobi are well worth a visit, and don't miss the country's gorgeous Eastern areas, with Ottoman-era cobblestones aplenty.
8. Bali
Bali is the perfect mix of natural and cultural highlights, with its pristine beaches surrounded by lush jungle, volcanic peaks and ancient temples. And the good news is that a recent poll has named Bali the best value long-haul destination for Brits. Start shopping for that new bikini now...
Get more holiday inspiration and advice from our travel section
Celebrity news, beauty, fashion advice, and fascinating features, delivered straight to your inbox!