Great British Boltholes: The Grosvenor Arms, Shaftesbury, Dorset
Like hearty walks, good food and a stylish hotel? Then slip away for a break in this charming country town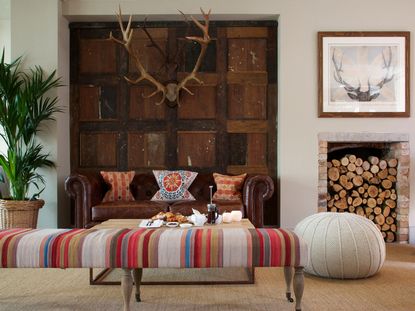 (Image credit: nicksmithphotography.com)
Like hearty walks, good food and a stylish hotel? Then slip away for a break in this charming country town
Like hearty walks, good food and a stylish hotel? Then slip away for a break in this charming country town
Why go: Shaftesbury is a pretty hilltop town with good connections. Zandra Rhodes switched on its Christmas lights last year and it has ambitions to become the UK's first 'Snowdrop Town' – 120,000 bulbs have been planted and next month it stages a festival devoted to this much-loved early spring flower (8-21 February; shaftesburysnowdrops.org). Right in the town centre, The Grosvenor Arms is a privately-owned, 16-room hotel that pairs a smart look with an easy style.
Best for: A stress-free and affordable romantic break. Check the hotel website for seasonal offers, including for Valentine's Day and Snowdrops Shaftesbury.
Stay in style in Shaftesbury: the lounge at The Grosvenor Arms
The look: The Grosvenor Arms has been in business since 1820 and is a jumble of buildings framing a central courtyard. The notable rake to the floor of the main dining room, and the delightful Assembly Rooms on the first floor (perfect for a party or wedding function), are reminders of this historic pedigree. In all other respects, the mood is relaxed contemporary following a revamp completed in autumn 2013. Expect plenty of restful greige and taupe, while the public areas favour bare wood, logs and fires, maps and antlers. All the bedrooms have a similar subdued and comfy décor with a coffee machine and Neal's Yard Remedies toiletries (made in nearby Gillingham). If you've something to celebrate, pass on the over-large, top-of-the-bill Cranborne Suite and book a junior suite with a roll-top bath in the bedroom.
Country fare: the restaurant at The Grosvenor Arms
I'm hungry: The bar and restaurant area offers mixed spaces to suit all moods, including a Deli with shelves stocking gourmet treats. Locals use The Grosvenor Arms a lot and it's a smart idea to take advantage of the 2-for-1 house cocktails to be enjoyed during 'Grosvenor Hour' (5-8pm Thursday-Saturday). A glass of wine costs from £4.75, a cocktail £7.50. Head chef Neil Duffett's menus include thin-crust pizzas from a wood oven and dishes you'd probably never make at home, such as jerusalem artichoke soup with truffle oil (£7.50). The excellent mains are often locally-sourced – try the Dorset lamb with borlotti beans (£18.50). A full breakfast, included in the room rate, is equally up to speed. Further afield, you'll be pushed to find anywhere better to dine in Shaftesbury, but the town does have an above-average range of cafés and bakeries including Indulge (indulgebakery.co.uk) where you should pick up a cake to take home. For a pub with real fires head for the nearby The Ship Inn (shipinnfreehouse.co.uk), although it can be a turn-off if all the TVs are on, while The Mitre (youngs.co.uk) is another cosy option.
Heels not advisable: the super-steep Gold Hill in Shaftesbury
While you're there: Pick up the hotel's free map with suggested walks around the town and into the nearby countryside. Everyone goes to see the steep, cobbled, much-filmed Gold Hill – note that some historic buildings are only open April to October, including Shaftesbury Abbey Museum & Gardens (shaftesburyabbey.org.uk). This was built by King Alfred in around 888 and was the first religious building for women only – it survived until Henry VIII's famous dissolution of the monasteries in 1539.
If you've got a car, you can stretch your legs at Win Green (nationaltrust.org.uk/win-green), and there's good horseriding near Warminster (whitehorsetrekking.co.uk). The ruins of Old Wardour Castle (english-heritage.org.uk) are worth seeking out – the convoluted drive there passes through some very scenic countryside – as is the Pythouse Kitchen Garden & Cafe (Wed-Sun only, pythousekitchengarden.co.uk), near Tisbury, where you can get a warming drink and snacks such as spiced parsnip soup and mushrooms on toast. Good pubs to aim for include Guy Ritchie's local, the King John in Tollard Royal (kingjohninn.co.uk), and The Beckford Arms (beckfordarms.com) in Fonthill Gifford.
Which way did they say? Old school road signs in deepest Wiltshire © imagepalace.co.uk
Dress code: Casual, but no one's scruffy. Book now: The Grosvenor Arms, The Commons, Shaftesbury, Dorset SP7 8JA (01747 850850; thegrosvenorarms.co.uk). Double rooms cost from £130 for two with breakfast, junior suites from £220. Wifi is complimentary, as is a permit for parking nearby. The hotel is a 10 minute cab ride (£12) from Gillingham rail station.
Info: Dorset, Hampshire and the Isle of Wight (£12.99; Rough Guides) is a comprehensive guide. Shaftesbury Tourist Information Centre (01747 853514; shaftesburytourism.co.uk) is just a few steps from the hotel, and also see visitdorset.co.uk and visitwiltshire.co.uk.
Celebrity news, beauty, fashion advice, and fascinating features, delivered straight to your inbox!