Zilli Brasserie
Oh, I do like to be beside the seaside...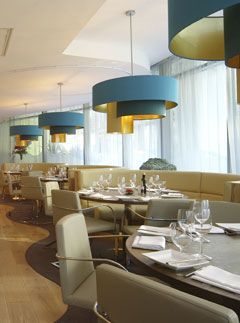 Oh, I do like to be beside the seaside...
Where? Zilli Brasserie, myhotel, 17 Jubilee Street, Brighton BN1 1GE (01273 900300) Another new restaurant in Brighton? Brighton certainly isn't short on restaurants – in fact, you're spoilt for choice with pretty much every taste catered for. However, its latest offering is a real breath of fresh sea air. The Zilli Brasserie - owned by Italian celebrity chef Aldo Zilli (famed for his seafood) - recently opened in Jubilee Square in the North Lanes of the city. The restaurant boasts an attractive al fresco terrace and a large spacious interior, with a bright, clean and modern decor (something of a departure from some of Brighton's, ahem, more traditional seafood restaurants).
Round 1: My boyfriend and I can get quite competitive when dining out and, with a generous offering of dishes, it took me a while to decide what to kick off the battle with. I finally chose the tuna carpaccio with rocket and parmesan shavings, while he went in for the kill with pan-fried scallops with pea puree and crispy pancetta. Both were fantastic - light and tasty - but round one went to the man.
Round 2: The 'competition' got interesting with the second course; I went for the monkfish wrapped in pancetta with wild mushrooms and grilled polenta, he for the black cod marinated in mirrin, teriyaki and sesame oil wrapped in banana leaves with stir-fried vegetables. Both were cooked to perfection, and served with side orders of green beans and sautéed potatoes - but I won hands down with the monkfish, which was absolutely superb, and perfectly complimented with a delicious bottle of rich Pouilly Fuisse, expertly selected by the restaurant manager, Gigi.
Round 3: When it came to dessert, I cheated as I'd taken a sneak peek at the menu online beforehand and opted for the glazed lemon tart with mascarpone cream, while my boyfriend showed his patience and ordered the dark chocolate fondant (for which you have to allow 15 mins cooking time) and declared it, 'The best chocolate dessert ever.' A high accolade indeed, and the clear winner.
And to toast the champion? An impressive variety of wines from all around the world, delicious Italian Proseccos and French champagnes starting from as little as £16 (not the champagne!) or as much as £150 a bottle. Large jugs of ice cold water served with slices of grapefruit, lime and strawberry were very welcome – I didn't know water could taste so good!
Oh, I do like to be beside the seaside... Well I do live beside the sea and have made this my new favourite place. Fortunately there is a Zilli Café next door where you can get light snacks, Italian ice cream and coffee when feeling less flush.
Celebrity news, beauty, fashion advice, and fascinating features, delivered straight to your inbox!