Lorraine Pascale reveals her favourite local shops and seasonal recipes
Yum.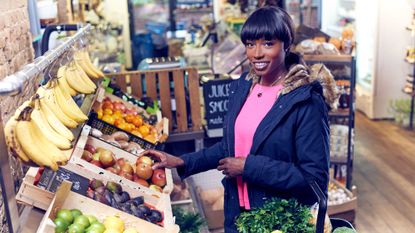 (Image credit: © Mikael Buck / American Express)
Yum.
We caught up with British TV chef, cookbook author and former model Lorraine Pascale to talk about everything from her favourite local hidden gem shops to her easiest of recipes.
Where are your favourite local shops around the UK? I'm a London girl and I love using my local shops. One of my favourites is the Brompton Food Market in South Kensington. It's an independent deli, restaurant and general store – they sell everything from amazing cuts of steak to fresh fruit and veg to takeaway salads. Such a good find.
When I do venture out of London, I always track down independent shops as I find they give you such a local flavour of different areas, which is why I'm working with American Express to encourage everyone to shop small ahead of Small Business Saturday (on 3rd December). There's also a gorgeous artisan bakery in the Cotswolds called Bakery on the Water. The town is so pretty it looks like a chocolate-box village and they make the most delicious home-made bread.
Not far away in Oxford, there's a really lovely boutique called Vanilla Life – it's great for picking up presents if I'm in the area.
I went to Edinburgh a while ago and came across this amazing fishmonger called Something Fishy – it's a very traditional family business and I think it's a bit of an institution with a very loyal local following. My foodie brain was running wild with recipe ideas and I was so tempted to buy everything in there!
On the other side of the country, Barfield Butchers in Brighton is another local institution – it's such good quality meat, which I always try to use as much as possible in my dishes.
What seasonal foods should we be eating during the year? In spring, for me, it's all about the jersey royals and asparagus. If you eat according to the seasons, the sweetness of spring vegetables is such a treat! During summer, there's a real glut of fresh berries and leaves, so I always stock up on fresh fruit and delicious salads. In autumn, comforting dishes with sweet chestnuts and rich venison always hit the spot when the nights start drawing in. And when it comes to winter, root vegetables like swede, carrots and celeriac are in season and so warming in hearty stews. Shellfish like mussels are also at their best during the coldest months.
What's your favourite 15 min recipe? It's got to be my Lemon, Thyme and Pepper Crusted Chicken. It's healthy, easy to make and really satisfying as a week-night dinner.
Lemon, Thyme and Pepper crusted chicken (from Eating Well Made Easy)
INGREDIENTS
• 200g wholegrain rice
• Finely grated zest and juice of 1 lemon
• 2 tbsp freshly ground black pepper
• 2 tsp fine sea salt
• Leaves from 4 sprigs of fresh thyme
• 2 skinless, boneless chicken breasts
• 2 tsp olive oil or butter
To serve
• 1 tbsp roughly chopped fresh
• flat-leaf parsley (optional)
METHOD
Put the rice on to cook following the packet instructions, adding the lemon zest along with the water; reserving the juice.
Toss the pepper, salt and thyme leaves together and set aside.
Place the chicken breasts, spaced apart, on a large sheet of parchment paper and top with another sheet of paper.
Bash them out using a rolling pin or meat mallet until about 1.5cm thick. Press the chicken into the pepper mix to evenly coat both sides.
Heat the oil in a large frying pan over a medium-high heat.
Cook the chicken for about 3 minutes on each side until golden, crusty and cooked through, but still moist. Remove from the heat and slice each breast into 1cm thick strips.
Once the rice is cooked, drain if necessary and then divide it between the serving plates. Arrange the chicken strips on top, drizzle over the lemon juice, sprinkle with parsley and serve. Some greens or a salad go nicely.
What's a cheap recipe that looks impressive? Baked Chicken With Lime, Honey And Soy is great. It's cheap as most of the key ingredients are the kind of thing you'd have in the store-cupboard, and the sweet sticky glaze on the chicken is wonderfully moreish.
Baked Chicken With Lime, Honey And Soy (from A Lighter Way To Bake)
INGREDIENTS
• 8 chicken pieces (either drumsticks or thighs, or a mixture of the two), skin removed
• 8 garlic cloves, peeled and gently crushed
• 1 tsp chilli powder
• Leaves from 3–-4 sprigs of thyme
• Juice of 1 lime
• Salt and freshly ground black pepper
• 3 tbsp honey
• 1 tsp English mustard powder
• ½ tsp soy sauce
• ½ tsp Worcestershire sauce
• Zest of 1 lime
• 300 ml chicken stock
• 2 tsp cornflour
METHOD
Preheat the oven to 200°C/gas mark 7. Toss the chicken pieces on a large roasting tray with the garlic, chilli powder, thyme, lime juice and salt and pepper. Lay them out in a single layer and pop them into the oven to bake for 25 minutes.
Meanwhile, mix the honey, mustard powder, soy sauce, Worcestershire sauce and lime zest in a small bowl to give a sticky glaze.
Once the chicken has been cooking for 10 minutes, remove it from the oven and brush over half of the glaze. Then brush over the remaining glaze after another 10 minutes of cooking. Pop it back into the oven for the remaining five minutes or until the chicken is piping hot in the centre and cooked through. Remove from the oven and transfer the pieces to a serving plate and cover with foil to keep warm.
Put the roasting tray on a high heat on the hob. Pour in all but about three tablespoons of the chicken stock, stirring all the time and scraping up any bits from the bottom of the tray. Blend the cornflour with the remaining stock to give a smooth liquid and pour this into the tray, stirring constantly.
Let this bubble away for two to three minutes or so, stirring occasionally, until reduced and thickened. The sauce may have a few lumps in, which you can just sieve out before serving if you like. Season to taste and remove from the heat. Serve two pieces of chicken per person with a little sauce poured over and a scattering of mint leaves on top.
What are your general rules when buying food? Always buy the best-quality food you can afford. Organic is so much better for you but it can be expensive, so aim to put at least one organic item in your basket a fortnight.
Where are your favourite towns/cities in the UK and why? London because I was born there. In my opinion, the food, culture and the people make it the best place on earth. Brighton is a great foodie spot and has such a fun vibe. Food, seaside and shopping – the perfect getaway!
If you could have a weekend away anywhere in the UK, where would you go and why? I would go to Wiltshire to see one of my best friends Heather, I love her so much and don't get to see enough of her. There are some awesome little shops and restaurants down there too.
Lorraine Pascale is an American Express Shop Small Ambassador encouraging everyone to shop small. amexshopsmall.co.uk
Celebrity news, beauty, fashion advice, and fascinating features, delivered straight to your inbox!