The 10 Designers In The Frame To Replace Marc Jacobs At Louis Vuitton
With the news that Marc Jacobs is leaving Louis Vuitton after 16 years at the helm, we discuss the 10 most likely to step into his shoes.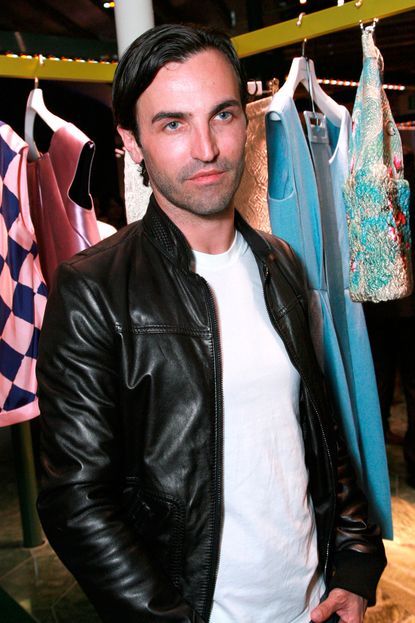 (Image credit: Rex Features)
With the news that Marc Jacobs is leaving Louis Vuitton after 16 years at the helm, we discuss the 10 most likely to step into his shoes.
Nicolas Ghesquière Widely acknowledged as the frontrunner, Mr Ghesquière has been in need of a new gig since he left Balenciaga last year. He has the experience and white-hot talent to lead a big Parisian house – but will he want the headache?
Phoebe Philo The woman with fashion's midas touch – her work at Celine has created a design-shift which has echoed through the industry. Vuitton is a bigger ship than Celine (both owned by LVMH) - so in theory this would be a promotion for her.
Humberto Leon and Carol Lim Everyone's favourite hipster duo have swiftly turned the ailing house of Kenzo into hyper-crazed hot property. If LVMH want to inject a shot of clear hard cool, and a slightly younger more commercial direction, these two would be an interesting choice.
Nicholas Kirkwood LVMH has just snapped up a majority stake in Kirkwood's eponymous label. A long shot maybe – but Vuitton is an accessories house first and foremost – and Kirkwood is the shoe-maestro to watch right now.
Christopher Kane Given that he's now under the ownership of rival luxury group Kering, it does seem pretty unlikely, but good grief it would be magnificent to see what the Scot would do here. If only we were in charge…
John Galliano Clearly a controversial choice – but perhaps his old bosses (LVMH are owned by the same holding company as Dior) feel he has been out in the fashion wilderness for long enough. He would certainly be up to continuing the showmanship and verve established by Marc Jacobs.
Tom Ford His own label is flourishing (he just opened a store in London) but would the lure of getting back behind a huge Parisian house be too good to turn down? He certainly knows the high-luxe clientele of Louis Vuitton inside and out. His slick high drama approach might be just what the style doctor ordered.
Giles We think his artful, couture level approach mixed with a keen sense of wit would be rather an astute move for LV.
Lazaro Hernandez and Jack McCollough If they want to snap up a bit of 'so hot right now' they will surely look to the duo behind NYC-based Proenza Schouler. One of the most exciting labels out there in terms of pushing the fashion envelope, they also have a strong back catalogue of accessory super hits – the combination of which is crucial for Vuitton.
Stefano Pilati His rather unceremonious exit from YSL left us wanting more Pilati. He may have scooted into Italian luxury label Agnona, but we think he's got some unfinished business in Paris. And he has the accessory chops – the Tribute shoe and Cabas Chyc bag created under his tenure were serious sell outs.
5 reasons we shouldn't take our eyes off JW Anderson for even a second
Eco fashion: 10 designers that create genuinely amazing clothes
Celebrity news, beauty, fashion advice, and fascinating features, delivered straight to your inbox!