Spring Shoes To Shop Now
Shoes, shoes, shoes! Spring footwear has got us all excited. Shop the hottest new season styles, available to buy right now.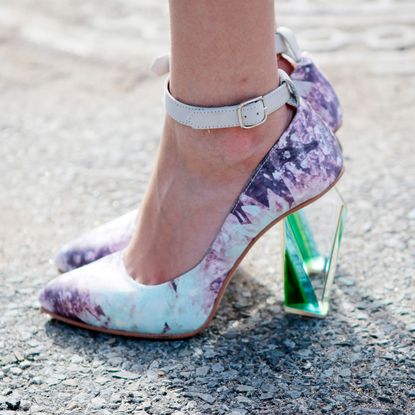 (Image credit: Rex)
Shoes, shoes, shoes! Spring footwear has got us all excited. Shop the hottest new season styles, available to buy right now.
Spring shoes have become our new fashion focus.
We're looking ahead to next season's styles and dreaming of longer, warmer days where our toes are free and our ankles feel the air again.
From office shoes to high heels, trainers to loafers, SS14's footwear has got a whole lot edgier - think angular lines, buckles, zips, colour-popping prints and jellies featuring a mix of ankle straps, low-rise fits and chunky soles.
Florals have been replaced with animal prints and pastel shades with neon brights meaning you should clear some space for a kaleidoscope of colour in your shoe closet.
Shop The Coolest Spring Shoes For SS14
Add into the mix shiny metallics, cool suedes and pearly finishes, you really are spoilt for choice this season...
Topshop Orange Patent Sandals, £55
Topshop's shiny patent orange sandals look like they've just walked straight off the catwalk. Ensure you bag these PVC beauties this spring to stay bang on trend.
Whistles Pink Slingbacks, £115
What's a shoe wardrobe without a gorgeous pair of slingbacks? Whistles' candy pink front-pointed flats are just about the girliest around, and we totally adore them.
CLICK HERE TO BUY NOW
LK Bennett Metallic Leather Sandals, £295
Metallics are a big hit this season. And LK Bennett never miss a shoe trick. They've taken chunky straps that are totally in vogue, dipped them in a chic silver hue and crafted them into one pair of holiday must-have shoes.



LK Bennett Leather Sandals, £275
Fierce green is making a colour comeback. And what better way to invest in the bright zesty hue than with LK Bennett's sleek new shape. Sex and the City worthy shoes are just a click away...
Zara Metal Ankle Strap Sandals, £29.99
Ankle strap heels get a rocky edge with a thick metal band. We love Zara's amped up black shoes with metallic detailing that master the new season look.
Whistles Hi-Top Leopard Print Trainers, £165
Trainers are everywhere, and we mean everywhere, this season. We're still swooning over Chanel's super-cool tweed sneakers from fashion month. But whilst those have gone firmly on our wishlist, here's a pair you can snap up now (for a fraction of the price, you'll be pleased to know).
Nine West Green Block Heels, £95
Get garden party ready with Nine West's gorgeous buckled sandals. Your feet are guaranteed to feel totally fabulous in these wooden block-heel, forest green buys. See you in the queue, ladies.
CLICK HERE TO BUY NOW
Topshop Suede Tassel Loafers, £42
Love loafers? You'll be pleased to know these cool vintage flats aren't just for rainy days. Topshop have updated the retro style with a suede royal blue finish to bring them straight into SS14.
CLICK HERE TO BUY NOW
Kurt Geiger Snakeskin Court Shoes, £240
Kurt Geiger's sassy snakeskin heels will ramp up any outfit's sex appeal and make you walk a lot taller. If that's not worth an investment, we don't know what is.
J Crew Plaid Satin Slippers, £160
Rainbow plaid is just about our favourite pattern to hit the high street this season. We challenge you to find a chirpier pair of flats this spring than these satin slippers from J Crew. Gorgeous.
CLICK HERE TO BUY NOW
French Connection Metallic Heels, £99
Make way in your shoe closet for a shining pair of metallic shoes. They'll instantly update an outfit giving you a hit of effortless glamour. Plus French Connection's silver stilettos can double up for both day and night. The perfect pair? We think so.
CLICK HERE TO BUY NOW
Sophia Webster Vinyl And Leather Sandals, £150
Sophia Webster encourages us to wear colour for the new season. Clash orange with pink and pastel blue for a shoe that screams 'I'm ready for the the sun.'


Reiss Double Ankle Strap Court Shoes, £159
Not a fan of sky-high stilettos? Bag Reiss' sleek black and emerald kitten heels for a comfier option this season.
CLICK HERE TO BUY NOW
Nine West Matchmade Block Heels, £105
Stand out in a pair of eye-catching shoes by spending a fraction over £100 on these utterly unique block heels by Nine West. If you're not already in love with the cool circle straps, take a closer look at the pink and orange colour clash.
CLICK HERE TO BUY NOW
MSGM Floral Canvas Shoes, £250
Peter Pilotto re-ignited our love affair with florals this season, but not the pretty ditsy kind, the edgy graphic type to make a fierce fashion statement. Grab your own piece of the cool new flowery trend with MSGM's lemon-led heels.
J Crew Cobalt Blue Shoes, £265
Wear weekend stilettos with a pinch of sass this season. We love J Crew's pretty gold dipped heel clashed with our SS14 colour crush: cobalt.
Next Slipper Point Shoes, £24
Amazing flat shoes do exist on the high street. Take these snakeskin slippers from Next. The go-with-everything print and pretty curved tongue come in at a cool £24. What's not to love?
CLICK HERE TO BUY NOW
Oasis Metal Toecap Flats, £35
The metal toecap is hot for SS14. We've seen them on the stylistas hitting fashion month and now they've cropped up on the high street. Don't let them slip under the radar, they're one seriously hot fashion buy.
CLICK HERE TO BUY NOW
Marni Calf Hair Sandals, £210
Marni's citrus yellow calf hair sandals have got us desperate for the sunshine. Aren't these just the ultimate feel good flats?
Reiss Lime Sorbet Court Shoes, £139
By mixing lime sorbet with dove grey Reiss has come up with a beautifully subtle colour marriage for SS14. Plus the deep-dipped side makes the high street shoes feel more runway than sale rail. Stunning.
CLICK HERE TO BUY NOW
Next Midnight Blue Loafers, £28
Taking the loafer and turning it into a super-cool contemporary pair of flats, Next have triumphed again in the footwear department. We love the mix of matte and shine on these gorgeous shoes.
CLICK HERE TO BUY NOW
Charlotte Olympia Kitty Canvas Slippers, £495
Inject some humour into your wardrobe with these uber-cute kitty cat canvas slippers from Charlotte Olympia. Because who says flats have to be plain and smart?
CLICK HERE TO BUY NOW
French Connection Pink Leather Heels, £95
French Connection's hot salmon stilettos make for one pretty, feminine pair. Crafting the suede finish fabric into sweet half moons, the high street label amps up its luxe finish another notch.
CLICK HERE TO BUY NOW
Next Leopard Print Slingbacks, £32
Animal print is making waves in spring. Forget tiny kitsch florals and solid stripes, it's all about bold leopards, snakes and giraffes this season. And for £32, you can't go wrong with these standout flats from Next.
CLICK HERE TO BUY NOW
Jimmy Choo Holographic Heels, £475
If high-fashion shoes are your thing, Jimmy Choo's iridescent bronze stilettos will have you stealing the spotlight. The sky-high heels reflect the light, mirroring one of fashion month's hottest trends.
CLICK HERE TO BUY NOW
Tabitha Simmons Metallic Point-Toe Flats, £445
If you want flats with attitude, Tabitha Simmons is the designer you need to seek out. These already blogger-coveted flats were seen on Susie Bubble during Fashion Month meaning they've had the seal of fashion approval, and now they're firmly on our want list too.
CLICK HERE TO BUY NOW
Topshop Nickel Embellished Sandals, £58
Topshop shoes are always a hit. This cool new pair combines a fresh white colour with crystallised embellishments to create some of the prettiest shoes on the high street right now.
Ted Baker Rose Print Courts, £120
Love Ted Baker's classic feminine print? Don't miss these gorgeous mixed floral courts, perfect for a summer wedding or stylish soiree.
CLICK HERE TO BUY NOW
Lanvin Two-Tone Metallic Sandals, £465
Skip into SS14 with a stunning pair of two-tone sandals from Lanvin. They may be at the higher end of your budget but the chic nude tones and block heel mean they'll be in vogue for seasons to come.
CLICK HERE TO BUY NOW
& Other Stories Monochrome Striped Slippers, £55