Disney dropped a totally 90s throwback line and we need all of it immediately
Who knew VHS tapes could be so chic?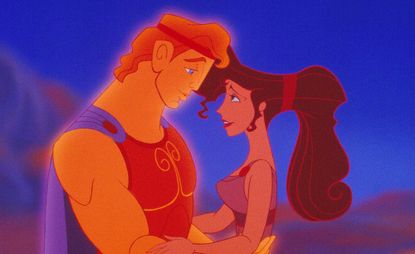 Who knew VHS tapes could be so chic?
Remember back in the 90s when you would slam your Disney VHS tapes into the machine and watch Hercules or The Lion King over and over again? Kids nowadays won't ever know the frustration of having a tape get stuck in the machine or manually rewinding a tape with a pen. Well, the house of Mouse is out to help you relive the magic of your 90s childhood with a brand new Oh Oh My Disney 90s Flashback collection. Safe to say, we're obsessed.
It's jam packed with scenes from our favourite 90s films, ranging from popular flicks like Beauty and the Beast and Aladdin through to more niche choices like Hercules and A Goofy Movie!. (I still stand by the fact that Eye to Eye from A Goofy Movie! is the best Disney song of all time. Get to know it if you haven't already.) From cool magic carpet denim jackets through to bits and pieces we're 150% sure we had in our house growing up, we want all of it and luckily it's dropped online already.
According to Oh My Disney, the line was 'inspired by the decade' and aims to celebrate some of their 'favourite animated Disney classics from the '90s'. They've definitely delivered on that count. I'll take one A Goofy Movie! VHS clutch bag and a Beauty and the Beast cup, thanks.
Here's our favourite bits below...
Priced at £17, available at shopDisney
Currently available in Beauty and the Beast, Aladdin and The Lion King
Priced at £50, available at shopDisney
Buy now
Priced at £18, available at shopDisney
Priced at £12, available at shopDisney
Priced at £4, available at shopDisney
TBH we're just thrilled it's Friday because we're scheduling a 90s Disney marathon ASAP.
You bring the wine, we'll bring the Oh My Disney goods - let's do this.
Celebrity news, beauty, fashion advice, and fascinating features, delivered straight to your inbox!
Megan is a freelance journalist who covers entertainment and all things lifestyle, with a particular passion for fashion, beauty, travel and Keanu Reeves stories. She has previously worked on staff for titles including Marie Claire UK, CNN Style and The Evening Standard and has written for titles such as Bustle UK, Wallpaper*, Forbes and Hong Kong Tatler. She splits her time between London and her hometown Hong Kong, where she currently lives with the love of her life - an elderly dog named Poppy - and her husband.