7 Reasons To Get Excited About New York Fashion Week
New York Fashion Week has arrived, kicking off the biannual global style circus that is fashion month. Here's our pick of the SS15 events to look out for this week.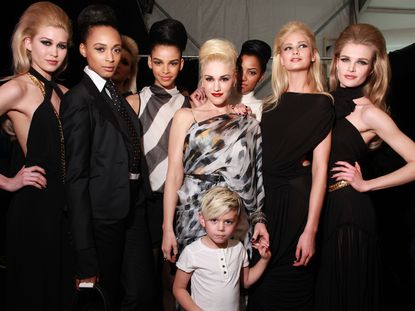 (Image credit: REX)
New York Fashion Week has arrived, kicking off the biannual global style circus that is fashion month. Here's our pick of the SS15 events to look out for this week.
Gwen Stefani's L.A.M.B. Is Returning To The Schedule...
Oh Gwen, we've missed you so! Stefani hasn't shown her L.A.M.B label on the runway since 2011 because of family commitments, but has promised us she's gearing up for an epic SS15 comeback presentation this Friday. Want a taster of what's to come? Look no further than the lady herself, who previewed an acid bright L.A.M.B. suit at the VMAs last week. We love it when a celebrity actually practices what they preach.
Miley Cyrus Is Making Her NYFW Debut… Miley Cyrus and Jeremy Scott – a potentially lethal combination of cartoons, colour and more tongue-in-cheek naughtiness than you can shake a foam finger at. The Moschino creative director has hinted that Miley may make a runway appearance for his eponymous label, saying, '[The show will feature] a group of cool kids, rather than models. Miley and I have something very exciting we're brewing up for the future. I'm going to let her announce it.'
And So Is Jonah Hill…
Yes, you read right. Opening Ceremony have tapped the talents of Jonah and Hollywood mega-director Spike Jonze to write a one-act SS15 play. Spike (who takes Kung Fu classes with OC designer Humberto Leon, obviously) will direct a mixed cast of models and actors, all wardrobe-d in the label's hot, new season gear. Fashion and theatre colliding? We've really got no idea how this one's gonna turn out.
Zoe Jordan's Off To The Big Apple
Another British name has been pinched from the LFW calendar. Zoe will be showing at Milk Studios in Midtown instead of her usual Somerset House haunt this season, as she tries to break her brand in the US. Don't worry though, we've stolen someone back - Marchesa, ready for their 10th anniversary celebrations.
American Models Will Be On Hyperlapse...
US super-girl Karlie Kloss was one of the first to road-test Instagram's new fast video app add-on, which has surely been designed especially for NYFW. Because we can't think of anything more genius than a tool that lets us speed up and slow down our favourite model walks, can you?
Gareth Pugh Might Set Us All On Fire…
Another new-to-NYFW hype merchant, Gareth Pugh (who usually shows in Paris) has promised to stage something 'immersive' in The Big Apple for SS15. 'Fashion is very stuck in its ways, and I wanted to present something that would make people think, and maybe move the needle a bit,' the Brit designer said of his theatrical concept. 'I know it's a big risk, and I am worried, but I think it's good to light a fire under your bum every once in a while.' Extinguishers at the ready, then.
And We Should All See Some Actual, Seriously Good Design Going On...
All jokes aside, New York is the home of fashion Goliaths like Ralph Lauren and Calvin Klein, Marc Jacobs and Donna Karan (that's before we even mention the adopted VB and her front-row-ready family). So if this gang can't whet your appetite for the new season... we're really not sure who will?
Celebrity news, beauty, fashion advice, and fascinating features, delivered straight to your inbox!