Where Have All The Trousers Gone? We Analyse Beyoncé's MTV VMA Style
Is the power leg pop's new body obsession?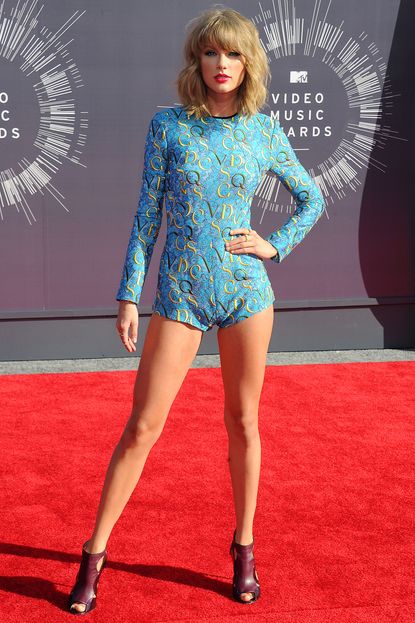 (Image credit: Rex)
Is the power leg pop's new body obsession?
I think I blame Angelina. When Jolie got that leg out at the 2012 Oscars it spawned not only its own Twitter account, but a whole new obsession with strong, nay, gazelle-esque power pins.
But what started with a trend for underwear-defying split skirts reached a whole new level of trouserless-ness at this weekend's MTV VMAs, as everyone from Taylor Swift to Jessie J ditched their pants in a show of solid female muscle power.
Beyoncé led the charge as she stood statuesque in an armour-like Tom Ford leotard, backed by a neon Feminist sign. Cooing over baby Blue Ivy and generally being Queen of the Universe – she did it all with no trousers on. Weird when you think about it, right?
We think the trick to the look's empowering effect may be the kind of flesh that's on show. Muscle denotes strength rather than softness – the mark of a real kick-ass pop heroine.
For the full array of outfits at this year's MTV VMAs (including people like Chloë Moretz, Gwen Stefani and Kendall Jenner, who did keep their pants on) see the gallery above.
Celebrity news, beauty, fashion advice, and fascinating features, delivered straight to your inbox!