Best Instagram moments 2016: what everyone was snapping, hashtagging and liking this year
Likes galore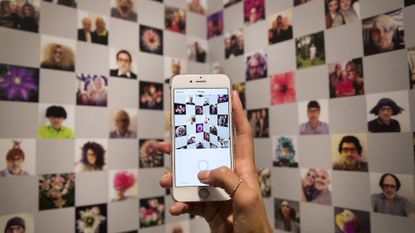 (Image credit: MacDiamid/REX/Shutterstock)
Likes galore
Seeing as Instagram has over 500 million users, it's no surprise that the social media platform has managed to document some of the year's most memorable moments. From Fashion Weeks to the US election, here's what peaked on Instagram in 2016...
The most liked Instagram photos of 2016
Louis Tomlinson introduces his newborn son to the world
Harry Styles cuts off his hair for the Little Princess Trust
Cara Delevingne encourages women to 'Do You'
Zayn shares a selfie
Zayn posts an image of himself & Gigi Hadid
Cara Delevingne posts pic from a private jet
Cara Delevingne on the streets of NYC
Emma Watson from the boxing ring, fighting for gender equality
Louis Tomlinson shares intimate photo of himself and son Freddie
Most Instagrammed days of 2016
1. Halloween – 31st October
2. The 15th Anniversary of 9/11 – 11th September
3. EURO 2016 Final - 7/10/16
4. United States Election - 11/6/16
5. Olympics (Celebratory posts about Team GV and Usain Bolts' big wins) - 8/14/15
6. US Father's Day - 6/19/16
7. Paris Fashion Week - 10/1/16
8. US Mother's Day - 5/8/16
9. New Year's Day - 1/1/16
10. Easter Sunday - 3/27/16
The top Instagram hashtag of 2016
#love
Most-followed celebrities of 2016:
1. Selena Gomez (@selenagomez) 103 million followers
2. Taylor Swift (@taylorswift) - 93.9 million followers
3. Ariana Grande (@arianagrande) - 90.2 million followers
4. Beyoncé (@beyonce) - 89.2 million followers
5. Kim Kardashian (@kimkardashian) - 88.2 million followers
6. Cristiano Ronaldo (@cristiano) - 82.8 million followers
7. Kylie Jenner (@kyliejenner) - 80 million followers
8. Dwayne Johnson (@therock) - 71.5 million followers
9. Nicki Minaj (@nickiminaj) - 69.4 million followers
10. Kendall Jenner (@kendalljenner) - 69.2 million followers
Public figures who joined Instagram in 2016:
Pope Francis (@franciscus)
Kanye West (@kanyewest)
Halle Berry (@halleberry)
Kirsten Dunst (@kirstendunst)
Kevin Spacey (@kevinspacey)
Simon Cowell (@simoncowell)
Shailene Woodley (@shailenewoodley)
Kristen Bell (@kristenanniebell)
Gerard Butler (@gerardbutler)
James Corden (@j_corden)
Taylor Lautner (@taylorlautner)
Kate Beckinsale (@katebeckinsale)
Matt LeBlanc (@mleblanc)
Tom Hiddleston (@twhiddleston)
Celebrity news, beauty, fashion advice, and fascinating features, delivered straight to your inbox!