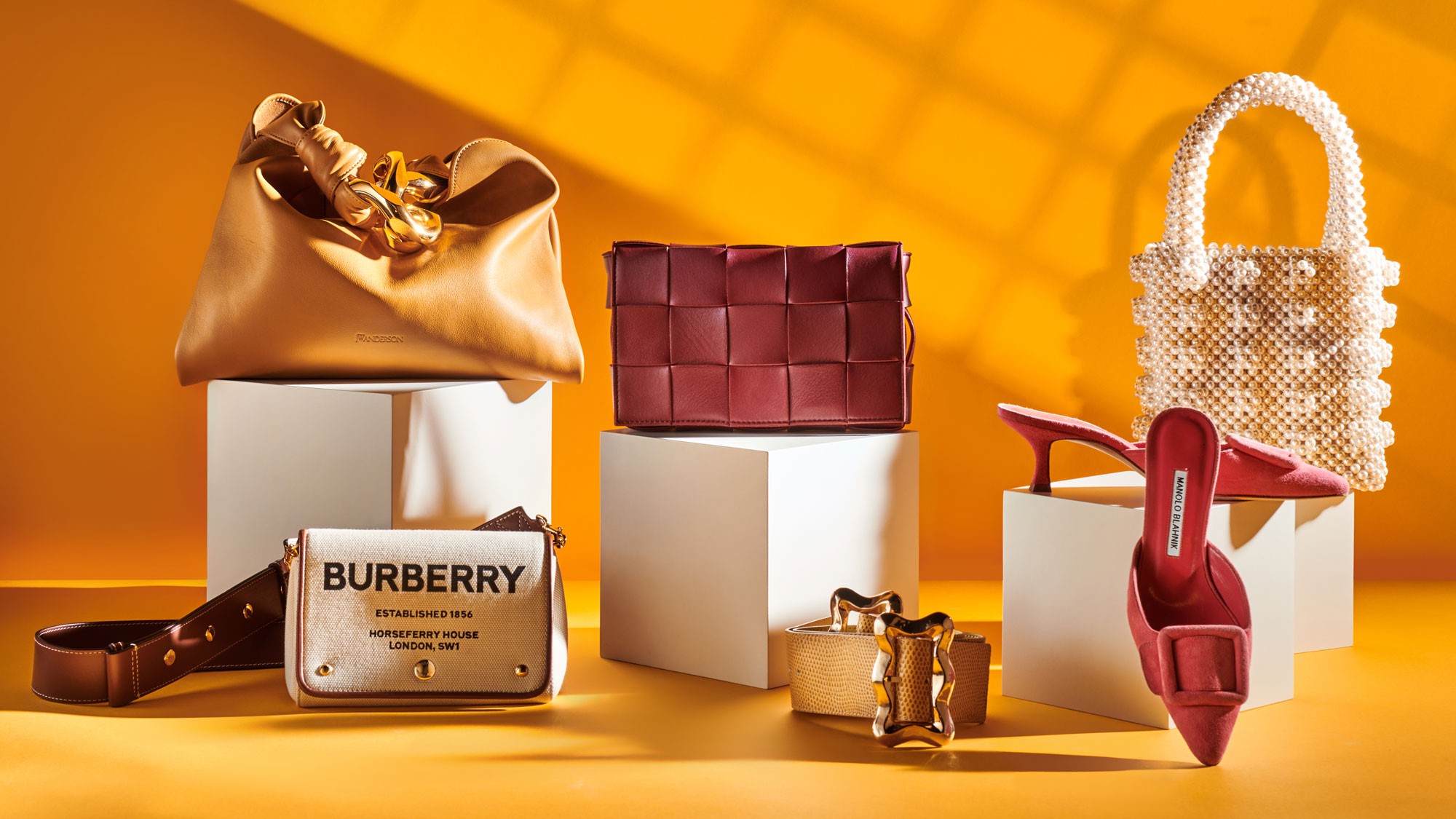 WORDS: PENNY GOLDSTONE & ZOE ANASTASIOU
Icould wax lyrical for days about the merits of renting your accessories rather than buying them, but to save your souls I will just stick to the main highlights. Firstly, it's more sustainable, especially if you're one to change bags and shoes on a regular basis. Yes, there is the carbon footprint of getting an item delivered to the wearers, however because they are getting a lot of wear out of it, it reduces the environmental impact over all versus buying and leaving it in a cupboard, or worse, it ending up in landfill after a season or two.
According to Wrap.org.uk, in the UK alone, an estimated £140m worth of clothing is sent to landfills each year. Renting clothing and accessories is a solution which can help to minimise this number, promoting circularity in the fashion industry and helping to close the loop. Already we have covered the best clothing and dress rental platforms, and today we're here to talk about designer handbag rental.
Secondly, it's the perfect way to finally be able to wear that designer handbag or shoe you can't justify buying. You know the one I mean: The Loewe Puzzle bag, The sparkling Prada Cleo, The Chanel double flap. Whatever form your arm candy dreams take, they can be made reality thanks to the extended line-up on offer from the many rental platforms out there, from Hurr to Cocoon, a dedicated designer handbag site. On average, you can rent a bag for three days for as little as £30 for three days.
"A designer bag can set you back hundreds, if not thousands of pounds, so renting instead—whether it be for a special occasion, or simply for the fun of it—is an alternative that makes accessing a designer item more affordable."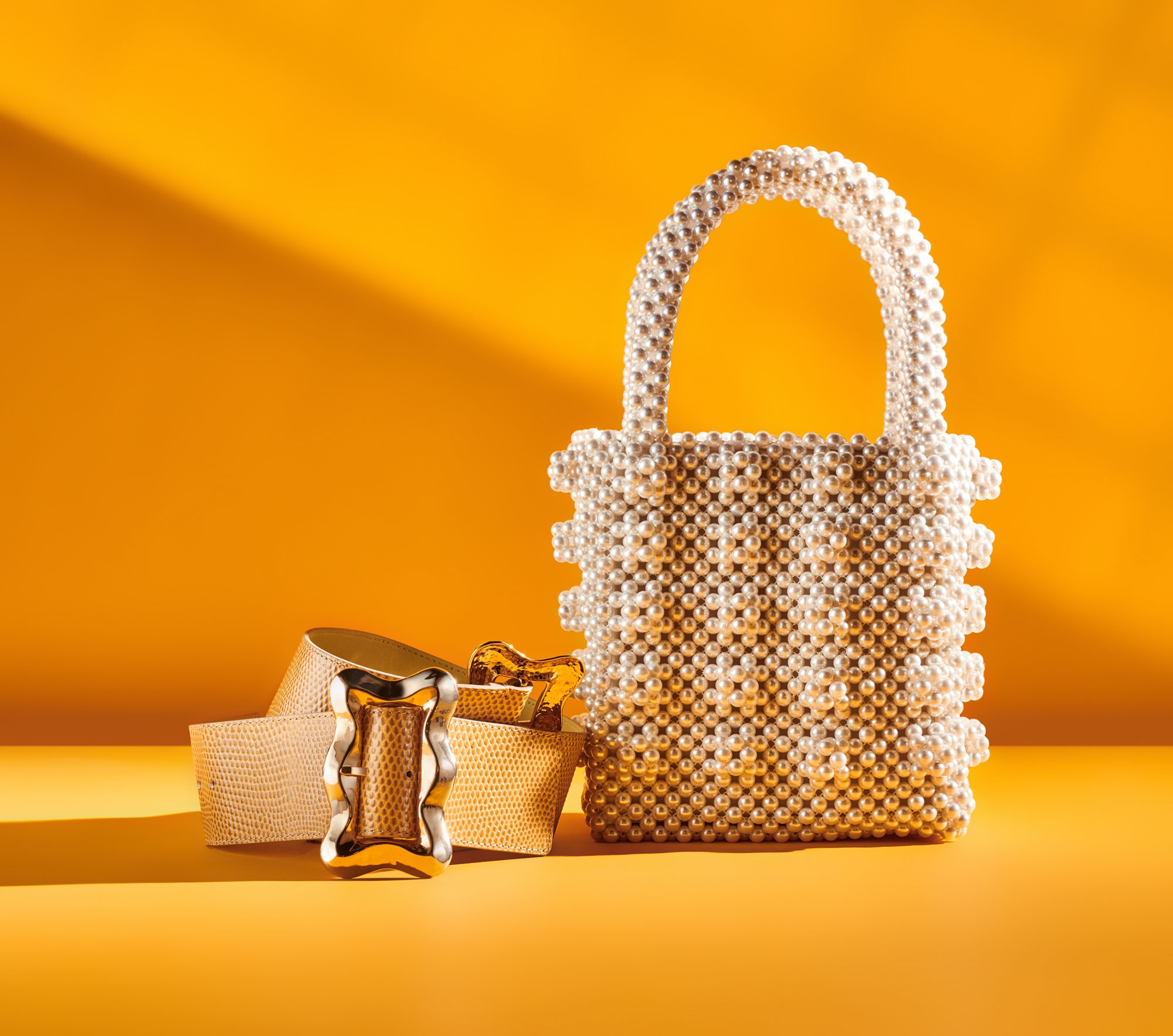 Now that the technicalities are out of the way, let's focus on this delicious edit of accessories, all available to rent now. It was hard to choose from the hundreds of styles on offer, but here we go. Although fairly new, JW Anderson's chain hobo bag is already a cult classic. Thanks to its gold chain hardware and timeless shape, it's a versatile bag that will take you from day to night, especially in this caramel hue (available at Rotaro). Newly launched Cloan lets you borrow from the wardrobes of fashion insiders, and items include Shrimp's covetable pearl bag, ideal for wedding season.
Don't make the mistake of thinking it's all about bags. These Manolo Balhnik pumps are available at By Rotation, and the Rejina Pyo belt is a great addition to a summer dress.
Below we have outlined the best designer handbag rental platforms, enabling you to rent from either businesses or other like-minded, conscious consumers. Keep scrolling to get your hands on a designer gem from Prada, Chanel, Jacquemus and more.
The best designer handbag rental platforms
About: Cocoon Club operates on a membership model and offers a range of trending bags from designers including Gucci, Bottega Veneta and YSL and more.
Brands: Fendi, Prada, Chloe, you name it! Cocoon club has a great selection of new and trending designs, so if you're after the latest Prada Cleo or Bottega pouch bag, you can guarantee you'll find it here.
How it works: There are 3 types of memberships at Cocoon ranging from Flexi to Premium and Deluxe. Flexi memberships start at just £19 a month, while Premium will set you back £79 a month and Deluxe is £99 per month. With a Flexi membership, you can pay to rent a bag for one week at a time, while Premium and Deluxe memberships enable you to keep a bag for a month and offer swaps in between.
About: Bagbutler was launched in 2019 by Tina Lipfriend, in order to offer customers the ability to access luxury designer bags and accessories without the luxury price tag. Customers are able to rent bags from in-demand designers including Chanel, Louis Vuitton, Dior and more for a fraction of the retail price.
Brands: Bagbutler has pieces from Louis Vuitton, Miu Miu and Jacquemus on offer, but where the rental service really shines is with its selection of Chanel. The company has a vast range of Chanel on offer, including the brand's iconic quilted flap bag in a number of different colours.
How it works: Bags can be rented from 2 to 28 days on demand. Prices for renting a Chanel bag start at £145 for 4 days, while labels like Jacqeumus are offered at a cheaper rate (e.g. £78.00 for 4 days). For £395, BagButler also offers a 3-month membership. With the membership, customers are able to rent 3 bags for a period of 4 days each.
About: HURR prides itself on being "fashion's favourite rental platform." The company, founded by Victoria Prew, offers both peer-t0-peer and managed rentals allowing customers to either loan from other consumers or from HURR's HQ. While many turn to HURR for their dress rentals, the platform also contains a number of designer handbags and accessories to rent, including Jacquemus, Bottega Veneta and more.
HURR also recently partnered with vintage curator, Break Archive, meaning you can also rent vintage designer bags on their platform. Think '90s-era Dior saddle bags and mini LV shoulder bags. Chic!
Brands: Given HURR has a peer-to-peer element the brands on offer change regularly. Jacquemus is definitely a popular pick on the site, while you can also find designers on the rise, like Coperni and Amina Muaddi.
How it works: Exactly the same as the regular HURR rentals. Once you've signed up, head to their website, choose the item you'd like to rent, plus the number of days you'd like to keep it for and head to the checkout. It's really that simple.
About: Selfridges has joined the rental revolution. Selfridges rental allows you to rent from a curated selection created by the retailer's expert buyers. Of course, the rental platform includes the latest clothing collections from new and established designers, and also has a wide range of bags on offer.
Brands: Selfridges favourites, including Marc Jacobs, Stella McCartney, Givenchy, By Far and more.
How it works: You can register for free and there is no membership required. Simply choose the product you'd like to rent, the time period and then check out.
About: ByRotation is the peer-to-peer rental platform with a focus on community. The brand's #WhatsMineIsYours slogan perfectly encapsulates its inclusive ethos. ByRotation is known for its wedding-guest-ready dress options, though the platform also contains an extensive range of handbags.
Brands: The selection changes all the time as it is a peer-to-peer platform, though right now you can find everything from Cult Gaia to Balenciaga and Loewe as a part of their collection.
How it works: Simply download the app and start searching. Once you've created an account you can send rental requests for the products you like to hire.
These are just a snapshot of the rental accessories on offer out there, please enjoy...
Words & FASHION: Penny Goldstone Additional words: zoe anastasiou


CREDITS:
words & FASHION: PENNY GOLDSTONE and Zoe Anastasiou
EDITOR: SUNIL MAKAN
ART DIRECTION: ANA OSPINA
PRODUCTION: GRACE WARN
PHOTOGRAPHER: NEIL GODWIN AT FUTURE PHOTO STUDIOS


MAIN IMAGE CREDITS left to right, top to bottom: JW Anderson chain bag, £59 for 4 days at Rotaro - Bottega Veneta Cassette bag, from £79 for a month at COCOON - Shrimps pearl bag, £48 for 4 days at CLOAN - Burberry bag, £90 for 4 days at HURR - Rejina Pyo bELT, £36 for 4 days at CLOAN - Manolo Blahnik heels, £39 for 2 days at By Rotation