15 of the best dress rental sites to see you through wedding season, summer parties and beyond
Rent and repeat.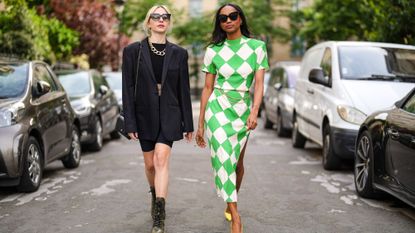 (Image credit: Getty)
Dress rental is fast becoming our go-to for special occasions. It's a great way to practice sustainable fashion, save on wardrobe space *and* save some money. Plus it's an affordable way to wear designer clothes without having to shell out for the designer price tag.
The rental offering has never been so good either. Sites like HURR, where I actually rent out my own wardrobe, are editor and stylist-curated, offering a selection of cool brands such as RIXO, Ganni, STAUD and more. For example, you can rent a Rixo dress for around £50 instead of buying it new for £200+.
Other sites allow you to borrow that designer handbag you've always wanted but can't quite justify or the statement jewellery you'd love to wear to your best friend's wedding. Whichever item you're after, the best rental sites are a good place to start your search. Keep scrolling to see our top picks now.
The best dress rental sites:
1. HURR
About: HURR is a rental service that has its finger on the fashion pulse, ensuring you get the latest trends delivered to your doorstep. The platform offers peer-to-peer rentals as well as managed products which are housed at HURR HQ. Where the brand really hits the mark is within the technology it uses. Founders Victoria and Matthew recognise the urgency of a dressing crisis, so they've served up a real-time ID verification, geo-tagging and AI-powered fashion stylists to ensure HURR is the most secure and trusted way to hire clothing and share your wardrobe.
Brands: Rixo, Sleeper, Ganni, Victoria Beckham, STAUD, Dior, Rejina Pyo and more.
How it works: If you're lending out your own wardrobe within the peer-to-peer service, you are responsible for posting your own clothes. Although you can choose to use HURR's concierge service, which does it all for you (however, in this case, you will get a lower commission). You'll need to get approved before you start lending or renting, ensuring a legit service for everyone.
If you're renting, you can search by category (dresses, accessories etc), occasion (brunch, out out etc) or designer. Then narrow down your search by date and size. HURR also has a permanent space in Selfridges, should you want to try out the items in-store.
How much? It depends on the item, but usually, around 20% of the RRP, and the shortest rental is for 4 days. For both renters and lenders, HURR takes a 15% commission. Try it now at HURR.
2. Hirestreet
About: Ensuring style and sustainability are inclusive and relatable, the brand prides itself on its research and response to customer feedback. Owning all the products available for rental – pieces are selected six months ahead from brand look books and bought at wholesale, using data-backed processes to determine popular pieces.
Brands: Cult Aussie brands such as Winona, Bardot & Talulah and influencer favourite Spanish brand, Panambi as well as consumer favourites including Ghost, Whistles, French Connection, Rixo, Bec & Bridge and ASOS.
How it works: A different model from other fashion rental platforms, Hirestreet works on a consignment basis with no subscription, to make rental accessible to all. With rental costs starting from £7 for four days, there are four rental lengths available for flexibility (4, 10, 14 or 30 days) and cleaning/repairs are covered in the cost.
How much? £7 for four days. Try it now.
3. Front Row
About: The platform launched in 2016 and now stocks hundreds of items from over 50 international luxury brands, including Louis Vuitton, Dior and Chanel, many of which are not available from other rental platforms in the U.K. They also provide access to new season and cult fashion pieces hot off the runway.
Brands: As well as global high-end designers like Jacquemus, Chanel, Balenciaga, Alexander McQueen, Gucci and Burberry, they also have a great collection of Indian evening wear from some of the best Indian designers such as Manish Arora.
How it works: Choose a style, book an appointment at the Mayfair showroom or online to 'try it on' and rent it out for 3 or 5 days. Once you're done wearing it, use the prepaid label to return it via UPS collection or drop-off.
How much? The rental price is between 10 – 25% of the retail price. The site charges a flat rate of £15 for delivery and also takes a £50 block until the item is returned. The £50 is a requirement from insurers and will be released when the item is returned back in its original condition. Try it now.
5. Rotatro
About: Backed by a team of industry insiders and co-founded by former WGSN trend forecaster, Georgie Hyatt and Charlie Knowles. ROTARO was created from the belief that the future of fashion is to buy good basics and rent good fun. ROTARO renters can find their favourite styles from contemporary luxury designers to refresh their wardrobes or as a platform to discover new brands.
Brands: Rixo, Ganni, Reformation, Cult Gaia, Vampires Wife, Zimmerman, Jacquemus, Cecilie Bahnsen and Stine Goya in sizes 6 to 18.
How it works: Find your style and size and then select how long you want to rent it for. It's also helpful to note that Rotaro offers next-day delivery.
How much? You can rent dresses for as little as £15 on Rotaro.
6. By Rotation
About: Founded by expat investment banker Eshita Kabra-Davies, By Rotation is a dress rental platform based on inclusivity, with the aim to democratise quality fashion and make it accessible to all. It's all controlled by the community rather than the other way around, making it a truly peer-to-peer platform. As a company, ByRotation also does not buy any inventory, so it is entirely sustainable.
Brands: Dior, Jacquemus, Vetements, Chanel, Zimmermann and more.
How it works: Download the free app and start browsing, there is no waiting list. When you find an item you want to rent, the item can either be exchanged in person, via Royal Mail Tracked or via delivery partner Peyk. The lender is in charge of cleaning, and cleaning solutions are offered by partner Clothes Doctor.
How much? Around 5% of the retail price. The minimum rental period for any clothing or item can be as low as 1 day, and the app charges a 15% commission.
Download the ByRotation app.
7. My Wardrobe HQ
About: My Wardrobe HQ is a dress rental platform, with a focus on sustainable fashion and making it possible for anyone to achieve an A-list wardrobe. Some items have been supplied by celebrities such as Poppy Delevingne, Arizona Muse, Roxie Nafousi and Olivia Buckingham.
Brands: Henry Holland, Alice Temperley, Vilshenko, Vivienne Westwood, Chinti & Parker, Gucci and more.
How it works: Customers are able to use the service as a once-off, but can also sign up for a subscription service for just £9.99 a month. In return, customers are given a bespoke service to fulfil all their high-end dressing requirements. The subscription also includes a home visit from an MWHQ stylist to discuss plans for what they want to achieve being a member of this exclusive fashion club. You choose an item to rent and it's with you from our wardrobe warehouse within two hours in London.
How much? As a rule of thumb, past-season items are listed at 10% of their RRP, while current-season items are priced at between 10-30%. Sale prices are set by the owner and will vary.
Rent at My Wardrobe HQ.
8. Cercle
About: Founded in 2020, Cercle is a rental platform that not only offers luxury and contemporary brands but also vintage and artisanal pieces. The platforms fosters a community, by tapping into the wardrobes of influencers, editors and other fashion industry insiders, giving you access to the wardrobes of some very stylish women.
Brands: From vintage pieces and designer gems, from brands including Alexander McQueen, Khaite, Loewe, Prada and Taller Marmo.
How it works: It's simple, just browse the site, find the item you'd like to rent and select the dates you'd like to rent it for. Cercle can have your pieces delivered to you within 1-2 business days.
How Much? Prices vary depending on the item you rent, for example, a Ganni skirt can be rented for as little as £25 for 3 days, while Missoni jumpsuit might set you back around £55.
9. Girl Meets Dress
About: One of the original dress rental services, Girl Meets Dress stocks over 200 designers and 4,000 dresses, so you're pretty much sorted for any occasion.
Brands: A mix of high street and designer brands such as Ghost, Needle & Thread, Saint Laurent, Miu Miu and more.
How it works: You can rent up to three months in advance and as little as three days before your event, though the earlier you search, the more choice you'll have. Anyone can rent on the site, and you simply need to return the dress via the post office once you're done.
How much? Rent at Girl Meets Dress. You can hire dresses for 2 or 7 nights at a time, with prices starting from £19. If you're a frequent renter, there is a £99 per month membership which lets you borrow three dresses at a time, free delivery and dry cleaning and extra discounts.
10. BLANQO
About: While it's not exactly a dress rental site if you're lucky enough to be going on a ski trip, BLANQO is a name to have on your radar. Instead of spending a fortune on skiwear, you'll only wear once, or even just once a year, you can rent it. It's definitely a more economical and sustainable solution.
Brands: Each item is handpicked to combine elegant style with high-quality fabrics that perform well on the piste. This year, BLANQO is working exclusively with Poivre Blanc but it will expand the collection to celebrate emerging and established brands.
How it works: You can rent skiwear from a minimum of 6 days to a maximum of 17 days. Each piece is available in several sizes.
How much? Hire prices from £23. Try it now.
11. Matches Fashion Rental
About: Recognising the value of circular fashion, more and more individual retailers are now adding rental platforms to their repertoire. Launched last year, Matches Fashion Rental allows customers to rent the new season designer collections from a number of in-demand brands, without having to invest in the designer price point.
Brands: Everything you already love from Matches Fashion, including Jacqeumus, Cecile Bahnsen, The Vampire's Wife, Self-Portrait and more.
How it works: Register online and then browse the Matches Fashion Rental website, find the item you'd like to rent and select the dates.
How much? Generally around 10-15% of the retail price.
12. John Lewis Rental
About: John Lewis launched John Lewis Rental last year, with a little help from the technology at HURR, the platform enables customers to rent from a selection of John Lewis brands for either 4, 8, 10 or 20 days.
Brands: & Other Stories, Whistles, Winona, New Arrivals and more.
How it works: Browse the site, select your item and how long you'd like to rent it for et voilà. The delivery will include a return slip so you can send back your item when you're done.
How much? Between 10 - 20% of the retail price.
13. Baukjen
About: Encouraging customers to 'go greener' and eliminate the effects of fast fashion, Baukjen offers its customers the option to rent its clothing, including statement dresses, leather jackets and key essentials for a period of 2 weeks, before returning free of charge. The programme is part of the ethical and responsible brands Recommerce initiative, seeking ways to prolong the lifecycle of garments.
How it works: Rent it, receive it and wear it for two weeks before returning it for free to Baukjen.
How much? The price varies per item, starting at £15 for a blouse. Try it now.
14. Rites
About: Rites is a fashion rental and resale platform that allows customers to lend or sell the pieces in their existing wardrobe. The company offers a wardrobe management service which enables clients to effortlessly utilise the website to make money from their previous purchases.
Brands: Labels include 16Arlington, Aje, Dion Lee, Zimmermann, Dior, Faithfull The Label and more.
How it works: Simply click on the rental tab, choose the product you'd like to loan and alongside how many days you'd like it for, and head to the checkout.
How much? Rental prices start from as little as £19 for tops and shorts for 4 days, while the highest price for dresses sits at around £90 for 4 days. The site also has accessories on offer— for example, renting a Prada bag for 4 days will set you back £95.
15. Loan The Look
About: Founded by three sisters, Loan The Look was created to feel as if you're borrowing from your big sister's wardrobe. The selection available is curated by the sisters themselves to offer an edit of standout, statement making dresses just perfect for your next event.
Brands: Labels include De La Vali, Alexander McQueen, Galvan, Saloni and more.
How it works: If you're in London, your rental will be delivered by an eco-courier. The service is so specific, it allows you to select a 15-minute window in which your product will be delivered. Otherwise, you are also welcome to pick up your rental from the brand's studio in Holland Park. If you're outside of London, the product will be delivered via Royal Mail. Returning your item is just as easy. Items received in the post will include a returns label, while London customers can have the items picked up via the same courier service.
How much? Rentals start from around £30 for 4 days, including dresses, handbags and other accessories. At the top of the range, the more expensive dresses rent for up to £125 for 4 days.
Best Children's clothing rental sites:
There is notoriously a lot of waste when it comes to baby and kids' clothes since they are outgrown too quickly to make them worth it on a cost-per-wear basis. Luckily, there are rental sites for that too. Keep scrolling for the best childrens' clothing sites to rent from now.
1. Bundlee
About: Bundlee is a rental subscription service founded by West London-based Eve Kekeh in 2018.
Brands: It has recently teamed up with Little Riley Studio, a sustainable kids' brand by Riley Studio. You can rent it alongside other labels such as Patagonia, Mini Rodini, MORI, and more for £39 a month for a bundle of 15 designer pieces.
How it works: Your Bundlee is delivered to your door in reusable packaging, with a pre-paid returns label and care instructions. The cost includes insurance, so there's no need to worry about stains or wear and tear. You keep the clothes for as long as your baby needs (or fits into) them — the average is three months — and then return them in the original bag. Outgrown clothes are swapped for the next size up, sanitised, and then sustainably shared with other renting families.
2. The Little Loop
About: The Little Loop offers clothing rental for kids, from a range of sustainable brands.
Brands: The company stocks sustainable childrenswear brands including Frugi, Piccalilly, Kite and more.
How it works: The Little Loop operates on a subscription plan, so you can choose a level that suits you from £18 to £36 per month. Depending on your subscription you will receive a number of credits and then those credits can be used to select the clothes you rent. Plans can be paused or cancelled at any time, and even come with strain insurance.
Celebrity news, beauty, fashion advice, and fascinating features, delivered straight to your inbox!
Penny Goldstone is the Digital Fashion Editor at Marie Claire, covering everything from catwalk trends to royal fashion and the latest high street and Instagram must-haves.
Penny grew up in France and studied languages and law at the Sorbonne Nouvelle University in Paris before moving to the UK for her MA in multimedia journalism at Bournemouth University. She moved to the UK permanently and has never looked back (though she does go back regularly to stock up on cheese and wine).
Although she's always loved fashion - she used to create scrapbooks of her favourite trends and looks, including Sienna Miller and Kate Moss' boho phase - her first job was at MoneySavingExpert.com, sourcing the best deals for everything from restaurants to designer sales.
However she quit after two years to follow her true passion, fashion journalism, and after many years of internships and freelance stints at magazines including Red, Cosmopolitan, Stylist and Good Housekeeping, landed her dream job as the Digital Fashion Editor at Marie Claire UK.
Her favourite part of the job is discovering new brands and meeting designers, and travelling the world to attend events and fashion shows. Seeing her first Chanel runway IRL at Paris Fashion Week was a true pinch-me moment.