This is the #1 beauty question people searched on Google
Looks like we're all quietly obsessing over this...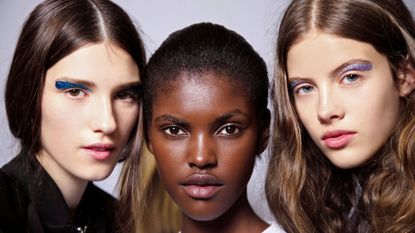 (Image credit: Imaxtree)
Looks like we're all quietly obsessing over this...
WORDS - GINA FLORIA
There are so many beauty-related questions. And this year, there seemed to be more than what we're used to. Questions like 'how do you remove gel nail polish at home?' 'how do I get those beachy waves?' 'did Kylie really dye her hair, though?' flooded the search bar of Google throughout 2016. And we're not surprised. After all, Google is usually the place we go to when we need these time-sensitive answers. But, there was one thing in particular everyone seemed to be googling more than anything else. And that was, how to do a fishtail plait.
It's no secret that plait hairstyles are one of the most popular, universal 'dos. They're just as easily used to cover up 3 day-old hair as they are to complete a formal outfit. And although they only take minutes to pull together, they look so intricate, people often assume you've been a stylist's chair for well over an hour. Fishtail braids are especially beautiful to the human eye - maybe it's a mermaid thing. They're whimsical and elegant. They make you feel fancy AF. And when you see celebrity after celebrity rocking a fishtail braid on the red carpet, it's hard to ignore the appeal. Especially if it looks as good as Gigi Hadid's fishtail braid at the iHeartRadio MUCH Music Video Awards in June.
It's no wonder we want to know how to nail the perfect fishtail braid. Lucky for all of us, it's not a completely unreachable goal. In fact, it's a pretty easy style to master. All it takes is watching a couple tutorials, followed by lots of practice.
Head to our sister site Powder to find the best hairspray to hold your braid in place.
There are also a lot of ways to play with a fishtail braid. You can sweep your hair to the side in a French fishtail, pull back a low fishtail pony, or make yourself fishtail pigtails. As long as you know the basic pattern of the braid, you can add your own personal style to it at any given time.
We doubt this trend will be going anywhere in 2017, so master the braid while you can, and you'll fly through the next year in style.
From the editors of Hello Giggles
Celebrity news, beauty, fashion advice, and fascinating features, delivered straight to your inbox!