We just tried the best hair straighteners to suit every hair type and budget—these 13 tick all the boxes
Keep scrolling for super-sleek hair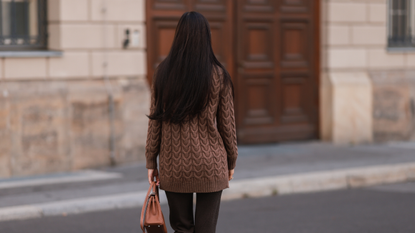 (Image credit: Getty Images)
After a decent hair dryer, a pair of the best hair straighteners was probably the second hair tool that you ever invested in. They're a vital part of your hair arsenal if you want to create sleek styles. These days, the best hair straighteners on the market smooth in seconds, while also being kind to hair.
Straighteners nowadays are also seriously smart—with temperature control, specialist plates, and flyaway-fighting technology. Don't underestimate how important choosing your next pair of straighteners is.
Gone are the days of ironing your hair with a singular heat setting (and seeing the toll it takes on your strands). As technology has come on, so too have the tools (2023's best hair dryers included). While there's no doubt that the best ghd straighteners are still leading the way when it comes to straightening, there's a huge amount of new technology out there, too.
Luckily, the Marie Claire team has different hair types, lengths and favourite hairstyles, making us great testers. When we test the best hair straighteners, we all have different preferences. But our testing process is based on the five key straightener specs below. Keep scrolling for the key things to look for when finding the best hair straightener for you.
What we look for when testing the best hair straighteners
The best hair straightener for you depends on your hair type, hair length, and desired results, which is why we've tested what feels like every straightener out there to give you the best of the best. There are a few important specs to look out for when it comes to finding the right fit for you, though.
Width
Depending on the length of your hair, the width of the straighteners matters. The wider plates (approximately 5cm) suit longer hair better, and the thinner plates (less than 5cm) will work better on shorter hair. The wider plates also suit thicker hair types.
Plates
Syd Hayes, session stylist and Babyliss ambassador had this to say about the importance of plates: "There's a huge difference in straighteners and generally, this comes down to the quality of the plates and the coating on them. I'm always looking for a smooth glide."
What the plates are made from is important. The words to look out for are:
Ceramic - You typically find that the less expensive straighteners have ceramic plates. They take a bit of time to heat up, but it is evenly distributed.
Metal - Metal plates are the ones that get hot within seconds and tend to cost a little more money.
Ceramic-coated - These are metal plates, coated in ceramic. The plates heat up really quickly and the heat is more evenly distributed. These tend to be the most expensive.
Heat settings
If you have really fine or thin hair, the idea of adding high temperatures to it seems mad. This is why the best hair straighteners now have a variable temperature setting.
"Don't overheat your hair," warns Hayes. "Heat settings are so important as everyone has different hair types and textures. So one setting for one person can be the complete wrong setting for another. The heat helps flatten the hair cuticle to make it look shiny, however too much heat can destroy our hair."
Ionic technology
So many women use straighteners to help smooth flyaways and unwanted frizz. Unwanted frizz is caused by too much positive charge on the hair, so much like with the best hair dryers, ionic technology aids your tools in smoothing.
Cord length
This is an obvious one. You either prefer a really, really long cord which means you can style standing up, wherever. Or you like a shorter cord that packs away neatly.
Which straighteners are best for my hair type?
We spoke to the experts all about which straighteners to get depending on your hair type. Keep on scrolling to see which style is best for you.
Fine hair - Fine hair won't need as much heat, so it might be worth looking for straighteners with multiple heat settings so that you can select lower options. Michele Antiga from Gielly Green likes the ghd Mini Styler if your hair is on the shorter side thanks to the small plates.
Thick hair - If you have thicker hair, Antiga recommends looking for straighteners with wider plates, such as the ghd Max or the Cloud Nine Wide Iron Pro.
Curly hair - Hayes recommends finding a straightener that has incredible plates with a smooth glide and a controllable heat setting so you don't completely kill your hair, such as the BaByliss Super Styler.
Best hair straighteners in 2023:
1. Remington Ceramic Hair Straightener
Remington Ceramic Hair Straightener
Best affordable hair straightener
Specifications
Plates: Ceramic infused with tourmaline
Width: Slim
Heat Settings: 8x (<230°C)
Ionic Technology: Yes
Cord Length: 1.8m
Reasons to buy
+
Eight temperature settings (150-230ºc)
+
Heats up in 15 seconds
+
Under £30
Reasons to avoid
-
Slim design—not the best for thick hair
Whether you're not one for straightening that often or you just don't want to spend that much, Remington has plenty of super-affordable, and really decent, options on the market like this one that's under £30. You still want to be able to rely on your styler, even if you're not dropping the big bucks. Titanium combined with ionic properties helps to smooth and reduces heat damage—it's a win win.
2. T3 Singlepass X Wide Flat Iron
T3 Singlepass X Wide Flat Iron
Best hair straightener for smooth styles
Specifications
Plates: Ceramic
Width: 38mm
Heat Settings: 5x (127°C to 210°C)
Ionic Technology: Yes
Cord Length: 2.7m
Reasons to buy
+
Consistent heat
+
Wide plates (fast styling)
+
Five heat settings
Reasons to avoid
-
Only comes in white colour option
This styler straightens even the most set-in-place kinks and curls with its wide, powerful plates and its advanced digital heating system that maintains heat consistently throughout use, creating silky-smooth styles. It boasts a microchip brain (yes, really!) that monitors the heat for accurate styling, ensuring a long-lasting finish. It features the latest tourmaline ceramic technology, and the wider plates significantly reduce styling time. It's an investment worth making.
3. Cloud Nine The Touch Iron
Cloud Nine The Touch Iron
Best hair straighteners for speedy styling
Specifications
Plates: Ceramic
Heat: Settings 2x (165°C and 195°C)
Ionic Technology: NO
Cord Length: 2.7M
Reasons to buy
+
Mineral-infused ceramic plates
Reasons to avoid
-
Only two temperature settings
The beauty of these straighteners is that they heat up in a moment. And we really do mean a moment. Simply click the plates together and off you go. Instant Heat as they call it. The plates are also infused with Tourmaline and Sericite, which help to heal the hair by sealing the hair's cuticle and locking in moisture. Making these the best hair straighteners for an everyday straightener user.
Looking for hair tools with sustainability credentials? Cloud Nine is partnering with Clean Hub, an enterprise that takes non-recyclable plastics and turns them into alternative fuels. By becoming a more responsible company when it comes to waste, the brand is set to prevent 1000kg of plastic from entering the ocean - a vital step in saving our seas.
4. Babyliss 9000 High Performance Cordless Hair Straightener
Babyliss 9000 High Performance Cordless Hair Straightener
Best cordless hair straightener
Specifications
Plates: Ceramic
Heat Settings: 3x (160°C, 180°C and 200°C)
Ionic Technology: No
Cord Length: Cordless
Reasons to buy
+
Easy to use on the go
+
Auto shut-off
+
Magnetic charging
Reasons to avoid
-
No option for cord use at home
We knew we weren't going to have to wait too long for cordless straighteners that deliver the same results as a corded option. I mean it's a no-brainer, right? There are a fair few on the market now, which means we can cart some of the best straighteners around with us in our handbags without fear of finding a plug. Good hair on the go. These Babyliss beauties are our favourite cord-free styler because they speedily charge up in three hours and you have 30 minutes of styling time to play with.
5. Dyson Corrale
Dyson Corrale
Best luxury hair straightener
Specifications
Plates: Metal
Heat Settings: 3x (160° - 210°)
Ionic Technology: No
Cord Length: Cordless
Reasons to buy
+
Flexing copper plates - less pressure and heat
+
Designed for all hair types
+
Cordless - but can add cord for at home use
Speaking of cordless straighteners, the Corrale needs a mention. Much like Dyson's revolutionary Supersonic hairdryer and curling Airwrap, the forward-thinking technology brand has turned an everyday product and sprinkled fairy dust onto it. The Corrale straighteners have flexible plates that are slightly bendy so when you draw them over your hair, they're able to gather your hair and heat every strand in one go. Because of this, you're able to able to straighten faster and with less heat and as a result with less damage. Yes, they're pricey, but they're worth it.
Shannon Lawlor, Executive Beauty Editor says: "As someone with poker-straight hair, I swear by the Corrale for long-lasting curls that take mere minutes to execute. If you have curly hair and like to wear your hair straight, you'll be gobsmacked at how easy this styler makes things. My biggest gripe? Besides the price, it's also worth noting the battery makes the Corrale quite heavy."
6. ghd Mini Styler
ghd Mini Styler
Best straightener for short hair
Specifications
Plates: Ceramic
Heat Settings: 1x (185°C)
Ionic Technology: No
Cord Length: 2.7m
Reasons to buy
+
Contoured edges and round for the option of waves
+
30-second heat up time
<