The best toners to soothe, exfoliate and revitalise every skin type
Looking for the best toner to add to your skincare routine? Look no further...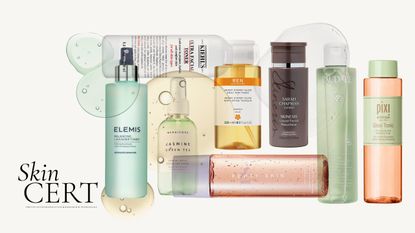 Looking for the best toner to add to your skincare routine? Look no further...
We'd hazard a guess that thinking about the alcohol-filled toners of your teenage skincare routine probably makes your eyes sting. But thankfully, in 2022 the best toner looks a lot different to the days of our youth – and a great one really can change your life. Once you've found the right buy for your skin type, you'll wonder how you ever went without it.
We're not the only ones who think so, either. Dr Ewoma Ukeleghe, founder and CEO of SKNDOCTOR, can't get enough of them either. 'Toner is a step you definitely shouldn't be skipping,' she says. 'They now come in lots of different forms, each with different purposes and results; calming mist toners, exfoliating glycolic acid toners, moisturising toners and ones that deliver AHAs, BHAs, peptides and antioxidants to your skin.'
What is facial toner, exactly?
'The primary function of a toner is to balance your skin's pH after using the best cleanser and provides some mild exfoliation,' explains Dr Ukeleghe. It's the step in between your cleanser and moisturiser within your regime. It also removes any final traces of dirt, pollution and make-up that your cleanser might have missed.
It helps to smooth and prep the skin for serum, not to mention give it an enviable glow. Swipe over just-washed skin with a cotton pad and you'll see your complexion transform.
It's also worth noting that skipping this step could even hamper your skincare effects. You can slather on the best moisturiser for dry skin all you like, but unless you're starting your regime off right, all of this is null and void.
What are the benefits of using toner in your skincare routine?
'Toners are products that don't get much of a look in during our skincare regimes. But they can be used to clean your skin, remove excess oil and reduce pore size,' says consultant dermatologist Dr Anjali Mahto. 'They are also good for balancing the skin.' The latter is particularly important if you have acne-prone skin.
Due to the alkaline nature of soap and even the very best face washes, the pH balance of our skin can get disturbed. This makes your skin work overtime to find its sweet spot again, which can result in excess oil and breakouts.
Which skin toner should I use?
Toners will not only help to restore your skin's pH after cleansing – they do so much more. They provide similar benefits to your serum because they are often infused with similar ingredients. Think vitamins, prebiotics, glycolic acid and hyaluronic acid, which can brighten, soothe, exfoliate and hydrate respectively.
PH balancing toners maintain the acid mantle of the skin barrier – the pH level of healthy skin is approximately 5.5. Mattifying toners can help to balance oily skin, tighten pores and minimise shine, and are loaded with anti-inflammatory and anti-bacterial ingredients.
Because they're packed with extra skincare benefits, you need to pick a toner based on your biggest skin concern.
Ingredients to look out for in a toner
For exfoliation - look for alpha-hydroxy acids (AHAs) and beta-hydroxy acids (BHAs), things like salicylic acid, lactic acid, and glycolic acid. 'These acids work to gently exfoliate your skin, accelerate skin cell turnover and reveal a glowing complexion,' says Dr Ukeleghe. 'They are particularly helpful at targeting problems like dry patches, dullness and hyperpigmentation.'
For hydration - keep an eye out for hyaluronic acid. 'The ultimate hydrating molecule, it boosts moisture and minimises fine lines,' Dr Ukeleghe explains. 'Glycerin, snail mucin and allantoin are common substitutes.'
For anti-ageing - Vitamin C is your friend here because it protects skin from ageing free radicals.
Now that you're all clued up on the virtues of incorporating one of the best toners into your skincare regimen, are you ready to shop the best? Scroll through our favourite toners in the handpicked edit below. Your skin will thank you for it...
REN Ready Steady Glow Daily AHA Tonic, £28 | Cult Beauty
Best exfoliating toner: Face looking dull or congested? Look for an exfoliating toner like this one, which contains alpha hydroxy acids (AHAs). These will lift away dead cells and smooth the surface texture for skin that looks lit from within. Skin type: Dull, dry Why it gets the Marie Claire seal of approval: Is powerful but can be used every day if necessary, and helps create a healthy glow.
Kiehl's Ultra Facial Toner, £18 | Space NK
Best toner for dry skin: Dry skin needs hero ingredients like avocado oil, squalene and vitamin E. All three super hydrators can be found in Kiehl's Ultra Facial Toner – whose entire line is loved by dry skinned humans all over the world. Skin type: All, especially dry Why it gets the Marie Claire seal of approval: One of the most moisturising formulas we've ever come across.
BYOMA Balancing Face Mist, £11.99 | Cult Beauty
Best for even sensitive skin: Not classed as a toner, but it's so calming and soothing on the skin that we had to give it a mention. BYOMA is all about boosting the skin barrier, and the face mist is enriched with soothing and calming allantoin, ceramics and probiotics. Definitely very wet spray rather than a fine mist, though. Skin type: All, including sensitive Why it gets the Marie Claire seal of approval: Supports the skin barrier function, which is a big yes in a healthy complexion.
Paula's Choice Skin Perfecting 2% BHA Liquid Exfoliant, £31 | Cult Beauty
Best toner for blackheads and spots: This product has, quite rightly, achieved cult status in the beauty world. It contains 2% salicylic acid to unclog pores, reduce inflammation and cut down excessive oil production. It can feel a little greasy when it first goes on, but it's worth it for the results. Skin type: Oily, blemish-prone Why it gets the Marie Claire seal of approval: Makes light work of blackheads and bleimishes and improves skin's texture.
Ole Henriksen Glow2OH Dark Spot Toner, £25 | Boots
This toner sold out in Boots in four days and since then it's been a battle to keep it in stock. Why? Because it promises to reduce the appearance of dark spots after seven days thanks to a serious concentration of acids and liquorice, a natural skin brightener.
Elemis Balancing Lavender Toner, £25 | Lookfantastic
Best for hydration: Soothing and hydrating, this toner provides an instant hit of moisture right at the start of your skincare regime. Plus it comes in a very convenient spray bottle. Put it in the fridge in the summer months for an extra cooling hit of hydration. Skin type: Dry, dehydrated Why it gets the Marie Claire seal of approval: Recommended by Dr Ukeleghe: 'Purifies, balances, and refreshes your skin, and contains no alcohol.'
Caudalie Vinopure Purifying Toner, £18 | Boots
Best for breakouts: This toner harnesses the power of a natural form of salicylic acid to clear up any pesky breakouts. Used twice daily, it also contains soothing rosewater, rosemary and grape polyphenols to help mattify and reduce visible pore size. Skin type: Oily, blemish-prone Why it gets the Marie Claire seal of approval: This cleared up our fashion editor's blemishes during an adult acne flare-up – high praise indeed.
Pixi Glow Tonic, from £10 | Cult Beauty
Best for a glowing complexion: Never has a beauty product been quite so aptly named. Packed with AHAs that dissolve and buff away dead cells on the skin's surface, one swipe reveals fresh, juicy and glowing skin underneath. It is without a doubt one of the most popular toners in existence. Skin type: Dull, dry Why it gets the Marie Claire seal of approval: The 5% concentration of glycolic acid makes this exfoliating toner the ultimate glow booster.
Fenty Skin Pore Refining Toner Serum, £27 | Harvey Nichols
Best for pores: The Fenty Skin toner is Rihanna's favourite step in her skincare routine, therefore it might be yours, too. The product combines the benefits of a toner and a serum, meaning you skin won't be left feeling dry or tight. The best bit is that you don't even need a cotton pad to use it, simply pour it in your hands to apply to the skin. Skin type: Oily, combination Why it gets the Marie Claire seal of approval: Frankly, anything created by Rihanna is a yes from us.
Herbivore Jasmine Green Tea Balancing Toner, £35 | Cult Beauty
Best toner for combination skin: Combination and spot-prone skin will benefit from toners that have the word 'balancing' in the title. Take Herbivore's Jasmine Green Tea Balancing Toner, for example. It's a clever mix of antioxidants to protect against free radicals, salicylic acid to control oil and jasmine water to calm angry skin. Why it gets the Marie Claire seal of approval: You get the best of both anti-ageing and pore-purging worlds.
La Roche-Posay Effaclar Clarifying Solution, £12.50 | Boots
Best toner for acne-prone skin: Glycolic and salicylic acid work together here, which means this medicated formula gets right down into the pores to break apart dirt, bacteria and dead skin. The entire Effaclar range is praised by people with acne-prone skin for its ability to calm and clear a congested complexion and prevent spots from reappearing. Skin type: Oily, acne-prone Why it gets the Marie Claire seal of approval: Makes light work of blemishes and leftover marks.
Shiseido Treatment Softener Lotion, £49 | John Lewis
Best softening lotion: In Japan, toners are referred to as 'softeners'. The idea being that they soften skin in preparation for your serums, which it then drinks up more readily. This one is packed with hyaluronic acid for all-day hydration and mineral-rich spring water. We really rate its non-sticky texture. Skin type: Any, especially dehydrated Why it gets the Marie Claire seal of approval: Will leave your skin feeling baby soft.
Sarah Chapman Skinesis Liquid Facial Resurfacer, £41 | Cult Beauty
Best resurfacing toner: Inspired by her in-clinic peels, face-friendly acids (phytic, lactic and multi-fruit) dissolve surface residue. But what makes this resurfacing toner so satisfying is that it replenishes skin with hydrating hyaluronic acid and vitamin E as well as exfoliating so you can dial up radiance without irritation. Skin type: Dull, dry Why it gets the Marie Claire seal of approval: The facial-like results and the woman behind the entire Skinesis range.
Celebrity news, beauty, fashion advice, and fascinating features, delivered straight to your inbox!
Katie Thomas is the Senior Beauty Editor at Marie Claire UK. With over 10 years of experience on women's luxury lifestyle titles, she covers everything from the best beauty looks from the red carpet and stand out trends from the catwalk, to colonic irrigation and to the best mascaras on the market. She started her career on fashion desks across the industry - from The Telegraph to Brides - but found her calling in the Tatler beauty department. From there she moved to Instyle, before joining the Marie Claire digital team in 2018. She's made it her own personal mission to find the best concealer in the world to cover her tenacious dark circles. She's obsessed with skincare that makes her skin bouncy and glowy, low-maintenance hair that doesn't require brushing and a cracking good manicure. Oh and she wears more jewellery than the Queen.