Consider this your 101 guide to the different types of acids for your skin
Think you know your skincare acids?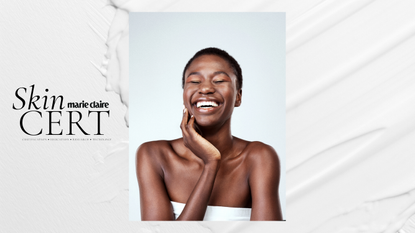 (Image credit: Getty Images/olhakozachenko/PeopleImages)
If you have never used skincare acids before it's easy to feel overwhelmed. Hyaluronic, malic, glycolic, salicylic.... it can feel like there is an infinite number of different acids for your skin and it's hard to know which you should use – and why.
But, no more: below we've outlined the big hitters and specific products containing acids that you should use for your skin type. It's not as complicated as you probably think (honest).
Most of the time, when people talk about skincare acids, they're talking about hydroxy acids. These are chemical exfoliants that gently lure the dead skin cells into coming off your skin.
So before we deep dive, it's helpful to understand – and explain – the three different types of acids that are out there...
1. Alpha Hydroxy Acids – AHA: Best for boosting glow. These are the most commonly used acids and the biggest family of acids in skincare. AHAs include glycolic, citric, mandelic, malic, tartaric and lactic. They exfoliate the skin and stimulate collagen.
2. Beta Hydroxy Acid – BHA (There is only one BHA, which is salicylic acid): Best for breakouts or acne. Like AHAs, beta hydroxy acid also acts as an exfoliant – increasing the shedding of dead skin cells.
3. Polyhydroxy Acid – PHA: Best for those with sensitive skin, who want the results without the potential for irritation, polyhydroxy acids are often called the 'next generation' of acid exfoliants because – unlike AHAs and BHA – they have multiple hydroxy groups on the one molecule. PHA's allow for slower and more gradual penetration and include the likes of gluconolactone, lactobionic and maltobionic.
The best skincare acids to add to your regime
Salicylic acid
Salicylic acid is best for those with blemishes and breakouts. "Salicylic acid, also known as Beta-hydroxy acid (BHA) is used for acne-prone skin because it can penetrate inside the pores and unclog them of dirt, excess oil, dead skin cells and other debris," explains Dr Hiba Injibar, consultant dermatologist at Dermasurge Clinic.
Not only is it able to break down the things that clog your pores, it's also a great anti-inflammatory agent, which is why you'll often find it in spot gels and acne treatments.
"Salicylic acid helps to treat acne, soothes irritated skin and reduces redness. It can also help resurface skin texture, allowing for a smoother complexion," adds Dr Injibar.
Glycolic acid
An alpha-hydroxy acid (AHA), glycolic acid is derived from sugarcane and one of the most popular chemical exfoliants used in peels and toners.
"Glycolic acid is part of the range of fruit acids (AHA) and exfoliates dead skin cells to improve the healthy turnover of skin," explains Dr Injibar. "This makes it one of the most effective anti-ageing ingredients, making the skin look healthier, younger and tighter. It can also help with superficial pigmentation, boost collagen production in the skin and make rough skin appear smoother."
Glycolic acid is also one of the smallest molecules of the alpha-hydroxy acid family, adds Mark Curry, co-founder of The Inkey List, "meaning it is water soluble and penetrates deeply into the skin."
Sensitive skin types may find this one a bit irritating or harsh on the skin, so always introduce it into your regime gradually and in a small concentration first. Also, glycolic acid does increase sun sensitivity, so it's so important to use an SPF while using glycolic acid to prevent any sun damage.
Hyaluronic acid
Unlike the other acids on this list, it's worth noting that hyaluronic acid isn't exfoliating. Often cited by skincare experts as the hydrating hero, hyaluronic acid is known for its incredible ability to hold over 1,000 times its own weight in water. A substance that's naturally present in the body (particularly the eyes and joints), it's also a humectant, so draws moisture to the skin from the environment.
Hyaluronic acid serums are one of the most popular methods of hydrating the skin, and the plumping effect makes them a great anti-ager. It's also used in non-permanent lip fillers.
Citric acid
You'll recognise the name from your favourite fruits, but citric acid is also used in many skincare products for gentle exfoliation and skin cell turnover – it's why a lot of at-home face peels smell like oranges. Extracted from citrus fruits such as lemons, limes, oranges, and grapefruits, citric acid is also in the alpha-hydroxy acid group.
"Citric acid is another AHA and is generally considered safe for all skin types," says Dr Ross Perry, medical director of Cosmedics skin clinics. "Its seen as safe for most skin types, excluding those with overly sensitive skin. A great exfoliator, which helps to unclog pores and even out skin tone, citric acid contains numerous antioxidant properties unlike other acids which help with environmental damage to the skin, boost skin firmness and improve skin elasticity."
Lactic acid
"Lactic acid is also part of the range of fruit acids (AHA), but is one of the larger molecules so it stays mostly on the outer layers of the skin," says Dr Injibar. "Due to its unique structure which allows it to bind water within skin, it's a hydrating alpha-hydroxy acid."
It's equally water-soluble, says Curry; "our lactic acid comes from milk and fruit sugars. Staying on the outer layers of the skin, it unglues dead cells to reveal brighter, more even skin as well as provide additional moisture to the outer skin layers."
Lactic acid can help with superficial pigmentation and discolouration too, adds Dr Injibar, "as it aids skin resurfacing. Skin resurfacing can result in a brighter and smoother complexion, improving signs of sun damage, fine lines and surface wrinkles."
It's suitable for all skin types who want brighter, more even and hydrated skin – and often recommended as one of the FIRST exfoliating acid to choose if your skin is more sensitive.
Malic acid
Malic acid is probably the least well-known of the commonly used skincare ingredients and is more gentle on the AHA scale.
"Malic acid is also an AHA, which is heralded as a 'natural exfoliator'," says Dr Injibar. "As it encourages cell turnover, it's often used to smooth wrinkles and fine lines, improve rough skin texture, and reduce superficial pigmentation. Malic acid also helps boost the collagen production in the skin."
Mandelic acid
Mandelic acid – also an AHA – is similar to glycolic acid and can be used to help prevent acne and also pigmentation. Thanks to its larger molecular structure, mandelic acid is a great choice for those with oily skin as the molecules can penetrate even the greasiest of skins. But, it doesn't penetrate skin quite as deeply as glycolic acid, which means it's less irritating.
"Mandelic acid is seen as one of the less harsh types of AHAs," adds Dr Perry, "which means it penetrates the skin at a slower rate, therefore causing less irritation. The benefits include: the ability to get rid of dead skin cells (so an excellent exfoliator), fast cell turnover, promotes collagen, helps keep excess oil at bay (so great for acne suffers) and has many anti-ageing benefits including softening fine lines, reducing sun damaged skin, reducing the appearance of wrinkles and pigmentation."
Gluconolactone
Gluconolactone (a PHA) is your go-to if you have super-sensitive or mature skin, and can't tolerate the irritation that can come from AHAs and BHAs. And, it's a great multi-tasker.
"Gluconolactone is a mild exfoliator which is seen as an alternative to AHAs and BHA's which can be a little harsh on those with sensitive skin," says Dr Perry. "In terms of the benefits, it works to get rid of dead skin cells from the top layer to leave a smoother, brighter complexion. It can also help to get rid of excess oil and lock in moisture whilst also acting as a barrier against environmental factors. Like most exfoliators, you should aim to use at least twice of week."
Consider your crash course in skincare acids, complete.
Celebrity news, beauty, fashion advice, and fascinating features, delivered straight to your inbox!