Prolong your summer glow with the best tanning waters that won't transfer, stain sheets or ruin clothes
Goodbye tanning mousse, hello tanning water...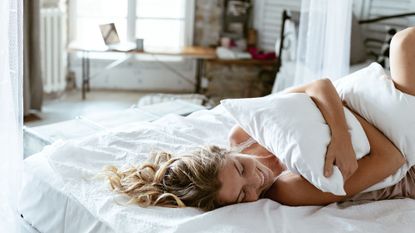 (Image credit: Getty Images/Jasmina007)
We might have officially moved into autumn, but we're certainly not giving up on our summer glow any time soon. Just because the rain isn't helping us with our tans (not that we ever recommend natural tanning without SPF, given the dangers of sun damage to skin health), there are plenty of products on the market that can help you achieve a natural, sun-kissed look all year round—most notably, tanning waters.
With autumn and winter just around the corner, here at Marie Claire HQ, we're keen to prolong our summer glows with our favourite tanning products. If you've read our guide to the best fake tan, you'll know that there are a range of different formulas available that look impressively natural.
But as much as we love fake tan, we really don't love the mess. Having to wash sheets, think about what you can sit on, and avoiding white clothes every time you apply fake tan is sort of enough to put you off it for good. If you're an avid fake tanner, you will know that these products can transfer onto just about anything, and we've lost count of the number of clothes and crisp white bedding that we've had to replace.
But fear not, because tanning waters are here to revolutionise the world of tan. Having taken the market by storm over the past couple of years, these clear formulas promise a perfect tan, just without the mess. And actually, some of them are really, really good.
While they don't have a guide colour (this is the instant pigment typically added to formulas to help you apply fake tan), most of the tanning waters out there are relatively streak-proof—you just have to know which ones to buy.
Luckily for you guys, we taken it upon ourselves to test out all of the most popular tanning waters out there so that we can give you our honest opinions of each one. Keep scrolling to see our roundup of the best tanning waters (and to find out how they actually work)...
Best tanning water deals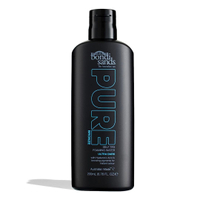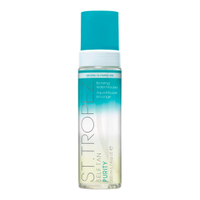 Our testing criteria
What did we look for when testing the tans? As a group of experienced editors, it's safe to say we've tested a fair few fake tans in our time. Having said that, we are by no means expert tanners—simply expert shoppers. We wanted tans that were easy to apply, weren't going to transfer and that gave us a gorgeous glow all year round. Another key factor? Whether they had that dreaded fake tan smell or not.
For more information, make sure to check out our guide to how we test the products that make it into our edits.
When selecting the best tanning waters for this edit, we asked ourselves the below questions for every product:
How easy is it to apply?
Does it leave streaks?
Does it transfer onto clothes or sheets?
Does it smell good (i.e. not like biscuits)?
Is it good value for money?
Is it a better option than a traditional mousse or cream formula?
So, without further ado, keep scrolling for the best tanning waters out there.
1. Bondi Sands Pure Self Tan Foaming Water Dark
Bondi Sands Pure Self Tan Foaming Water Dark
Reasons to buy
+
Gives a natural, sun-kissed finish
+
Doesn't have a strong smell
Reasons to avoid
-
Application can take a while to get used to
"The Bondi Sands self tan water is different to other clear tans thanks to its foamy formula. Like all clear alternatives, I found it took some getting used to, but I didn't notice any streaks or orange hands, despite the tan being - yep, you guessed it - clear. If anything, the foam texture made it slightly easier to apply - it's a thicker texture, so I felt like I could feel where I was applying it more. I liked the colour - it gave me a soft, natural, sun-kissed look - and I didn't notice the standard biscuit-y after smell when I used it, which was a big win for me. Plus, I didn't notice any orange residue or staining on my bedsheets or clothes.
"Fun fact: it's actually no rinse, so you can go about your day without planning in when you need to shower. And a top tip for you (I learnt the hard way): hold the bottle upside down when opening and applying, as I found that if I didn't, the foam came out as more of a water, making the process more difficult." Ally Head, Health Editor
2. Tan-Luxe The Water Hydrating Self-Tan Water
Tan-Luxe The Water Hydrating Self-Tan Water
Reasons to buy
+
Has a nice scent
+
Dries instantly
+
Pretty packaging
"The Tan Luxe tanning water really is as simple as spray, buff, and go. Unlike other tanning products, this water smells surprisingly nice, and it dries instantly meaning you can put it on in the morning without worrying about your clothes. I tried the tan at night and woke up with no fake tan smell, no transfer onto the bed sheets and a healthy-looking glow.
"As there is no colour to the water, you have to make sure to be extra careful when applying to ensure it is buffed in everywhere as it can be easy to miss a few spots (as the back of my arms will show you). I stopped using fake tan because I couldn't deal with the stress of stained sheets and the smell, but this has converted me back to the glow." Dionne Brighton, Beauty Writer
3. Isle of Paradise Dark Self-Tanning Water
Isle of Paradise Dark Self-Tanning Water
Reasons to buy
+
Easy to apply
+
Colour correcting formula
Reasons to avoid
-
Not the prettiest packaging
"I love this tan as no skill is needed when it comes to applying. It is available in three colour correcting shades, so you are spoilt for choice. The dark tanning water is powered by purple pigments, to counteract orange undertones.
"You can also purchase refillable pouches and even a tan mister to get that spray tan effect from the comfort of your own home. It doesn't transfer and the scent isn't overpowering. What more could you want?" Katie Thomas, Senior Beauty Editor
4. Bali Body Face Tan Water
Bali Body Face Tan Water
Reasons to buy
+
Gives you a healthy-looking glow
+
Easy to apply
Reasons to avoid
-
Not the prettiest packaging
"I was sceptical about trying a tanning water on my face, as my skin can often react to different tanning products. However, after trying this, I can't imagine my beauty routine without it. All you have to do is pop a bit on a cotton pad and rub it into the skin. The results? A healthy looking glow and hydrated skin. No irritation in sight.
"My one tip would be to make sure to blend it down your neck and onto your chest for the perfect finish, as otherwise you might be left with a slight contrast." Grace Lindsay, Beauty Writer
5. St. Tropez Self Tan Purity Bronzing Water Mousse
St. Tropez Self Tan Purity Bronzing Water Mousse
Reasons to buy
+
Tropical scent
+
Easy to apply
+
Natural finish
"I've been a fan of St. Tropez products for years, so I was so ex