I'm a lazy beauty editor when it comes to make-up, but this one brand makes my skin look incredible
There isn't a single dud in this impressive lineup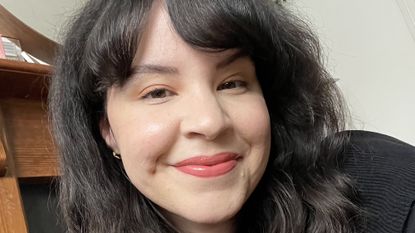 (Image credit: Mica Ricketts)
I'll be the first to admit that, as a beauty editor, I've been sleeping on Ilia Beauty. Coined as a 'clean' beauty brand (a term which I always take with a pinch of salt) with a skin tint as its hero product, I assumed that this was yet another make-up brand created for people with good skin. But when I'm wrong I will more than happily come clean. In actual fact, Ilia is a make-up line for people just like me who are incredibly lazy when it comes to putting stuff on their face—but still want to look good.
The entire line of multitasking formulations are foolproof to use and are infused with hardworking skincare ingredients (think niacinamide and hyaluronic acid) but they really don't compromise when it comes to colour pay-off either. From a serum-infused base product that creates the dewiest of complexions to tinted lip oils that deliver on colour and shine, I have yet to find a product from the brand that doesn't perform. Ahead, the 8 best Ilia products that have taken up permanent residency in my makeup bag.
1. Ilia Super Serum Skin Tint SPF30
Ilia Super Serum Skin Tint SPF 30
Reasons to buy
+
Lighweight, dewy finish
+
Super hydrating
+
Available in 30 shades
Reasons to avoid
-
Coverage might be too sheer for some
This is one of the brand's bestsellers, and is pretty much the only Ilia product that I was familiar with before discovering the wider line. I'm always dubious of anything that calls itself a skin tint as, typically, they don't do much for someone like me who has spots, acne scarring and texture. However, this one has become a daily staple in my make-up bag thanks to how fresh and healthy-looking it leaves my skin. Yes, it's lightweight, but it's definitely not invisible—it really evens out skin tone and brings down the appearance of redness from spots and areas of pigmentation. And while your natural skin does shine through, it doesn't cling to dry patches or highlight texture. In actual fact, it softens their appearance for an almost diffused effect. While I would recommend using it with a dusting of setting powder if you're particularly oily, I have truly been wowed at how fresh this looks even at the end of a long day.
2. Ilia True Skin Serum Concealer
Ilia True Skin Serum Concealer
Reasons to buy
+
Medium coverage
+
Buildable
+
Creamy texture
Reasons to avoid
-
Very hydrating—oilier skin types may need to set with powder
This concealer is so good that it could actually replace the need for most of my other base products. It has a wonderfully creamy texture that glides onto skin and blends in effortlessly with fingertips (meaning you don't have to mess around with brushes or sponges) and it covers everything from dark circles to blemishes without ever looking cakey. In fact, it melts into skin so seamlessly that you can barely tell you're wearing anything. It has a medium coverage, but can definitely be layered up if you have anything that you particularly want to conceal. My only bugbear would be that as someone with oily skin, the hydrating formulation can feel a little slippy. And while it does last fairly well alone, I'd use a setting powder with this to improve its wear time. Other than that, it's concealer perfection.
3. Ilia Limitless Lash Mascara
Ilia Limitless Lash Mascara
Reasons to buy
+
Lengthening and separating
+
Easy to remove
Reasons to avoid
-
Not for volumising or adding curl
Mascara isn't a mainstay in my daily make-up routine, so it's impressive that Ilia's Limitless Lash Mascara has made it into my list of top products for the brand. My lashes are short, curly and dark, so it's always length and definition that I seek out in a mascara rather than volume or curl. This one has a brush that really wriggles between each lash to separate them out and coat them in pigment before lifting them up to their full potential. You can layer it up if you want an extra fluffy finish, but I found just one coat was enough for a wide-awake everyday look. Best of all? As someone that has perpetually oily eyelids and often finds mascara smudged under my lashline by the end of the day, this one stayed put and didn't budge.
4. Ilia Balmy Tint Hydrating Lip Balm
Ilia Balmy Tint Hydrating Lip Balm
Reasons to buy
+
Moisturising
+
Nicely pigmented
I truly love everything about these lip balms which don't compromise when it comes to colour or hydration. Enriched with shea butter and rosehip seed oil, they feel delightfully moisturising and comfortable on the lips, yet have all of the pigment of a hydrating lipstick. Hold Me—a warm, peachy-pink—is my current shade of choice, but there are seven others to choose from. My only complaint is that I'd like even more shades as I'm that obsessed.
5. Ilia Multi-Stick
Ilia Multi-Stick
Reasons to buy
+
Works on cheeks and lips
+
Natural-looking flush of colour
Reasons to avoid
-
Quite sheer—would need to layer up for deeper skin tones
If you like your make-up application to be fast and fuss-free then this creamy lip and cheek colour is as versatile as they come. There is an enormous spectrum of shades to choose from tawny, bronze hues and berry tones through to classic peachy-pink blush shades and pearlescent highlighters. In The Mood, a golden peach, is my current go-to for a glowy cheek—I just swipe it on then blend out the edges with my fingers and my complexion looks instantly more lively.
6. Ilia Liquid Light Serum Highlighter
Ilia Liquid Light Serum Highlighter
Reasons to buy
+
Beautiful glow
+
Easy-to-blend liquid formula
Reasons to avoid
-
Might have too much of a metallic sheen for some
Ilia themselves describe this gel-based highlighter as having a soft metallic glow, which sounds like it would be an unlikely favourite for someone like myself who likes their make-up to be natural, fresh and suited to the school run. However, this liquid formulation delivers such a dewy, fresh finish that I now wear it most days. Yes, there is a slightly pearlescent glow to it, but I don't think it veers into party make-up territory. I press it onto cheekbones, my cupid's bow and the inner corners of my eyes to impart a burst of radiance, and my make-up always looks better for it.
7. Ilia Liquid Powder Eye Tint