Trying to get a handle on dark spots and pigmentation at home? Experts say *this* is how treat hyperpigmentation
Dark spots be gone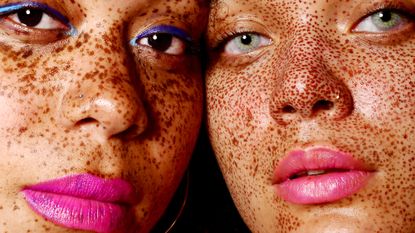 (Image credit: Getty Images)
In the wild, animals with spotted markings blend into their surroundings. But on us humans, brown splotches on the upper lip, forehead and cheekbones draw attention to an underlying issue: pigmentation. Which is why hyperpigmentation treatment is so high on the skincare agenda.
While not dangerous, pigmentation is stubborn to treat. You used to have to book a clinic-only hyperpigmentation treatment, which came with a hefty price tag. But that's all changed now. Thanks to advances in science, we're seeing more over-the-counter brands giving the professionals a run for their money.
What causes skin pigmentation and what's the best hyperpigmentation treatment?
Experts think skin pigmentation is the result of melanocytes (the colour-making cells in your skin) going into overdrive.
"Your body produces melanin to protect you from the sun – an over production shows up as brown spots and hyperpigmentation," says dermatologist Dr Dennis Gross.
The melanocytes then dump the dark pigment known as melanin into the deeper layers of skin, a bit like tattoo ink.
Melasma vs hyperpigmentation - what's the difference?
Hyperpigmentation
Hyperpigmentation is an umbrella term that refers to any discolouration on the skin. 'It's a catchall term that covers a number of different complaints. But the top three that I see in clinic are melasma, post-acne marks and sun damage,' explains skin expert Dr Sam Bunting.
Acne scarring is a form of post-inflammatory pigmentation. It occurs as a result of trauma to the skin. Darker skin tones are more prone to this type of pigmentation because of increased levels of melanin in the skin. Any injury like a picked spot makes those melanocytes jump into action.
Aside from causing freckles to blow up into large sunspots, unprotected sun exposure can exacerbate other skin conditions, too.
"Any inflammatory process in the skin leads to pigmentation. It could be acne, it could be eczema or even psoriasis, and all will tend to worsen when exposed to the sun," adds Bunting.
Melasma
Melasma is another type of hyperpigmentation. Often referred to as 'the mask of pregnancy,' it frequently appears as symmetric darkened patches on the face during pregnancy. There are pregnancy beauty products, designed to help if you are expecting.
Hormonal changes is considered to be a big cause. Which is why melasma can also be triggered by oral contraceptives. Again sun exposure can make it look more pronounced.
All the more reason why your best sun cream and best SPF moisturisers are so essential, all year round.
Pollution and pigmentation
"Once inside the skin, pollution can cause chronic inflammation,' says Dr Tom Mammone, Vice President of Skin Physiology and Pharmacology at Clinique. 'This stimulates melanocytes, giving you unwanted pigmentation."
Vitamin C is a powerful antioxidant that protects against damaging free radicals caused by pollution. Other things to remember are: keep your skin's moisture barrier in tact with hydrating ingredients like hyaluronic acid. "We've been able to prove that pollution tears tiny holes in the skin's barrier, causing moisture loss, so this is a good ingredient to have in your arsenal," says Dr Mammone.
Ingredients that form a film over the skin's surface will also help with that. "Alteromonas ferment, from marine bacteria, is brilliant at preventing pollution particles from adhering to the skin," says dermatologist Dr Barbara Sturm, who has made it a hero ingredient in her Pollution Drops.
Hyperpigmentation treatment
"Sunscreen and antioxidants are your best bet for preventing future hyperpigmentation," says Dr Bunting. 'In addition to its antioxidant properties, vitamin C is also known to inhibit the production of melanin in your skin. Bakuchiol is another key antioxidant. It also suppresses the activity of the melanocytes so is a useful new ingredient to have in your skin pigmentation toolkit.'
Other good brightening agents include kojic acid and azelaic acid, a yeast that deactivates the enzyme tyrosinase, which helps to produce melanin.
Just be patient - most hyperpigmentation treatment take at least two months of diligent use for the real fading to begin.
If you have melasma due to pregnancy or taking birth control pills, it may go away once you're no longer pregnant or using that kind of hormonal contraception.
But it's worth saying that the deeper the pigment, the tougher it is to treat. So if a section of skin is consistently left unprotected in the sun, you should look at in-clinic hyperpigmentation treatments to brighten.
"Professional chemical peels, like my in-office Alpha Beta Peel, are commonly used to treat hyperpigmentation," Dr Gross tells us.
IPL (intense pulsed light) is another option for sunspots, he continues. "It involves light-based energy pulsed onto the skin while simultaneously targeting blood vessels. The light seeks out the discoloration in the skin to lift it up and out."
Here's our roundup of the best hyperpigmentation treatment products:
La Roche-Posay Pure Vitamin C10, £40 | Lookfantastic
A step changer for sensitive skin as l-ascorbic acid brightens pigment and provides antioxidant protection minus irritation.
Dr Dennis Gross Ferulic + Retinol Wrinkle Recovery Overnight Serum, £70 | Cult Beauty
"At night, I recommend Ferulic + Retinol Wrinkle Recovery Overnight Serum,' says Dr Gross. 'Retinol helps to encourage the disintegration of melanin, while ferulic acid and niacinamide improve the even tone of skin."
Neostrata Enlighten Illuminating Serum, £53.99 | Face The Future
Research in Germany links air traffic pollution with a 25 per cent increase in pigmentation on the cheeks. Tackle it with the clinical expertise from this brand, which puts the enzyme responsible for melanin production into lock down.
Ole Henriksen Glow2OH Dark Spot Toner, £27 | Boots
This toner sold out in Boots in four days and since then it's been a battle to keep it in stock. Why? Because it promises to reduce the appearance of dark spots after seven days thanks to a serious concentration of acids and liquorice, a natural skin brightener.
Clinique Even Better Clinical Radical Dark Spot Corrector + Interruptor, RRP £49 | Lookfantastic
The dual-chamber pump releases a blend of clinical-strength serum and calming lotion to fade the appearance of dark spots and prevent irritation, a root cause of pigmentation. It buffs away dead cells with salicylic acid , brightens with blackout yeast extract and vitamin C and keeps sensitive skin in check with soothing turmeric.
Caudalie Vinoperfect Dark Spot Correcting Glycolic Night Cream, £35 | Sephora
Caudalie is famous for one ingredient in particular - viniferine (aka sap from the grapevine). Why? It's 60 times more powerful than vitamin C, so when it's combined with glycolic acid, this cream helps to fade and buff away stained skin. According to a study, 90% of women said they felt their dark spots had been corrected. You can't argue with those stats.
Oskia Renaissance Brightlight Serum, £94 | Face The Future
This dark-spot reducer is packed with vitamin C and fruit AHAs in a base of hyaluronic acid. Seriously clever skincare for making skin a glowier, more even-toned version of itself.
No7 Laboratories Dark Spot Correcting Booster Serum, £35 | Boots.com
Believe the hype. This contains six times more skin-lightening technology than any other No7 serum is proven to start fading dark spots in just two weeks thanks to sephora, embilica and vitamin C, which normalise melanin levels.
Eucerin Anti-Pigment Dual Serum, £42 | Sephora
One vial contains the thiamidol molecule to reduce pigmentation in just two weeks; the other dispenses hyaluronic acid, so skin stays plump and juicy in the process.
Dr Sam Bunting Flawless Brightly Serum, £44 | drsambunting.com
Pigmentation has met its nemesis with this turbo-charged blend of azelaic acid, niacinamide and bakuchiol.
Paula's Choice Clinical Discoloration Repair Serum, £49 | Cult Beauty
If you haven't tried Paula's Choice before, make that change now. The results-driven brand is one that we can always rely on for tackling issues. This serum, which you should use three times a week and in the evening, use tranexamic acid to even our skin tone, niacinamide to fade discolouration and bakuchiol to prevent any dark spots coming back.
Allies of Skin Mandelic Pigmentation Corrector Night Serum, RRP £95 | Lookfantastic
What do you get when you put mandelic; lactic, salicylic acid, bakuchiol, antioxidants and peptides in one formula? You get a cracking hyperpigmentation treatment products that both exfoliates the skin to brighten stubborn dark areas and improves skin health.
Celebrity news, beauty, fashion advice, and fascinating features, delivered straight to your inbox!
Katie Thomas is the Senior Beauty Editor at Marie Claire UK. With over 10 years of experience on women's luxury lifestyle titles, she covers everything from the best beauty looks from the red carpet and stand out trends from the catwalk, to colonic irrigation and to the best mascaras on the market. She started her career on fashion desks across the industry - from The Telegraph to Brides - but found her calling in the Tatler beauty department. From there she moved to Instyle, before joining the Marie Claire digital team in 2018. She's made it her own personal mission to find the best concealer in the world to cover her tenacious dark circles. She's obsessed with skincare that makes her skin bouncy and glowy, low-maintenance hair that doesn't require brushing and a cracking good manicure. Oh and she wears more jewellery than the Queen.