The best concealer for dark circles, blemishes and more as chosen by beauty editors
Hide dark circles and cover blemishes with our edit of the best concealers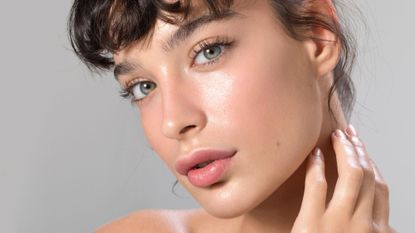 (Image credit: Getty Images svetikd 1179981130)
Whether you want to disguise pesky dark under-eye circles or hide the mother of all blemishes, the best concealer is an absolute must to have stashed in your make-up bag.
Rest assured that there's one out there to help you fake the look of eight hours of sleep, cover up breakouts or disguise redness, regardless of your budget. But first, a few expert need-to-knows to ensure you get your perfect make-up match.
"Not all concealers are made equal and not all of them will do everything," MAC's Global Senior Artist and BBC Glow Up judge Dominic Skinner tells us. "Concealers are like pairs of shoes; you need different ones for different occasions. When choosing one you need to ask yourself 'what is it for?' and 'where is it going?'. This will help you find your way through the forest of options."
You'll also need to think about the type of finish you like best – matte, dewy or demi-matte for something creamy that falls between the two.
Finding the best concealer for dark circles
"For under-eyes you need something that will set, like the MAC Pro Longwear Concealer. This means it won't sit in fine lines and won't start lifting your mascara – which is what causes panda eyes at the end of the night," Dominic explains.
"You might also need a shade that's more pink or coral than your skin tone as this will help to banish those dark circles." Of course, the best eye cream can also help to improve the look of dark circles and bags as well as provide a good base for your concealer of choice.
Something to note is that dark circles under the eyes are very often hereditary, so you're not going to get rid of them completely. However, Zoë Taylor, a make-up artist for Chanel, suggests facial massage before applying your concealer. "Lazy lymphatic drainage can really emphasise the problem," she explains. "Facial exercises are a huge part of any skincare routine, but don't underestimate how much this can help with lymphatic drainage."
She also says that "using one under the eyes is all about the light layering of products." She recommends colour correcting, then applying your foundation, before topping with your concealer. Make sure to blend each one into the skin with a very soft, fluffy brush.
And her final tip? Highlighter. "Applied with the tip of my finger and patted into the outer corners of my under eye, this is a great distraction from any of the fine lines in this area too."
Choosing the best concealer for acne and blemishes
"To conceal blemishes you need to go for one that has a more creamy texture," Dominic continues. "This will prevent the dry skin around the blemish to crack and peel during the day. It's best to go for one that is closest to your skin tone and I find that applying with fingers in a tapping motion works the best to camouflage the blemish completely.
"For skin pigmentation and uneven skin tone, I recommend a liquid one as you can build up the coverage to a flawless finish. Plus, you can mix it into your regular liquid foundation to give it that extra red carpet finish. MAC's Studio Fix 24 Hour Smoothwear Concealer is amazing, and a fashion week and award season staple in my kit." Pair it with a great hyperpigmentation treatment for maximum results.
What about the best concealer brushes?
Although some people prefer to use the 'wand' or tip of their concealer, a brush is recommended in order to ensure that you make the most of the product and get a nice, even finish with equal coverage. Size-wise, we suggest something like the Bobbi Brown Concealer Brush or the classic MAC 195 Brush. Alternatively, pat it into the under-eye area using your ring finger – it'll fit perfectly into the inner corner of your eye socket and under the lash line.
Concealer vs colour corrector
Colour correctors work incredibly well alongside your concealer; as the name suggests they colour correct rather than completely cover up. So for example, if you have blue or purple under your eyes, it's useful to use a peachy, orange-toned corrector before your concealer.
On the other hand, if you have a seriously angry red blemish, then a green-tone colour corrector will take down some of that tell-tale inflamed pinkish tone before you cover up.
Our favourites are the MAC Studio Fix Conceal and Correct Palette and the L'Oréal Paris Infallible Total Cover Palette.
Don't forget to check our Marie Claire vouchers site before you shop for the latest offers and discounts from your favourite brands - think LOOKFANTASTIC, Cult Beauty and Boots.
16 of the best concealers to buy now
The Marie Claire UK beauty team have tested so many concealers on their blemishes, under-eye circles and spots. Only the very best have made it onto the list. The team scored the concealers based on everything from application, texture and finish to shade range, coverage and price.
So, let's find you your newest concealer...
1. Lancôme Teint Idole Ultra Wear All Over Concealer
Lancôme Teint Idole Ultra Wear All Over Concealer
Best concealer for all over coverage
Specifications
Number of shades: 15
Coverage: Medium to full
Finish: Dewy
If you don't like to wear foundation, but feel like you need extra coverage on some days then say hello to this concealer. You can apply it all over the face and blend with a buffing brush and it will give you the exact coverage that you need. Katie Thomas, Marie Claire UK's Senior Beauty Editor, is a huge fan of this concealer. "I'm incredibly picky about my concealers, because I have the darkest and puffiest under eyes and it takes a special concealer to camouflage them. This is that concealer."
2. Rose Inc Softlight Luminous Hydrating Concealer
Rose Inc Softlight Luminous Hydrating Concealer
Best concealer for dark circles
Specifications
Number of shades: 20
Coverage: Medium
Finish: Demi-matte
The brainchild of Rosie Huntington-Whiteley, Rose Inc is the beauty industry's new favourite brand. And its concealer is the standout product, if you ask us. It's very hydrating and super brightening wherever you apply it, but particularly great for that under-eye area. Ideal if you have kids and want to keep those dark circles at bay.
3. Maybelline Instant Anti Age Eraser Concealer
Maybelline Instant Anti Age Eraser Concealer
Best high street concealer
Specifications
Number of shades: 17
Coverage: Medium
Finish: Demi-matte
There's a reason why this was Britain's number one concealer last year. Just as it says on the tube, it satisfyingly erases dark circles, blemishes and any dark spots. The sponge applicator means that you can never apply too much, which also helps to make it perfectly buildable too. "I keep one of these concealers in pretty much every washbag and handbag, that's how affordable AND brilliant it is. It means that I'm always prepared for any on-the-go touch ups," says Katie.
4. Glossier Stretch Concealer
Glossier Stretch Concealer
Best concealer for dry skin
Specifications
Number of shades: 12
Coverage: Light
Finish: Dewy
Dry skin works well with most types of concealer, but the more nourishing the better as it won't cake or cling to any flakes or dry patches and make them more noticeable. Glossier's Stretch Concealer ticks that exact box, with a creamy formula that has a glowy finish. It's a brilliant, buildable concealer that's particularly great for brightening the under-eye area. As it's so lightweight it's not great for covering angry spots - look for one with more coverage for blemishes.
5. Laura Mercier Secret Camouflage Concealer Duo
Laura Mercier Secret Camouflage Concealer Duo
Best does-it-all concealer
Specifications
Number of shades: 16
Coverage: Full
Finish: Demi-matte
An industry favourite, Laura Mercier's Secret Camouflage is iconic for a very good reason. The two different shades mean that you can cover blemishes and brighten the under eye area simultaneously. It also allows you to create your own custom shade and thus the perfect coverage. We love the new pen-style applicator as it allows you to be really precise.
6. MAC Pro Longwear Concealer
MAC Pro Longwear Concealer
Best long-wearing concealer
Specifications
Number of shades: 16
Coverage: Full
Finish: Matte
MAC's Pro Longwear Concealer is super lightweight and applies much like a foundation, before sinking into the skin. It covers all manner of skin issues - like pigmentation, blemishes and dark circles. It's super long-wearing, leaving you with a matte finish, and it goes without saying that make-up artists love it.
7. bareMinerals Original Liquid Mineral Concealer
bareMinerals Original Liquid Mineral Concealer
Best concealer for angry, red blemishes
Specifications
Number of shades: 17
Coverage: Medium
Finish: Demi-matte
Super creamy, super blendable and super buildable. This concealer is a dream to work with. A lighter shade will help to brighten and blur the under eye area, whereas one that matches your skin tone exactly will work well at hiding any unsightly spots and marry well with your foundation.
8. NARS Soft Matte Complete Concealer
NARS Soft Matte Complete Concealer
Best concealer for spots
Specifications
Number of shades: 14
Coverage: Full
Finish: Matte