This one product will transform your make-up game if you want to tackle dark circles and redness —this expert explains how
Plus the very best on the market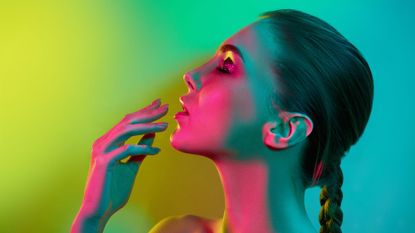 (Image credit: Getty Images)
Sometimes it can be tricky to know where to turn when it comes to neutralising redness, minimising dark circles and toning down blue tones in your complexion. This is especially true when it seems even the best full coverage foundations and best concealers are not camouflaging the way that you want them to. But there's one clever product that tackles just that: colour correcting palettes.
The only thing is that they can feel really intimidating because, let's be honest, they look a lot like the eyeshadow palettes you used when you first started experimenting with make-up. They're brightly coloured and need a bit of consideration before diving straight in.
Once you understand the colour theory and best application technique though, it can change your make-up game. That's why we've called in the help of make-up artist Andrew Denton to help give all the expert advice you need to shop the best colour-correcting palettes out there.
What is a colour corrector?
Colour correctors essentially "neutralise discolouration throughout the complexion, prepping the skin for base application," explains Andrew. It's all about colour theory. "When using foundation or concealer, applying either of the two on top of an area of the face that is slightly darker, appears blue/purple-ish, or is red in tone can make the skin appear grey, flat, or even green," he says. "This occurs due to the sheer colour pigments in complexion-perfecting products blending with the tones that naturally occur within our skin."
This applies to the under eye too, with Andrew explaining that if your eye appears slightly blue, applying a skin matching concealer or even a lighter shade of concealer to brighten the area will make it appear greenish due to the yellow tones within the concealer. "Using a colour corrector will create a veil between your skin and the product you are using to ensure your skin tone is perfect and not discoloured."
In essence you want to neutralise the tones in your skin with an opposing colour before applying your base products. It's called colour theory, which is what makes the best purple shampoos so effective - the violet in the shampoo removes any brassy yellow in blonde hair because purple is the opposite colour to yellow in the colour wheel.
What are the main colour correcting shades and what are they used for?
There are four main colours people use in complexion products to neutralise a certain concern, here's how Andrew uses them.
Peach
Peach is used to correct blue tones within lighter complexions. Often seen around the eyes and is a great way of concealing without packing product on.
Orange
Orange is used to correct darker areas, sometimes hyperpigmentation, on medium to deep skin tones. It can feel a little scary using this as it's quite a bright shade, but it does a brilliant job at concealing prior to foundation application.
Green
Green does a wonderful job at lifting pink and red tones, often in lighter skin, This is a colour correct often used for those with rosacea to tone down the intense red areas of the skin.
Lavender
Lavender helps to combat yellow and sallowness in the skin. This can really perk up the overall complexion and has more dramatic results that you'd think.
Application tips, from a make-up artist
When it comes to using colour correctors at home, Andrew has some sound advice. The first is start small and add as and when you need. "Start light and build," he says. Remember: it's always easier to add than to take away—and that applies to correctors, too. "The more corrector you apply, the more foundation or concealer you are going to need to use on top to bring the skin back to a more natural appearance."
You should also only apply the colour corrector shade in the areas that actually need it. This is something I often see with people using green to conceal redness; using far too much and using it all over versus focusing on the central points of the face where redness is more apparent. "Corrector should be a veil and not a mask, the same principle as your foundation."
The final tip is to not panic. "When applying the corrector, the skin will look very strange, but once you apply your base products on top all will make sense," Andrew notes. "Trust the process."
Best colour correcting palettes, reviewed by a beauty editor
1. Kiko Milano Colour Correct Concealer Palette
Kiko Milano Colour Correct Concealer Palette
Reasons to buy
+
All four shades in one (plus a bonus highlighting shade)
+
Unique texture
Reasons to avoid
-
On the more expensive side
The palette has a unique consistency as a hybrid between cream and powder, which makes it great for all skin types. It's thick and creamy, which can be worked into the skin easily but also dries down well so that it's not going to slide right off. It has fantastic coverage and doesn't dry my already dry skin out, which is a huge bonus for me.
2. NYX Professional Makeup Colour Correcting Palette
NYX Professional Makeup Colour Correcting Palette
Reasons to buy
+
Targets lots of concerns
Reasons to avoid
-
Not suitable for all skin types
This one is wonderfully creamy and blends into the skin really nicely. It works well for various concerns as the colour selection is great—containing six shades— and is affordable given the shade range. Although the texture is creamy, it can be a little dry so it's worth making sure your skin is well-prepped with plenty of moisturiser, especially if you have dry skin. The formula is a lot longer lasting than many of the others, which is particularly great for long days and big occasions.
3. Ben Nye Mojave Adjuster Wheel
Ben Nye Mojave Adjuster Wheel
Reasons to buy
+
Great for dark skin tones
Another of Andrews favourite is the Ben Nye Mojave Adjuster Wheel, "fabulous for darker skin tones, my secret weapon for a perfect natural base," he says. It contains six shades various hues of orange and brown and is a matte formula so ideal for various types of make-up from everyday to costume.
4. MAC Cosmetics Studio Fix Conceal and Correct Palette
MAC Cosmetics Studio Fix Conceal and Correct Palette
Reasons to buy
+
Ideal for everyday make-up
+
Comes in 3 palette shade variations
Reasons to avoid
-
Doesn't contain all colour correcting shades
The MAC Conceal and Correct Palette is ideal for everyday use and is a little less intimidating than the brightly coloured correctors out there. It's ideal for concealing blemishes and dark under eyes. The palette comes in three separate palette shades—light, medium and dark. The texture is creamy and super easy to use but does need to be set with a little translucent powder.
5. Stila Correct & Perfect All-In-One Color Correcting Palette
Stila Correct & Perfect All-In-One Color Correcting Palette
Stila's colour correcting palette is ideal if you can't decide between creamy and matte formulas as it contains five creamy shades (peach, pink, yellow, green, and orange) and two powder shades (lavender and yellow). This one likely won't work for all skin tones though and is a little more expensive than others.
6. LA Girl Pro Conceal
LA Girl Pro Conceal
Reasons to buy
+
Affordable and easy to use
OK, OK I know this one isn't a palette but it's well worth a mention. It's one of Andrew's favourite, "I tend to prefer more creamy liquid formulas as they set and have good staying power," he says. "I love the LA Girl corrector tubes, cheap as chips, blend well, set and last and are super pigmented." And he also notes that they're fantastic under the eyes as they are thin and aren't prone to creasing.
Celebrity news, beauty, fashion advice, and fascinating features, delivered straight to your inbox!
Tori is a freelance beauty journalist and contributor for Marie Claire. She has written for various titles, including Allure, Glamour, Elle, Refinery29, Brides, and more. Currently training to be a nail tech, Tori is a total nail enthusiast and always has time to talk all things nail art. When she's not writing about beauty and testing products, Tori can be found walking her rescue dog Pip, drinking great coffee, and eating as many croissants as humanly possible.