If you want firmer skin, then these expert-approved facial massages will help
We've got the full lowdown on how to do a facial massage at home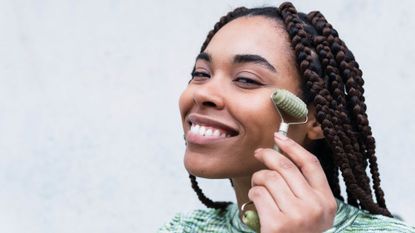 (Image credit: Getty Images Westend61 1407282037)
Have you ever left a facial and thought, 'wow, my face looks so toned?' Funnily enough, there's a reason for this. Say hello to facial massages. These techniques can actually help to lift and firm the skin, and the best news is that you don't need to head to a professional every time you want to reap the benefits. In fact, there are lots tricks and tips you can use at home to see the same results.
Sound interesting? We thought so. We've reached out to the experts to find out all about the benefits of facial massages, and how to do them at home. Keep on scrolling for everything you need to know, and don't forget to check out our guide to the best face massage tools while you're here. Time for a bit of TLC...
What is a facial massage?
This skincare technique has grown in popularity in recent years thanks to brands such as FaceGym, who offer a range of different 'workouts' for your face in their studios.
"Think of a facial massage like going to the gym, but for your skin," says Dr Ayah Siddiqi, aesthetic doctor and ambassador for CurrentBody. There are a range of different techniques you can do for different results, but most of them will involve using your hands in different motions across the face.
To help enhance facial massages, you can also purchase a range of different tools such as a gua sha or a facial roller, but we'll get onto them a little bit later.
What benefits can a facial massage have?
"Facial exercises are an integral part of my skincare routine," says CEO and Founder of Intuisse, Isabel Greiner. "I incorporate various exercises, such as gentle facial massages, facial acupressure, and targeted muscle movements to help promote blood circulation, stimulate collagen production, and enhance overall health and appearance.
"These massages can also help to address fine lines as they can help tone and tighten facial muscles."
If you find that you suffer with water retention and wake up feeling a little bit puffy because of this, Dr Siddiqi says that facial massages can also help to reduce this.
The best facial massages to do at home
We spoke to face yoga expert Danielle Collins who shared five facial yoga exercises from The Danielle Collins Face Yoga Method to get you started. Be sure to first apply products with a bit of slip, something like the best face serum, to avoid dragging or pulling your skin.
Facial Yoga For Eyes: The V
Press both middle fingers together at the inner corner of the eyebrows, then with the index fingers, apply pressure to the outer corners of the eyebrows.
Look to the ceiling, and lift the skin below the eyes upwards into a strong squint, and then relax.
Repeat six more times and finish by squeezing your eyes shut tightly for 10 seconds.
Facial Yoga For Cheeks: The Smile Smoother
Make an 'O' shape with the mouth, hiding your teeth with your lips.
Smile widely while keeping the teeth hidden and repeat six times.
Next, hold the smile shape while placing one index finger on the chin. Then start to move the jaw up and down as the head tilts gently back. Relax and repeat twice more.
Facial Yoga For Forehead: Smooth The Brow
Place both hands on the forehead facing inwards and spread all of the fingers out between the eyebrows and hairline.
Gently sweep the fingers outwards across the forehead, applying light pressure to tighten the skin.
Relax and repeat 10 times.
Facial Yoga For Brows: The Flirty Eyes
Place an index finger under each eye, pointing towards the nose.
Hide the teeth and form an 'O' with your mouth.
Flutter the upper eyelids while gazing at the ceiling for 30 seconds.
Facial Yoga For Chin And Neck: The Giraffe
Looking straight ahead, place the finger tips at the bottom of the neck and lightly stroke the skin downwards with your head tilted back.
Bring the head back down to the chest and repeat twice more.
Finally, jut the lower lip out as far as possible to pull the corners of the mouth down. Place your fingertips on your collarbone with your chin pointed upwards. Hold for four deep breaths.
How often should you give yourself a facial massage
"Consistency is key," says Greiner. "I recommend incorporating these techniques into your daily skincare routine for optimal results. Spending just a few minutes daily engaging in these exercises can yield remarkable benefits over time."
How to enhance a facial massage
Although your hands are great for facial massages, there are a number of different tools you can use to take your routine to the next level.
Dr Siddiqi recommends using energy devices, such as the CurrentBody one below, as they "give energy to the cells and stimulate them to work more effectively."
Shop some of our other favourite facial massage tools below.
Celebrity news, beauty, fashion advice, and fascinating features, delivered straight to your inbox!
Grace Lindsay is currently Junior Beauty Editor at Who What Wear UK and previously was Marie Claire UK's E-Commerce Writer. With over three years of experience in the fashion and beauty industry, she covers everything from the best make-up and skincare deals to how to shop the stand out trends of the season. When she's not typing away at her laptop, Grace can be found shopping her favourite vintage markets IRL, or catching up on her never-ending list of books to read.