Princess Diana's make-up artist gives us the best blusher tips
Peach, perky cheeks ahoy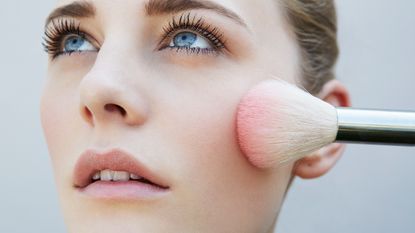 (Image credit: Getty Images)
Peach, perky cheeks ahoy
The best blusher does more than just warm up your complexion. It can carve out cheekbones you never knew you had and make you look like you just emerged from a wind-whipped walk with a suggestive flush. No wonder it's known as the 'magic wand of make-up.'
'Blusher makes you feel more pulled together,' says Mary Greenwell, make-up artist supremo, who worked closely with Princess Diana.
'I never did Princess Diana's make-up without adding a bit of blush to her face. It instantly made her look fresher. A little bit of concealer to disguise any darkness under your eyes and the right colour blush goes a long way.'
But the importance of the finding the right colour, texture and placement of your blusher should never be underestimated.
Here's everything you need to know…
How to apply and wear blusher
Zoë Taylor, Chanel make-up artist, says that it starts with skincare. 'In my opinion, you want blusher to look like a natural flush of the cheeks and the best way to achieve this is to have fresh skin, so don't skip skin prep.'
'I like blush to be quite high on the cheeks for a sunkissed glow,' says Greenwell. 'Placing it slightly above your cheekbones looks like it's part of your skin rather than like you're wearing make-up. It also gives them lift.
Blusher is really versatile, so don't shy away from experimenting placement on the face.
'Apply your blusher to the apple of the cheeks (this is the plump part when you smile) to give you a flushed look,' says Taylor. 'If you want to warm your skin and give it a summery glow, add contour and structure to your face by applying a little above the temples and blending out into the hair line, like you would a bronzer.'
Depending on the texture, you can either apply your blush with a fluffy brush, an angled brush or your fingers.
What is the best natural-looking blush?
The best cream blusher and powder blusher both have their benefits.
If you want your complexion to look particularly juicy and dewy, then a cream is your best choice. The blendable nature of a cream blusher also makes it ideal for ageing skin. It also mimics the look of skin better than powder.
Powders on the other hand are great for mopping up excess oil and for giving your make-up legs.
'Powder versions are easier to control,' says Greenwell. 'The colour will last literally twice as long, even in humidity.'
Her top tip is to choose a powder blusher that's incredibly finely milled - 'that way it is sheer enough to look like cream blush'.
How to find the best blusher colour for your skin tone
'Knowing your skin's undertone will help you to choose the best blusher shade that will look most natural,' says Taylor. 'A super easy way of working this out is by looking at the fine veins and natural shading around your eyes. So look at your eyelids and your dark circles.'
She recommends those with cooler undertones, so bluer veins and dark circles wear berry shades. And those with a warm undertone and have a yellow-brown shading in the eye area wear more orangey colours.
Best blusher For Fair Skin: Pink Blusher
Pale pink blusher is the closest thing we've seen to an actual honest flush on fair skin. Why? It's almost the same colour as the inside of your lip, which is a good indicator of shade accuracy.
'Look for a pink shade with a golden undertone to it as it can be used as a bronzer whenever you want to warm up pale skin,' says Greenwell.
Best Blusher For Medium Skin: Rose-Pink
If pale pink is flattering on pale skin, then it follows that medium pink is flattering on medium skin. Due to its green or yellow undertones, anything too warm can make medium skin look sallow. Cool rose-pink and raspberry shades make it quietly glow-y.
Best Blusher For Dark Skin: Deep Berry or Hot Coral
Deep berry, plum and hot coral shades may look intense in the pan. But on dark skin, they're actually pretty neutral.
'You need to choose a heavily pigmented blush to pack a bit more punch,' says Greenwell. 'And avoid going too cool. The ideal shade will have golden undertones to it – anything blue-based clashes with the warmth of dark skin and is going to look ashy.'
Best Blusher For All Skin Tones: Peach Blusher
The most universally flattering shade that looks incredible on everyone? Peach.
This is because it basically contains every undertone known to man: pink, orange, red and yellow. When combined, its warmth satisfies those in both the bronzer and blusher camps.
Proof that blusher is pure upside - and less tactile than a pinch on the cheeks.
Celebrity news, beauty, fashion advice, and fascinating features, delivered straight to your inbox!
Katie Thomas is the Senior Beauty Editor at Marie Claire UK. With over 10 years of experience on women's luxury lifestyle titles, she covers everything from the best beauty looks from the red carpet and stand out trends from the catwalk, to colonic irrigation and to the best mascaras on the market. She started her career on fashion desks across the industry - from The Telegraph to Brides - but found her calling in the Tatler beauty department. From there she moved to Instyle, before joining the Marie Claire digital team in 2018. She's made it her own personal mission to find the best concealer in the world to cover her tenacious dark circles. She's obsessed with skincare that makes her skin bouncy and glowy, low-maintenance hair that doesn't require brushing and a cracking good manicure. Oh and she wears more jewellery than the Queen.