The 15 most natural-looking cream blushers money can buy
Follow in the footsteps of make-up artists everywhere and invest in a cream blusher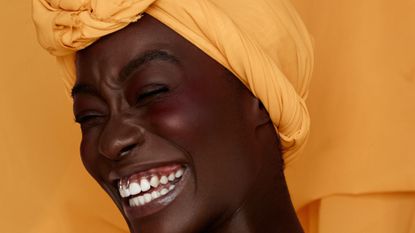 (Image credit: Getty Images/Ngozi Ejionueme / 500px)
If you're still attached to your favourite old powder formula, allow us convince you that a good cream blusher might just be the best make-up product out there.
The secret weapon of make-up artists (and a French-girl make-up must have), a cream blusher is widely regarded as the most natural way to create a healthy glow. Easy to blend and long-lasting, a cream blusher is pretty much fool-proof to apply and perfect for giving that enviable no-make-up, make-up look.
There are tons of types to choose from giving slightly different finishes—all as beautiful as the next. It's fair to say that nothing gets us quite as excited as a new rosy hue to test. And there's a reason they're so popular. Simply put: they mimic "healthy, dewy and naturally-flushed skin," says pro make-up artist Amanda Bell. Whilst powders lay on the surface of the skin and look a little more obvious, creams melt into the skin and can be intensified depending on how much colour pay off you want.
Because everyone loves cream blush so much, brands are making them quicker than we can keep up with. That means there's plenty to choose from, which can be a little overwhelming. To help you pick the perfect one, the Marie Claire team has rounded up our best cream blushers (including some vegan make-up formulas). Plus, we asked Amanda for all of the tips and tricks to get your cream blush looking as good as can be. Naturally-flushed skin this way…
What skin types does cream blush work best for?
Before the days of super smart formulations, cream blushers were definitely geared more towards dry skin types. Nowadays though, there's a cream blush for everyone—even those with oily and combination skin.
The reason oily skin types might feel a little unsure about cream blushers is due to longevity. But Amanda says you can get around this with the help of a setting spray. "Using a fixing mist after application can enhance longevity of wear; just spritz the setting spray directly onto the make-up sponge or brush so you're locking in pigment," she explains. "The other thing you can do is hold pigment onto the skin using a light dusting of invisible powder over the top."
If you're not keen on the idea of a setting spray, opting for a mattifying primer can also help your cream blush stay in place for longer.
Tips for applying cream blush
There are a few ways you can apply cream blush depending on preference and finish. The first is using your fingers, which gives "the sheerest veil of colour as the warmth of your fingers dissipates the colour onto the skin creating a beautiful glaze," says Amanda. Next up is using a nylon brush for medium coverage. Simply run the brush over the surface of the cream and onto the skin, then you can blend this in using the brush or tapping in with your fingertips. Finally is using a beauty sponge, which is the easiest to build up.
There is one more way to apply it though, which Amanda says is foolproof. "Apply the blush to the heels of the hands and then add this directly to the flat part of the cheek bones, rocking back and forth," she explains. "The rocking motion helps blend into the skin and you don't have to overthink it, it intrinsically goes onto the correct place."
How we tested the best cream blush
Each formula needed to perform when it came to ease of application, good shade selection, longevity and having a beautiful finish. These were tested with various foundations and sunscreens underneath and using different application methods. These were the ones that came out on top.
Best cream blushers
1. Merit Flush Balm
Merit Flush Balm
Best cream blusher for all skin tones
Reasons to buy
+
Many shades to choose from
+
Vegan formula
Reasons to avoid
-
Packaging doesn't feel very luxurious
One of the most buzzy brands right now is Merit Beauty and the Flush Balm is one of the products getting attention—and for good reason. With 9 shades to choose from, a vegan and cruelty-free formula and an ultra-natural finish, there's no wonder it's got everyone talking. The packaging, while not super-luxe feeling, is lovely in how easy it is to dab onto the cheeks and blend with your fingers. It melts into the skin for a natural flush that's easy to build for more pigment.
"Cream blush is my absolute ride or die make-up product. Along with a brow gel, I'll never leave the house without a dab of cream blush on. This product in shade Cheeky genuinely never leaves my cheeks. It is, without question, my most used make-up product of 2023." – Shannon Lawlor, Acting Senior Beauty Editor at Marie Claire UK
2. Hourglass Vanish Blush Stick
Hourglass Vanish Blush Stick
Best luxury cream blusher
For the best luxury option, it's got to be Hourglass. The formula is quite dry, so it takes a little more work to blend into the skin. However, the blending is worth it for a soft finish that isn't sticky in the slightest. This makes it really comfortable to wear and work with other make-up. The powdery formula means the stick doubles up as a great lipstick, so feels like a multi-purpose product in that sense.
"Although it's expensive, this cream blush really does last a long time because a little goes a long way. Plus, it's worth every penny for Hourglass's sleek packaging, which I adore." – Tori Crowther, Freelance Beauty Editor and Marie Claire UK Contributor.
3. Saie Dew Blush
Saie Dew Blush
Best cream blush for a pop of colour
Reasons to avoid
-
The bright shades aren't good for beginners
Okay, so Saie Dew Blush can take some work to blend seamlessly into the skin, but it's so worth taking the effort because these shades are beautiful. They look intimidating, but don't let the colour scare you. Yes, the pigment is impressive but a little goes a long way and a brush is your best friend in blending. If you've been thinking your make-up is missing a little magic, this is just the trick.
4. Kjaer Weis Cream Blush
Kjaer Weis Cream Blush
Best sustainable cream blusher
Reasons to avoid
-
Oily skin types might find it a little wet
"This is my most-used blush and in all honesty, I can't pinpoint exactly what I love about it. I just always come back to it, and that means a lot. It looks completely natural-looking, easily blends into the skin (seriously, it requires very little effort!) and is perfectly matte without feeling too dry. There are plenty of shades to choose from with 3 being luminous in finish if you prefer a highlighted look. The thoughtful refillable packaging makes and brand ethos makes it our best sustainable pick." – Tori Crowther, Freelance Beauty Editor and Marie Claire UK Contributor.
5. e.l.f Putty Blush
e.l.f Putty Blush
Best affordable cream blusher
e.l.f just doesn't get it wrong and the Putty Blush is no different. They're incredibly natural-looking with enough pigment to make a nice flush without being overwhelming. They don't have the best staying power but for £6, you can't go wrong. This formula can be a little trickier to blend so we recommend using a sponge or brush to gently sweep onto the cheeks.
"As much as I love a luxury cream blush formula, this magic of this little guy can't be overlooked. It gives almost identical results to one luxury formula in particular and I adore the dewy finish. During winter months, when my skin is a little drier, this cream blush is all I need to get my glow back." – Shannon Lawlor, Acting Senior Beauty Editor at Marie Claire UK
6. Victoria Beckham Beauty Cheeky Posh Blush
Victoria Beckham Beauty Cheeky Posh Blush
Best long-lasting cream blusher
Reasons to buy
+
Good texture for hot weather
Reasons to avoid
-
Not ideal for dry skin types
If you're thinking of buying the Cheeky Posh blush for the sleek tortoiseshell patterned tube alone, we wouldn't blame you. But the formula inside is just as good. We wouldn't recommend adding the stick directly onto your cheeks because it can drag a little due to the drier solid formula. Instead, warm it up in your fingers and then dab into the cheeks with the heel of your hands. The formula means it's particularly perfect for hot and humid weather as it won't slide off, but this does mean it might cling to dry patches if you suffer from dehydrated or irritated skin.
7. Pixi On-the-Glow Blush
Pixi On-the-Glow Blush
Best vegan cream blusher
Reasons to buy
+
Infused with skin-loving ingredients
Reasons to avoid
-
Only available in three colours
"For a stunning wash of colour, I turn to Pixi. With three punchy but wearable shades that create a beautiful wash of colour. The shape of the stick gives a lifted effect when popped directly onto the skin. It's great for dry skin types especially as it feels really hydrating a lovely on the skin." – Tori Crowther, Freelance Beauty Editor and Marie Claire UK Contributor.
8. Rare Beauty Stay Vulnerable Melting Blush
Rare Beauty Stay Vulnerable Melting Blush
Best cream blush for vibrant colour
This Rare Beauty blush truly is a rare beauty because it's consistently sold out—that's how good it is. Thanks to its unique cream to satin finish formula, it's one of the longest-lasting cream formulas in the list. Although the vibrant shades might be intimidating at first, they're a lot less pigmented on the skin and melt into the skin really well. We wouldn't say they're buildable but using Amanda's tips above, you can dial up the colour with your application. The packaging is absolutely beautiful, too. The tiny compact mirror makes it the perfect on-the-go blusher.
9. Bobbi Brown Pot Rouge
Bobbi Brown Pot Rouge
Best classic cream blusher formula