Rare Beauty: as a celebrity beauty brand fatigued beauty editor I was shocked at how much I fell in love with Selena Gomez's make-up line
Undeniably impressive make-up products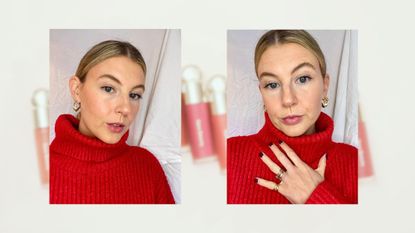 (Image credit: Rare Beauty & Katie Thomas)
Let me start this piece off by saying that as a beauty editor, who is always in search of the best mascara for fluttery lashes and the best concealer for my tenacious dark circles, I am always excited to try a new make-up brand. However, when it comes to celebrity make-up brands, I've become incredibly fatigued.
That was until Selena Gomez's Rare Beauty shook me from my lethargy. The 30 something-piece make-up collection, which is available here in the UK at Space NK, Sephora and Amazon, is very, very good. From the colour payoffs to the textures, the finishes to the packaging, Gomez has shown me that my doubts and cynicism is sometimes misplaced.
If I'm totally honest, Selena Gomez has sort of passed me by. My knowledge of her career and achievements was pretty non-existent. I'm told she's a Disney-alum (aren't they all?), used to go out with Justin Bieber and is in fact the most followed woman on Instagram. It was only recently, when I binged Only Murders in the Building that I really became a fan. I followed her on Instagram - upping her followers by one - and it was on there that I saw her products in action.
Intrigued, I did some research and found out that the stand out favourites are the Soft Pinch Blush, the Liquid Touch Brightening Concealer, the Liquid Touch Weightless Foundation, the Perfect Strokes Mascara and the Soft Pinch Tinted Lip Oil. I swiftly got my hands on the heroes of the collection and swapped out some of my regular go-tos for Rare Beauty.
To say that I was beyond pleased would be an understatement. I have been using these products for over two weeks now and they now have a firm place in my everyday make-up kit. The shade ranges are impressive and the application for each has been well thought-out.
Here are my honest thoughts on Selena Gomez's Rare Beauty.
1. Rare Beauty Soft Pinch Liquid Blush Review
Rare Beauty Soft Pinch Liquid Blush
Specifications
Shade range: 13
Formula: Liquid
Reasons to buy
+
Incredible colour payoff
+
Value for money
Oh my goodness this is such a good blusher. I'm not exaggerating when I say this has become my favourite beauty product of 2023.
It's partly because the colour payoff is so incredible and it's also because of how healthy my skin looks when I have it on. I am a mother of two, so I often wake up in the morning exhausted with skin that can look a little grey. As soon as I pop this on - either on top of foundation or on bare skin - I look awake and ready for the day. I wouldn't dream of leaving the house without it now.
A word of warning, a little goes a long way and I really do mean a little, so don't make the same mistake I did initially and go heavy on application. Start with one dot on the apple of your cheek and sweep upwards towards your ear. It blends beautifully.
2. Rare Beauty Liquid Touch Brightening Concealer Review
Rare Beauty Liquid Touch Brightening Concealer
Specifications
Shade range: 32
Coverage: Medium to full
Finish: Matte
Reasons to avoid
-
if you have dry skin around your eyes
This concealer has a matte finish to it, which I typically steer clear of as my skin is on the drier side. I prefer to use a more dewy concealer that I set with pressed powder. However, I was pleasantly surprised at how creamy this is and didn't experience any problems with caking or patchiness. I also didn't need my powder so was very happy to be able to skip a step.
You don't have to use much and I find that using a soft eyeshadow blending brush is perfect for buffing the concealer in.
3. Rare Beauty Liquid Touch Weightless Foundation Review
Rare Beauty Liquid Touch Weightless Foundation
Specifications
Shade range : 48
Coverage : Sheer all the way to medium--to-full
Formula : Liquid
Finish: Matte
Reasons to avoid
-
If you have uneven skin texture
This is one of those foundations that you can wear however you want. You can build it up to achieve a medium to full coverage or just dot around the face and buff in for a lighter approach. I am not keen on wearing too much on my skin and found that if I apply this with a buffing brush quickly after applying my moisturiser, it gives me the sheer finish that I prefer.
When it calls itself "Weightless" it really means it - you can barely feel it on the skin. It has a really interesting texture too, when you work it into the skin, it becomes quite powdery and mattifies almost instantly and yet my skin feels super hydrated and bouncy whenever I'm wearing it.
4. Rare Beauty Warm Wishes Effortless Bronzer
Rare Beauty Warm Wishes Effortless Bronzer
Specifications
Shade range: 6
Formula: Cream
Whilst I prefer a cream bronzer over a powder formula every time, I don't normally like sticks, preferring a pot of colour instead. Not anymore. At first I was nervous about the flatness of the colour, there really didn't seem to be much depth to it, but I needn't have worried about that because it looked so natural on the skin.
The easiest way to use this stick is by using the sculpting technique - drawing dots or lines in the places that you want to add warmth to the face. So I did this just below my hairline on either side of my forehead, down the sides of my nose, either side of my chin and under my cheekbones. The beauty of this formula is that it's super creamy and blends beautifully into the skin with a fluffy brush.
If you prefer a proper summery bronzer, then I would opt for something with a little shimmer in it.
5. Rare Beauty Perfect Strokes Mascara Review
Rare Beauty Perfect Strokes Universal Volumizing Mascara
Specifications
Shade options: Only black
Lash effect: Natural volume and length
Brush: Bristle
Reasons to avoid
-
None - it's a brilliant mascara
This is the product that really cemented my love for Rare Beauty. I am, much like most beauty editors, very picky when it comes to mascara. I am demanding and hard to please. There aren't many new mascaras that make it into my make-up bag, I tend to have two of the same on rotation. But this mascara blew me out of the park. It's not my preferred wand at all - I like mine with plastic pointed comb-like brushes as I like my lashes to look natural but elevated. The Rare Beauty mascara has a traditional fluffy bristle head, which manages to create the exact look I want.
I found that if I wanted to boost my lash look, I could easily apply a couple of coats for more drama.
6. Rare Beauty Soft Pinch Tinted Lip Oil Review
Rare Beauty Soft Pinch Tinted Lip Oil
Reasons to buy
+
Wanting to add a wash of colour