21 hairstyles for fine hair that are guaranteed to create a more voluminous result
We've pulled loads of the best hairstyles for fine hair to inspire you, courtesy of the celebrities who do it best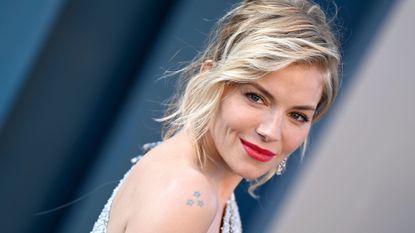 (Image credit: Lionel Hahn/Getty Images)
So, you've got fine hair and you think you can't try all of those voluminous, full-bodied styles that you're seeing dubbed the best hair trends of 2023 all over Instagram and on the red carpet? Well, we're here (along with a top London hairstylist and brand founder) to help you realise the full potential in the best hairstyles for fine hair.
Having fine hair often makes people think there are very few hairstyles they can wear (particularly, low-maintenance hairstyles) but we're here to debunk that. In fact, there are some benefits to having fine hair: quicker styling time, less shedding, not as much product needed to name a few.
The truth is, you can have all of the best products for thin and fine hair and the best curling wand in the world, but if your cut is off, you might hit a road block. There are a few things to take into consideration when thinking about hair cuts and styles for fine hair. Read on to become an expert in everything fine hair, plus we've rounded up the best fine-hair inspo from some of our favourite celebs.
What's the difference between fine and thin hair?
Not to be confused with thinning hair, finer hair describes strands that are narrower and that can have a tendency to fall flat, particularly at the roots. "Curly hair tends to be the thinnest actual hair strand, but people with curly hair tend to make up for it by having more hair on their head," explains Paul Percival, founder of Percy & Reed. "Thin hair tends to be the actual number of hairs on the head, so it's more about if you've lost hair or naturally have thin hair, which means you have less number of hair strands; although the strands may be thicker than those with fine hair," he adds.
Despite being oft-complained about, there are some benefits to having fine hair. For one thing, depending on how dense your hair is and how much you have, it probably takes less time to blow dry than your thicker-haired friends. And because finer strands require less product, you'll go through your styling buys more gradually.
The bottom line is: thin hair is where there are fewer hairs on your head, whereas fine hair is more to do with the size of the individual hair strand being smaller. People can have fine hair but lots of it, making it appear thick when it isn't.
Top tips for styling fine hair
So, how can you help your hair reach its full potential (see what we did there)?
According to Percival, "A proper blow dry is worth it!" He recommends lightweight, non-sticky products, such as the Smoothed, Sealed & Sensational Volumising No Oil Oil as it is "really lightweight and gives volume to the hair without weighing it down".
Although fine hair can get weighed down easily, products like volumising sprays get the job done well, we love the Ouai Volume Spray.
Sometimes though, all you need is the best dry shampoo in your kit, which will help give it a bit of 'oomph' when styling; but really, you can't go wrong with a bit of Batiste Dry Shampoo (try the coloured version if you want to add thickness to your hair).
As for cuts, adding waves and curls to a longer mane is a great way to cheat volume, or, if you prefer a shorter length, getting a bob hairstyle with subtle layering cut in creates a fuller appearance.
Looking for high-volume hairstyles for fine hair? You've come to the right place for all the haircut and style inspiration you could possibly ask for.
Hairstyles for short, fine hair
Short hair is actually an excellent option for fine hair, "shorter hair has the appearance of being thicker," says Percival. "Short cuts for fine hair, like a box bob and pixie cuts, tend to work much better for finer hair because they're lighter so easier to get more volume," he adds. But it's all in the styling.
The key to making finer, short hair appear fuller with a cropped style is to add layering on top to create the illusion of volume and height. Make texture sprays and pommade your bestie; not being afraid to try new products to give volume right at the roots.
1. Lucy Boynton
Lucy Boynton has her signature bob nailed, and the styling here makes it look perfectly thick.
2. Kerry Washington
Adding loose waves like Kerry Washington adds the perfect amount of movement for a fuller-looking style.
3. Kate Hudson
A pixie crop with the addition of lots and lots of layers gives the appearance of thicker hair, as seen here on Kate Hudson.
4. Samira Wiley
Samira shows off her copper-hued buzzcut, embracing her natural curls.
5. Zendaya
Make like Euphoria star Zendaya by teasing volume at the roots and crown for a fuller-looking updo. Volume spray or dry shampoo are your friends here!
6. Lupita Nyong'o
Lupita uses a black headband to keep the hair off her face at the front and create more volume at the back.
7. Alexa Chung
Alexa Chung is a name that's synonymous with the long bob, with the slightly layered ends adding a nice bit of texture.
8. Ruby Rose
Ruby Rose gives us a lesson in volume for a cropped style. You can create this at home using a pommade and small hair straighteners.
9. Rashida Jones
Give your bob volume by rounding it out and smoothing any wipsy bits down then creating a piece-y fringe.
Hairstyles for medium-length, fine hair
Blunter, mid-length cuts have been all the rage for a few years now. "Medium length hair looks great when it's maintained well; think fuller, blunt styles with no layering," advises Sam Burnett, founder of Hare & Bone salons. "If an individuals' hair is prone to flyaways and unwanted frizziness then it's best to keep the hair on the longer side of medium. The longer and heavier the hair, the more controlled it will be," he adds.
Hairstylist Lewis Pallett also notes that if you want more hair then this can be achieved by adding extra hair in using clip-in extensions—especially for big occasions where you might have more time on your hands to dedicate to styling.
10. Simone Ashley
Flipping natural waves or curls over to one side helps create the look of more volume on top, as showcased perfectly by Bridgerton's Simone Ashley.
11. Sydney Sweeney
Layering hair styling products for volume before blow drying can cheat the appearance of thicker and more lifted strands, à la Euphoria star Sydney Sweeney.
12. Phoebe Dynevor
Bridgerton star Phoebe Dynevor's shorter face-framing layers add the perfect bit of lift to her hairstyle.
13. Halle Berry
Halle Berry's curtain fringe is face-framing goals. If you have fine hair, feather these out and make them wispy to appear thicker.
14. Sienna Miller
Sienna Miller is proof that finer hair can lend itself brilliantly to a slightly undone, lived-in updo with lots of volume, with the looser sections really framing her face too.
15. Kate Moss
This has to be one of our favourite ever hairstyles on Kate Moss. The Bardot-esque fringe and hidden layers are seriously chic.
Hairstyles for long, fine hair
Curly or straight, the world is your oyster here — this is a length that many fine-haired celebs opt for when choosing a style that'll work on and off the red carpet. Longer hair also means more styling options, like elegant updos.
"The key thing to remember with long hair is to keep it looking healthy," says Burnett. "If you have fine hair, keep layers longer as over layering will only make the hair appear thinner and sparser."
16. Dakota Johnson
A choppy, slightly feathery fringe, like Dakota Johnson's, can work really well on finer hair.
17. Jodie Comer
Jodie Comer's ultra glossy locks have the hint of a beach wave here, with the illusion of volume created at the root by flipping a centre parting over to the side slightly.
18. Gemma Chan
Want something a bit edgier for an evening out? Gemma Chan's gorgeous wet-look vintage style from last year's Met Gala is seriously chic.
19. Kendall Jenner
Few looks are as classic as the slicked back, lengthy ponytail like Kendall Jenner's Oscars after party look. If you're not blessed with super-long hair, you can make it longer and thicker with the help of clip-in extensions.
20. Maya Jama
You can't go wrong with a super sleek Cher-channelling mane like Maya Jama's winner of a red carpet look.
21. Zoe Saldana
Deep vintage-inspired waves like Zoe Saldana's are a failsafe style on longer hair (although they work on shorter styles like bobs, too).
The best products for fine hair
Fine hair needs specific products to bring out its best qualities, these are some of the best (from start to finish of your routine) to keep styling time easy and efficient.
Percy and Reed Give Me Strength Shampoo and Conditioner
Your styling routine starts in the shower with shampoo and conditioner. These humble products can bring some impressive volume, including the Percy and Reed Give Me Strength Shampoo and Conditioner.
Bumble and Bumble Prêt-à-Powder
Chances are you've already heard of this product. It's a dry shampoo, style extender and volumiser all in one, ideal for fine hair in between washes. Shake into the roots and gently massage to create instant lift and revitalise yesterday's style.
Innersense I Create Lift Volumizing Foam
Using a foam-based formula on damp hair is a great way of adding volume to your roots, pre-styling. The Innersense I Create Lift Volumizing Foam adds lift, volume and defines the natural texture of your hair without being crunchy.
ghd Pick Me Up Root Lift Spray
If your hairstyle has fallen flat, give it a boost with this clever spray. Ideal for limp and lifeless locks, it creates a firm foundation at the root area for styling, whilst adding lift and body to finer hair types.
Celebrity news, beauty, fashion advice, and fascinating features, delivered straight to your inbox!