The best dry shampoo: our pick of the hair refreshers that do oh-so-much more
Not all dry shampoos are created equal – the best dry shampoo goes further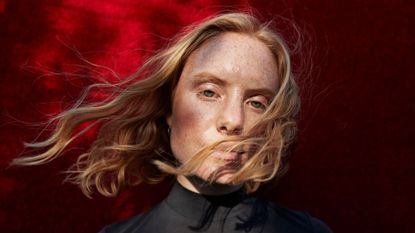 (Image credit: Getty Images Klaus Vedfelt 1193050171)
Greasy hair is just a big no-no. No matter who you are, pulling off the greasy roots look is tricky. This is why the best dry shampoo has become such a beauty staple.
You can use the best shampoo for greasy hair if you really struggle with excessive oil, but having a really good dry shampoo in your arsenal is ideal for getting you from one wash to another. If you're wondering if dry shampoo works, then put your worries to one side. We are big believers in these hair refreshers.
The best dry shampoos on the market, though, are so much more than a spray that gets rid of greasy hair. Don't get us wrong, the good ones do that extremely well. But the best ones are smarter.
There are the ones specifically designed to deal with fine hair, that have been created not to weigh the hair down. The ones that don't dispense white dust, but come out in a darker shade to match your hair colour. And then there are the super-duper clever ones that are like skincare for your scalp.
Like the best shampoo for hair loss, say, or the best purple shampoo for the blondes among us, a great dry shampoo is a beauty investment well worth making in our book. Here's why.
How does dry shampoo work?
"Hair follicles cover your scalp and in addition to producing hair, they produce sebum,' explains Eroll Douglas, Living Proof Pro Expert and Textured Hair Specialist. "The production of this natural oil is key for softening your hair texture and protecting your skin. However, when you go about your day, your hair follicles can produce a build-up of sebum leading to oily-looking hair. Simply put, the starches in dry shampoo formulas absorb the oil build-up in your hair. When your scalp produces an excess of sebum, dry shampoo application makes for a great way to hide oily hair."
"A good dry shampoo should soak up excess oil from the hair to leave it feeling, smelling, and looking clean," Douglas adds. "Unfortunately, not all dry shampoos take care of 'cleaning' the hair, most, soak up oil and sweat and leave behind a powdery residue that can sometimes be hard to remove."
How to use dry shampoo properly
Sure, part of its appeal is spray-on, comb through, and dash through the door. But in order to avoid residue and keep your scalp in good nick, there is such thing as dry shampoo best practice.
Aside from finding a dry shampoo that best matches your hair colour (Batiste does a great lighter option for blondes, while Moroccanoil has one of our top picks for dry hair), always shake your dry shampoo before use, and always hold it four to six inches away from your roots when spraying.
Like that old trick of only applying the best foundation where it's needed, the same should go for dry shampoo. Spray it only where hair is greasiest (without going overboard on one patch). If you're wondering how much dry shampoo to use, we recommend using it sparingly and building up.
Then, and this is a key part that so many miss, you have to leave it to set for a moment for it to truly work its magic. Don't run your hands through it straight away. Doing this disrupts the work being done. Once you've left it for about a minute or two (go and brush your teeth or put your shoes on), then you can start massaging it into your roots with your fingertips. Voilà! Refreshed hair done right. For a more in-depth guide, don't forget to read our article all about how to use dry shampoo.
Douglas always recommends keeping a travel-sized dry shampoo with you at work or in your handbag. He recommends using it after spending time outdoors, in the sun, post-workout, or at the start or end of the day. "The sweat that builds up along the roots can leave hair feeling greasy," he says. "A quick refresh with a spray of dry shampoo can leave hair feeling its best in under a minute. Make sure your hair isn't too damp before applying the dry shampoo."
How often can you use it?
This all depends on your hair type, texture and regime. "The key is to give your scalp the chance to breathe between washes, especially if the dry shampoo you're using is predominantly powder-based and doesn't take care of the 'cleaning'."
While they disguise the greasy look, they shouldn't actually replace your normal shampoo. If used too regularly, you will find you have product build-up at the root, which can cause itchiness and dandruff.
Best dry shampoo of 2023:
Are you ready to shop our pick of the best? This is our beauty editor-approved edit of the best dry shampoos to buy now. Our Senior Beauty Editor (who admits to having pretty greasy roots at times) tested each of the below, paying close attention to how well it absorbed oil, fragrance, how it felt in the hair and price.
1. Klorane Dry Shampoo with Oat Milk
Klorane Dry Shampoo with Oat Milk
Best dry shampoo overall
Reasons to buy
+
Affordable
+
Created with all hair types in mind
Ask any chic French woman which dry shampoo she uses and she will roll her eyes at such a ludicrous question, because of course the answer is Klorane. A French pharmacy favourite. Proving that oat milk is not just for your lattés, not only does this dry shampoo absorb dirt and oil, it moisturises and softens the hair. "When I first started working in beauty, this was the dry shampoo everyone recommended to me," says Senior Beauty Editor, Katie Thomas. "As soon as I tried it I understood why. It's gloriously kind to hair, doesn't leave residue and somehow, despite not costing that much, feels luxurious."
2. Moroccanoil Dry Shampoo Dark
Moroccanoil Dry Shampoo Dark
Best shampoo for dark hair
For a long while, dry shampoos only seemed to cater to those with lighter hair. If you had dark hair, you'd have to really work the white powder into your roots to get it to blend. Well those days are over, because now the formulas have been given an update and when sprayed onto the roots, they quickly dissipate.
3. Batiste Hydrating Dry Shampoo
Batiste Hydrating Dry Shampoo
Best dry shampoo for dry hair
We couldn't compile a dry shampoo piece and not include Batiste. It was one of our hair award winners. If we really think about it, Batiste made dry shampoos a bathroom cabinet essential. We love their low prices, as well as their efficacy. This is the best dry shampoo for dry hair, thanks to the avocado extracts, it nourishes dry stands and makes them super strokeable. "I will always recommend Batiste to friends and family," explains Katie. "It's so reliable and affordable. I absolutely love the original, but the brand's collection with added benefits is excellent."
4. Hair by Sam McKnight Lazy Girl Dry Shampoo
Hair by Sam McKnight Lazy Girl Dry Shampoo
Best dry shampoo for added volume
Reasons to buy
+
Pretty packaging
+
Lifts hair at the root
Princess Diana's post-divorce hair stylist has created a fantastic two-in-one product. It completely transforms days-old hair, as well as making a really good styling product that lifts hair at the root for unrivalled volume.
5. Bumble and Bumble Prêt-à-Powder
Bumble and Bumble Prêt-à-Powder
Best dry shampoo for fine hair
This is hands down the best dry shampoo for fine hair. The last thing you want to be doing when your hair shafts are thin as anything is add weight. This finely-milled powder is dusted into the root, then massaged in. It's like fairy dust.
6. Oribe Gold Lust Dry Shampoo
Oribe Gold Lust Dry Shampoo
Best luxury dry shampoo
Reasons to buy
+
Chic packaging
+
Smells fresh
If you're already a fan of Oribe's Dry Texturising Spray, then you're bound to love this too. It is a little more spenny than the others on the list, but once you go to Oribe, it's tricky to go back. "This is as bougie as it comes," says Katie. "It's pricey, so won't suit everyone's budget, but I just love the scent (watermelon and lychee, of course) and my hair always does look fresh."
7. R+Co Death Valley Dry Shampoo
R+Co Death Valley Dry Shampoo
Best scented dry shampoo
Reasons to buy
+
Smells amazing
+
Refreshes roots
Yes this is a cracking good dry shampoo that rids your roots of oiliness. But by god, it's its fragrance that sets it apart. That'll be the bergamot, wild fig, cyclamen, lotus flower, cedar wood and tonka bean.
8. Virtue Refresh Dry Shampoo
Virtue Refresh Dry Shampoo
Best shampoo for damaged hair
Reasons to buy
+
Contains Alpha Keratin 60ku™
This is a rather clever dry shampoo. It contains Alpha Keratin 60ku™. (Don't worry, we didn't know what it was either at first.) That special ingredient heals and repairs distressed tresses. Not bad, eh?
9. Living Proof Perfect Hair Day (PHD) Advanced Clean Dry Shampoo
Living Proof Perfect Hair Day (PHD) Advanced Clean Dry Shampoo
Best dry shampoo for healthy-looking hair
Living Proof's iconic dry shampoo has had a very smart upgrade. If you can believe it, it's the closest to freshly washed hair that you can get in a bottle. It now contains more conditioners that make the hair look and feel healthier, without leaving behind any residue. It's a big yes from us. "If I'm totally honest, I was very sceptical when this dry shampoo launched" admits Katie. "I couldn't really get to grips with how it was any better than the original. But after using it a couple of times, I now honestly believe that this is the cleverest dry shampoo around. It really does give you that freshly washed hair look. Which is incredible, no?"
10. Briogeo Scalp Revival Charcoal + Biotin Dry Shampoo