McCanns ask David Cameron to review Madeleine case
Kate and Gerry McCann have urged the Prime Minister to open an independent and comprehensive review into the disappearance of their daughte,r Madeleine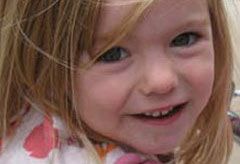 Kate and Gerry McCann have urged the Prime Minister to open an independent and comprehensive review into the disappearance of their daughte,r Madeleine
In a letter to David Cameron, Madeleine McCann's parents have asked the Prime Minister to launch a review into the disappearance of their daughter, appealing to him as a father who recognised the importance of children in people's lives.
The couple spoke of the enormous benefits of pooling together different bits of evidence insisting that 'It's not right that a young, vulnerable British citizen has essentially been given up on.'
A spokesman for Mr Cameron says he wanted to make sure the Government did all it can to help the couple and says finding Madeleine was the Prime Minister's focus on the issue.
The McCanns had been dining with friends at a tapas restaurant just 100 metres from the youngster's room in the resort of Praia du Luz when Madeleine vanished four years ago.
Kate McCann insists she had considered the Ocean Club resort to be safe and family orientated but says: 'Later we were told by British police that the ground floor location, access to roads front and side, secluded entrance and partial tree cover made our apartment a prime target.'
Kate says the couple will always regret their decision to leave their three young children in their room alone but added: 'It is easy to be wise after the event. I can say, hand on heart, it never occurred to me that it might not be a safe option.'
Mrs McCann's book, Madeleine, is published today, on the date of Madeleine's eighth birthday. Proceeds from the book will boost the dwindling fund to search for her daughter.
To donate to the Find Madeleine fund and more information on the book, visit www.findmadeleine.com.
Celebrity news, beauty, fashion advice, and fascinating features, delivered straight to your inbox!