Christian Dior confirms Maria Grazia Chiuri's appointment as artistic director
Christian Dior has appointed its new design head.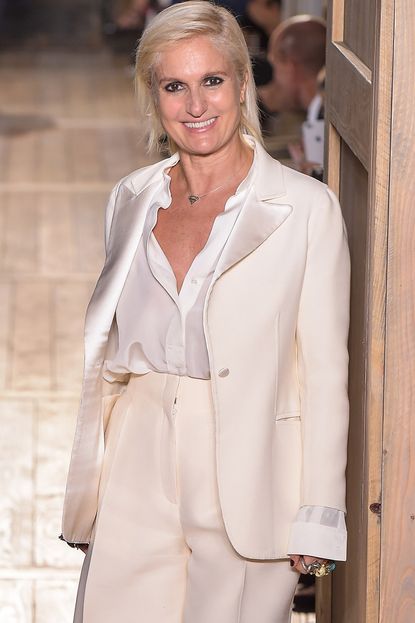 (Image credit: WWD/REX/Shutterstock)
Christian Dior has appointed its new design head.
Fashion's rumour mill has been in overdrive for weeks, but now Christian Dior has finally, finally announced its new design head. The chosen one? Maria Grazia Chiuri, one of Valentino's two creative directors. Here's what you need to know… She's jumping ship from Valentino Dior has been without a creative director since Raf Simons left in October, and Maria's appointment comes after weeks of speculation. In appointing Maria, Dior is breaking up one of the industry's most formidable design duos, as for almost 30 years, Maria has worked alongside fellow Italian designer Pierpaolo Piccioli. At Valentino since 1999, and co-creative directors since 2008, the pair started out in the accessories department at Fendi together in 1989 after attending the Istituto Europeo di Design in Rome. Dior is her first ever solo gig.
She knows a thing or two about reinventing brands Together with Pierpaolo, she's been credited with revitalizing Valentino as a modern couture house, seeing sales quadruple during her tenure. The scale of operations at Dior is slightly larger, but Maria should be pretty equipped to handle the six womenswear collections that the brand produces each year.
She is Dior's first ever female boss In Dior's 70 year history it's never had a female leader. Maria will be the first, bringing another strong (needed) female voice to the top of the Parisian fashion game.
She knows an IT accessory when she sees one That Fendi accessories history we mentioned? We forgot to add that Maria was on the team of designers who invented one of the most iconic and successful handbags of all time, the Fendi Baguette. At Valentino, she was responsible for our obsession with all things Rockstud. The studded bags and shoes she designed were spotted on everyone from Alexa Chung to Olivia Palermo and caused a 36% boost in the brand's sales.
She's good with a red carpet dream dress Keira Knightley, Katy Perry, SJP, Kirsten Dunst, Lorde… the A-list fans of Maria's work at Valentino are endless. With her couture background, she'll have no touble delivering dream dresses for Dior, too. See some of our favourite recent appearances in the gallery above.
She was responsible for this Insta moment Paris Fashion Week, March 2015, and two really, really, ridiculously good-looking male models made their way onto the Valentino catwalk. For allowing this Zoolander moment to happen, the usually gimmick-free designers gave fashion fans the best surprise of PFW.
She'll be taking on one of the most important jobs in fashion In all seriousness, the role of artistic director at Christian Dior is probably one of the most influential positions in fashion, and we think Maria is a pretty fabulous choice for the job. We can't wait to see what she'll do with the place.
Celebrity news, beauty, fashion advice, and fascinating features, delivered straight to your inbox!