Laura Bailey Talks Fashion, Bond Girls & Her Secret London Hangouts
EXCLUSIVE: Model Laura Bailey talks to Marie Claire about her extravagant London life – and which beauty products she swears by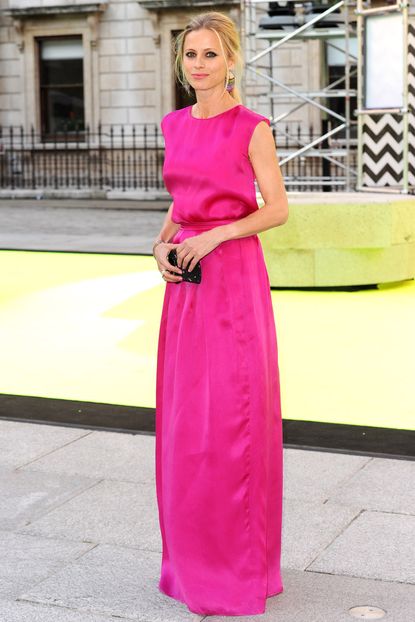 (Image credit: Rex Features)
EXCLUSIVE: Model Laura Bailey talks to Marie Claire about her extravagant London life – and which beauty products she swears by
We caught up with model, writer and cultural ambassador for the British Fashion Council, Laura Bailey, to talk about her extravagant London life. In our exclusive interview, Laura opens up about British fashion, her style secrets, the beauty products she swears by and her favourite hangouts in the capital. Read on to see what she has to say...
Hello Laura! You're most famous for being a fashion model and a style inspiration, so which new British designers are you loving right now and why? My top three fashion crushes of the moment are Simone Rocha for art meets fashion, Sister by Sibling for rainbow knits, glitterball skirts and more, and Trager Delaney for sophisticated intelligence and understated glamour.
London Fashion Week and home-grown designers seem to be having a great moment right now. Why do you think that is? London Fashion Week goes from strength to strength and British designers are in the international spotlight. Talent, timing, art and commerce are all contributing, as well as a strong support structure from the colleges to British Fashion Council schemes to London Fashion Week investment on top of raw talent, ambition and original style.
You're an ambassador for the British Fashion Council. What does this role involve? Talking, watching, wearing, celebrating, brainstorming, filming and travelling.
What are your most treasured items in your wardrobe and why? My Chanel little black jacket (ten-years-old now) that can transform any outfit, my Charlotte Olympia shoes along with memories of dancing nights, a pair of emerald earrings by Solange Azagury-Partridge (one happy Valentine's!), sweaters by Bella Freud especially my new blue Girl one, which is ideal with denim or over a white sundress. Also my Christopher Kane oversized pink neon tee, which evokes holiday memories and also sometimes serves as pyjamas.
Is there a dream modelling assignment you've yet to snare, and what would it be? It's not a modelling assignment per se, but I always wanted to be a Bond girl. How would you describe your personal style? Rushed. Who else's style do you admire? Bella Freud and Lady Amanda Harlech.
When it comes to beauty, what beauty essentials can you not live without? Creme de la Mer soft cream, Sisley sun-care, Becca tinted moisturiser, Chanel blush and mascara and Eyeko eyeliner pen. Do you have a particular beauty routine? Any tips you'd like to share? I'm pretty loyal to my favourite products, as well as to Una Brennan for occasional facials, and the Josh Wood Atelier for hair. Because I'm fair, I find tinting my eyelashes blue-black (I go to Cowshed) in summer means I don't really have to think about make-up on holiday, and I carry a Les Beiges powder compact by Chanel in my handbag for when I want to look super-natural but like I've had a little more sleep.
You're a multi-tasker doing fashion modelling, writing, etc. What aspects of each do you like best? I do tend to be working on a lot of projects at once, but the trick is to try to do one thing at a time as well as possible. In fashion and film, I love the collaboration with the entire team and the storytelling in different mediums as well as the fantasy role play, but in contrast, I relish solo time to write, even if it's in the middle of the night these days. But it is my kids who really make my heart sing. Can you open up your little black book and share with us some of your favourite London hangouts/shops and those that are elsewhere in the UK? Rellik (W10) for vintage fashion, Half-Pipe (W10) for bikes and skateboard paraphernalia, Josh Wood Atelier (W11) for hair and beauty, Lutyens + Rubenstein (W11) for books and Little House (W1) for work or play – friends from overseas can now sleep over in the new apartments above.
And finally, please can you tell us about the work that you're doing with Samsung? I'm working with Samsung to launch their new NX300 camera. I shoot stills all the time and want to make more short films, so this is my ideal new toy. Stylish too with a retro feel in contrast to the state-of-the-art technology within.
Laura Bailey is working with Samsung to launch the new NX300 camera. More details can be found at the Samsung website.
Got a tablet? You can now download Marie Claire magazine straight to your iPad, Kindle (just search the store for Marie Claire magazine), Nook or Google Nexus
Celebrity news, beauty, fashion advice, and fascinating features, delivered straight to your inbox!