Alexander McQueen leaves £50,000 of his fortune to his dogs
The fashion designer's charitable side is revealed as the breakdown of his will goes public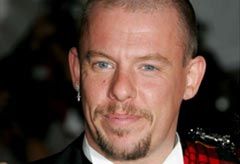 (Image credit: Rex Features)
The fashion designer's charitable side is revealed as the breakdown of his will goes public
It's been a year and a half since the tragic death of fashion designer Alexander McQueen, but it's only just been revealed that he left £50,000 of his £16m fortune to his pet dogs.
Financial details of the avant garde designer's will have just been made public and reveal a breakdown of his estate. As well as the large chunk of money left to keep his beloved bull terrier pets pampered for the rest of their lives, the animal lover also gave a considerable amount of money to Battersea Dogs and Cats Home in London and the Blue Cross Sick Animal Centre – both charities received £100,000 each.
And his charitable nature didn't end there. McQueen – real name Lee – also left a further £100,000 to the Terrence Higgins Trust, a HIV charity that promotes safe sex practices and sexual health.
The will also shows that the designer gave each of his three sisters and two brothers a cool £250,000 each, and his godson, nieces, nephews and two housekeepers – for their 'long and faithful service' – all received £50,000 per person. McQueen also donated £100,000 to the London Buddhist Centre.
However, the bulk of his fortune was left to his own charity, Sarabande, which he insisted should use the money to fund bursaries or grants for students at Central St Martin's College of Art and Design in London, where he studied fashion.
McQueen died on 11 February 2011, when he hanged himself the day before his mother's funeral.
His generosity shown in the breakdown of his will is just another reason why he's sorely missed.
ALEXANDER MCQUEEN: A RETROSPECTIVE
Celebrity news, beauty, fashion advice, and fascinating features, delivered straight to your inbox!