We're Totally, Butt-Crazy In Love With This Clueless Reunion
Alicia Silverstone, Stacey Dash and Elsa Donovan got together to honour their fabulously 90s hit film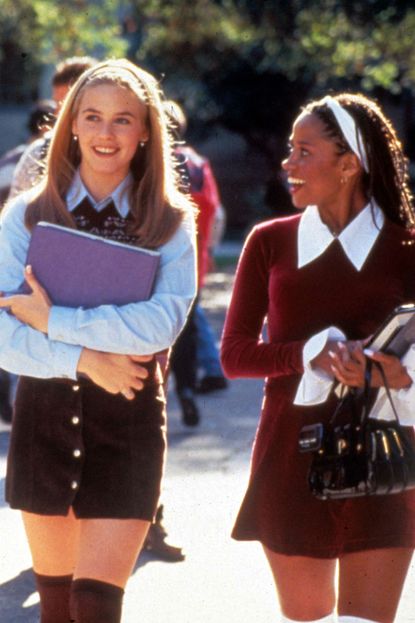 (Image credit: Rex)
Alicia Silverstone, Stacey Dash and Elsa Donovan got together to honour their fabulously 90s hit film
It's been nearly 20 years since Clueless graced cinema screens in 1995. (Pause for silent sobbing, as we realise how old we are.) And because that milestone anniversary is quickly approaching, the stars of the hit film decided it was high time they reunite.
But before you start filling your head with grand illusions of a feature-length sequel, take a deep breath. The gang just got together to pose for a few pictures and answer a few questions. Still, we'd be lying if we said we weren't totally geeking out about it.
The Clueless reunion took place at the Los Angeles Film Festival screening of the film on Wednesday. Alicia Silverstone (Cher), Stacey Dash (Dionne) and Elsa Donovan (Amber) all turned up for the event. (Of course, noticeably absent was their fourth female costar, Brittany Murphy, who tragically passed away in 2009.)
During their sitdown, the cast fielded questions - and, unsurprisingly, the topic of an onscreen reunion came up. 'I'm game to whatever [director Amy Heckerling] has in store,' Alicia said. 'I think that time has passed, though. I don't even know what Cher would be up to these days.
Prior to their meetup, a very eager Elsa shared some #TBT shots of the gang.
Excuse us while we go watch the movie for the 89th time...
Got a tablet? Take the new look Marie Claire wherever you go, download straight to your iPad & iPhone, Kindle (just search the store for 'marie claire magazine'), Nook or Google Nexus for only £2.99.
Celebrity news, beauty, fashion advice, and fascinating features, delivered straight to your inbox!
Ali Gray is an award-winning content director and digital strategist. Most recently she was the Director of Branded Content at Hearst, and helped to bridge the gap between the editorial and commercial worlds working across all Hearst brands, including ELLE, Cosmopolitan, Esquire and Harper's Bazaar. Prior to that she worked as an editor contributing to several brands such as The Telegraph, iVillage UK.