WATCH! Emma Watson for People Tree
Take a behind-the-scenes sneak peek at Miss Watson shooting her latest campaign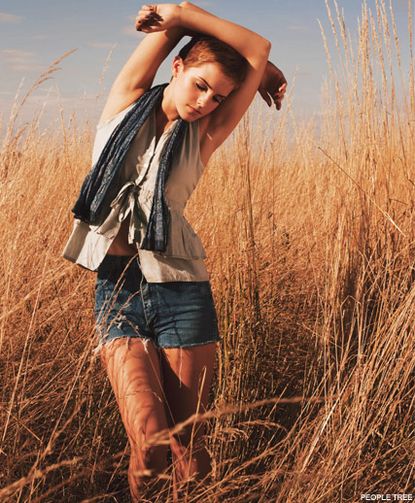 (Image credit: People Tree)
Take a behind-the-scenes sneak peek at Miss Watson shooting her latest campaign
Is there no end to lovely Emma Watson's talents? To coincide with Fairtrade Fortnight on the 28th February, the Brit beauty has fronted a third campaign for ethical fashion brand People Tree, posing for a series of stunning shots. And now we've got our hands on a sneak peek at the actress hard at work behind the scenes.
NEW PICS! EMMA WATSON FOR PEOPLE TREE
Having collaborated with the company for two previous seasons, Emma stars in the new Spring/Summer 2011 ad campaign - which she once again also lent her design talents to.
'The design process continued with me trying on each and every piece to get the fits just as I wanted them and then I visited Bangladesh to see the clothing actually being made and meet the people making it,' Em revealed.
'It was an incredible and life-changing experience –I really wish everyone had the chance to see the difference Fair Trade makes with their own eyes.'
'Fair Trade fashion comes from the villages – and provides a real alternative to working in a garment factory and the harsh environment of living in a slum,' she added, on the reason she loves working with the company.
'Fair Trade fashion is often completely handmade – and made of 100% natural and organic cotton – and it's a small miracle that we as consumers can participate in a process that is keeping skills and communities alive and helping them to prosper.'
WATCH Emma shoot her latest People Tree collection here...
Emma's third People Tree collection goes on sale on February 28, available at Peopletree.co.uk.
PICS! EMMA WATSON FOR PEOPLE TREE
SEE EMMA'S STYLE HIGHS AND LOWS HERE
Celebrity news, beauty, fashion advice, and fascinating features, delivered straight to your inbox!