How do you score? Uber, Airbnb and the future of our ratings culture
We live in an online economy increasingly powered by star ratings. But is the system really fair, and is all this incessant grading making us meaner?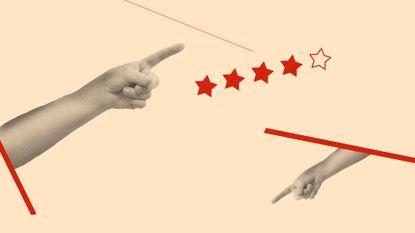 (Image credit: Rex)
We live in an online economy increasingly powered by star ratings. But is the system really fair, and is all this incessant grading making us meaner?
Lizzie considers herself to be a good person. She's close to her family. She regularly donates money to charity. When her friends are feeling down, she buys them cake to cheer them up. But recently, Lizzie discovered there was one group of people who didn't think she was a good person at all.
'I started to notice it was really hard to get an Uber,' she says. 'But when my boyfriend Adam ordered one from the same spot it would arrive straight away.' Lizzie knew Uber drivers rated their passengers, but seriously underestimated how much it really mattered. When a friend eventually showed her via a pretty complex series of sub-settings that her own rating was 4.2 stars, she began to understand.
A 4.2 rating might not sound so bad, but the Uber ratings scale is actually very steep. A customer whose star rating dips below a 4.6 out of 5 lands on Uber's proverbial naughty list, the point at which drivers are more likely to ignore or reject their requests. She thought back through all her recent Uber trips and hit upon one single incident that she thinks might have done it. Coming home from a night out with friends, Lizzie had caught an Uber and (a little unthinkingly, she now admits) propped a foot up on the central armrest in front of her. The driver noticed her foot, stopped the car and told her to get out. 'I asked him why, but he just said, "You know exactly what you've done," and drove off.'
We live in a society where we're encouraged to score virtually every transaction or interaction we make – from the speed of a takeaway delivery to a phone call to the bank. The star rating is the oil on the wheels of an increasingly internet-based, globalised economy. No product or service, however small, escapes a ranking. And the evidence suggests we trust what we read – 18 to 34 year olds now place online ratings in higher regard than the opinions of friends and family.
When the first wave of websites like TripAdvisor and Yelp arrived in the early noughties they positioned themselves as virtual village squares, where users could help each other out by sharing their information and experiences. Such a grassroots system was hailed as the most democratic way to give good businesses the credit they deserved – as well as helping to rat out the bad apples.
A truly awful plate of ravioli drove 30-year-old Steve* to post his first TripAdvisor review back in 2010. He started posting regularly in 2013 and is now what's known as a level 4 contributor (TripAdvisor contributors earn 'levels' judged on the volume and quality of their contributions - yes, even the raters are rated). His reasons for contributing were partly creative: 'I never get to enjoy writing,' he says of his job as a management consultant, but he also likes helping people out. 'In some cases you can make people change their mind about going somewhere or make a business think twice about what they're doing,' he says. 'I once got an email from someone saying they had changed their honeymoon plans after a review I had written of a god-awful hotel in Indonesia.'
Steve says he tries very hard to be as fair as possible in his ratings. But in recent years we've seen a darker side to the system, with small-business owners claiming their livelihoods have been destroyed by unfairly vicious or even bogus online reviews. According to research taken by online reputation management firm Igniyte, 30 per cent of UK companies spend between £11,000 and £20,000 a year controlling malicious online comments. It also takes 12 positive reviews to cancel out the effects of a single negative one. So perhaps it's not surprising that some businesses resort to mercenary tactics to keep their star rating intact – as my husband Will found out the hard way this year. When we needed a builder to do some work on our house, he chose a company based on a reasonable quote and the absence of any negative reviews online. But the work was a disaster. The final bill also included things that hadn't even been done. After a string of phone calls the builder agreed to knock down his price – on one condition: we post a glowing, four-star review of his company online. Will pictured 'the next poor bastard' finding this builder online. He gave the company two stars.
Are we becoming more ruthless? Psychologist Corinne Sweet suggests the dislocating effects of modern technology aren't helping. 'I actually think we're all becoming part robot,' she says. 'The devices we use and the way we use them are changing our communication. We've lost the ability to empathise with the human being on the receiving end. If you asked people to rate each other face-to-face it would work very differently.'
She also points out that as Brits we're past masters at what psychologists call the 'negative contract' – a process of pretending everything's fine and then moaning about it later (hello, TripAdvisor). We've also spent the last decade, Sweet argues, being drip-fed a diet of TV that encourages us to make harsh snap judgments of people we've never met – a post-Simon Cowell culture.
But the ratings system is changing. In January 2015, Georgios Zervas and John Byers of Boston University studied the difference in ratings between TripAdvisor, where the customer reviews the service, and the newer Airbnb, where both customer and provider review each other. They found the number of properties rated above 4.5 stars on Airbnb was 14 per cent higher than on TripAdvisor.
Airbnb customers seemed less likely to unfairly eviscerate their hosts because they need to maintain their own good rating as guests. Amy Rodwell, deputy finance director of a London charity, is a regular user of Airbnb and believes this mutual responsibility or 'collaborative consumption' has a positive impact on the way we behave. This was thrown into sharp relief last summer when she and her husband Gerald rented an Airbnb flat in the south of France with a couple who hadn't used it before. 'On the day we left I was trying to tidy up the house, but our friends didn't seem to get it' she says, 'there were rubber rings they'd used on the beach and stacks of magazines they'd read lying around. I explained that we needed to leave it as we'd found it, but obviously they still had more of a hotel mentality, which is essentially that someone else will clear it up.' Despite the lacklustre efforts of her companions, Amy was pleased to find her efforts were rewarded with a glowing review from her hosts. 'I think the system works because all of us enjoy getting a good review' she says.
The two-way review system is set to become increasingly common as online businesses like Airbnb, Uber and TaskRabbit cut out the middle man. 'When people know they're being rated in return, they do change their behaviour,' says business psychologist Dr Tomas Chamorro-Premuzic, who believes in the future that our own behaviour as customers could become increasingly important. 'At the moment we all have an online reputation but it's fragmented across different platforms, and very often hidden from us, but in the future we could easily see our own average [customer] rating combined together and posted on our LinkedIn pages.' A form of digital assurance, to a future employer or associate, of our own dependability or trustworthiness.
In fact, the first app dedicated to personal ratings was launched late last year. Dubbed 'Yelp for humans' the Peeple app allowed individuals to be rated and reviewed in three categories: 'Personal' 'Professional' and 'Dating', but quickly attracted outrage from anti-bullying lobbies when it was discovered that people could be posted on it without their knowledge. The app was taken off the market and relaunched this year, this time giving a person full control over their own profile, though the company is trialling a 'Truth License', which would allow a person unfettered access to reviews of other people on the app, whether they have posted them live on their profile or not.
And if that sounds alarming, spare a thought for the Chinese. This year, China's government announced plans to give every citizen an overall rating based on all their online interactions. The credit system – which they aim to roll out by 2020 – would potentially deny citizens with low scores basic freedoms like loans and travel.
We might still feel relatively far off from Charlie Brooker's frantic personal ratings-obsessed world in the Nosedive episode of Black Mirror, but things do appear to be moving in that direction. My friend Lizzie might have to watch where she puts her feet.
How do you rate this article?
***** Amazing! Pulitzer!
**** Interesting and informative
*** It's alright
** Boring
* Awful. Sack the journalist
'The beach was too sandy'… and other ratings tales In 2014, a couple was 'fined' £100 for calling a Blackpool hotel they stayed in 'a hovel' on TripAdvisor. The hotel took the money from their credit card, claiming they had a 'no bad review' policy in their terms and conditions with a charge of '£100 per review.' They were eventually investigated by Trading Standards and forced to refund the money.
In June 2016, two women gave their Uber driver a five-star rating when he noticed a man breaking into the rental house where he was dropping them off. He swiftly ran ahead and performed a citizen's arrest on the man with a pair of handcuffs from the boot of his car. We won't ask why he had the handcuffs there in the first place.
Some of TripAdvisor's more unreasonable reviews include: 'No one told us there would be fish in the sea – the children were startled,' 'The beach was too sandy,' and 'My fiancé and I booked a twin-bedded room but we were placed in a double-bedded room. We now hold you responsible for the fact that I find myself pregnant.'
Score sheet 92 per cent of consumers now read online reviews. 26,380: the number of reviews posted every minute on Yelp. 8.9 billion: the estimated net worth, in sterling, of Trip Advisor. 4.8: the average Uber customer rating, according to a survey by Quartz.
Celebrity news, beauty, fashion advice, and fascinating features, delivered straight to your inbox!