There Is SO Much To Say About Kanye West's Adidas Show...
Where to begin?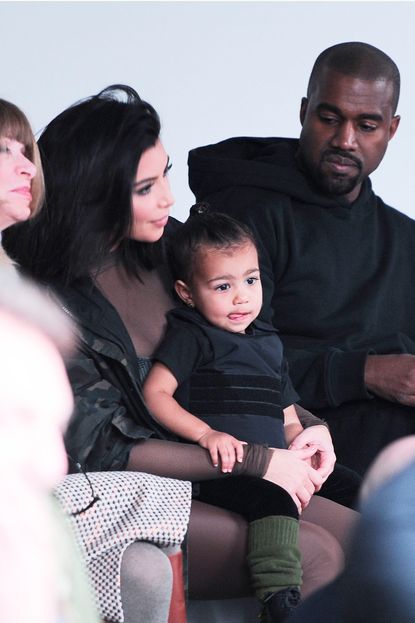 (Image credit: Rex)
Where to begin?
Kanye West's #YEEZY x Adidas Original collaboration show took place at New York Fashion Week yesterday and there is plenty to talk about. Let's go...
Let's start with the front row...
Because it was pretty epic. Having exhausted his immediate family – Kim Kardashian, baby North West, Kendall Jenner, Khloé Kardashian, Kris Jenner and that Jonathan Cheban bloke that hangs around the Kardashian lot – Kanye then roped in his musical chums, with Rihanna, Beyoncé, Jay Z and P Diddy sitting alongside fashion heavyweights Anna Wintour and Alexander Wang. Hailey Baldwin was there for good measure too.
The second row was a bit of a sorry affair, though...
Big Sean, Pusha T and Justin Bieber were relegated to the second row. Even though Bieber had gone and got a new 'do and everything. Awks.
We learnt that the frow doesn't do well with babies crying...
Being a baby and all, North West threw a bit of a hissy fit. It's almost as if toddlers aren't interested in fashion shows... Anna Wintour did not look impressed and the little one was swiftly removed from the front row and deposited with the help. Looking for a deeper meaning in his little girl's strop, Kanye offered up an explanation. Speaking to Interview magazine, he said: 'Maybe she was just scared for her daddy. She just wanted people to stop being mean to her daddy. Because she knows that her daddy loves the world and just wants to make it a more beautiful place.' Yep, that's definitely what it was, mate.
There was a Kanye rant. Of course there was...
We know by now that wherever Kanye goes, a self-important rant will follow. And his debut Yeezy show was no exception. Proceedings were kicked off with this recorded rambling. It went like this: 'There's a series of people who write negative comments. They wanna joke around and say, "Why is he still trying?" If I see something, if I see an opportunity, I'm going to go for it. I'm here to crack the pavement and make new grounds, sonically and in society, culturally. We're not always in the position we want to be at. We're constantly growing, we're constantly making mistakes. We're constantly trying to express ourselves and actualize our dreams. I wanna create something better for you. We have been limited. It's bigger than who I am even in this, you know, my presence, living. It's about, when I was on earth, what did I do to help? I want people to think more, I want people to feel like it's okay to create and follow what their dreams are, and not feel boxed in. I want people to feel like awesome is possible. There's a lack of creativity in every field. Because people are afraid. As an artist and in this world, we can do whatever we want.' We can Kanye. And we will.
Love/hate that rant? Here are 21 Kanye West quotes that completely baffled us...
Kylie Jenner made her modelling debut...
Model du jour Kendall Jenner took a load off and let sister Kylie take to the catwalk this time. Maybe it was because she saw the brown body stocking she was going to have to wear...
Kanye also premiered the first track from his new album...
Oh, and we should talk about the collection...
It was actually OK. Body stockings aside. It was all very minimalist, muted and comfortable. Most of it looked pretty wearable, too, with oversized jackets (we really liked the camo parker Kim K wore), sweatshirts, sweaters, and leggings making up the bulk of the collection. He also debuted his Yeezy 750 Boosts – grey, zipped high-tops that will retail for $350 (£230) a pair.
Celebrity news, beauty, fashion advice, and fascinating features, delivered straight to your inbox!