6 Reasons Why The Bridge's Sofia Helin Is Our Ultimate Scandi Crush
The Bridge star Sofia Helin AKA the inimitable Saga Noren gets us excited about all things Scandi.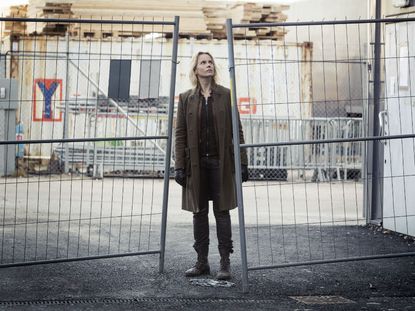 The Bridge star Sofia Helin AKA the inimitable Saga Noren gets us excited about all things Scandi.
If you're loving series three of The Bridge as much as we are, then it's p¬¬robably crossed your mind that a) Saga Noren is the best thing on telly right now and b) a visit to Sweden would be just ideal. With that in mind, we grabbed Sofia Helin who plays the heroic (and at times, slightly hilarious) detective to talk Scandi design, Saga's sex life and bridges, obvs…
She manages to stay sane playing Saga (how she does that, we do not know!)…
'I talked to a brain specialist who told me when you think like someone else for such a long time, your brain actually changes. I could feel that after the first season. I just thought, this is insane what we are doing, and I really need to take care of myself. I've learnt to think about things in the way that she thinks about things, when I need it. If I get very emotional, I can talk to myself and try to rationalise.'
She takes Saga's erm, promiscuousness in her stride…
'There's no difference for [Saga] between eating and fucking. It's just a relief. In Sweden, no journalists ever ask me about it, it's just you people from the UK!'
She would be up for a fourth series (we think)…
'Hans Rosenfeldt [the show's writer and creator] wants to do a fourth season, but I haven't thought about it. There needs to be a story for me to tell. In the second series, I said to Hans, 'no, no, don't reveal about her past yet, we should keep it as a secret until next season.'
She genuinely loves that bridge…
'The Öresund bridge has come to mean a lot to me, which I never would have has guessed when it was being built. I have spent so much time on that bridge; travelling on it, filming under it and next to it. It symbolises the unity between Sweden and Denmark in a wonderful way and connects Sweden to the continent in a way that it wasn't before the bridge was built. It's so easy to travel between Malmö and Copenhagen.'
She gets a kick out of hanging out in Saga's hood…
'I like going for walks in the western harbour, a newly-built area of Malmö where the old harbour used to be. It is surrounded by canals and waterways and the architecture is modern and innovative – the landmark Turning Torso skyscraper, designed by Santiago Calatrava, is the star of the show. In The Bridge, my character, Saga Norén, lives in an apartment building close to here.'
She's been immortalized in an exhibition…
'There is an exhibition about The Bridge [until September 2016] at the Teknikens och Sjöfartens Hus Museum called Ett Malmö som inte finns ("A Malmö that doesn't exist'). Among other things, you can peer through the cracks in a block of concrete to see various props and items that appeared in the series. Saga's Porsche is parked there, and there is a display case showing Saga's clothes – the leather pants, sweater, boots, and coat I wore almost every day for eight months.'
The Bridge is on BBC4 on Saturday at 10pm. Scandinavian Airlines (SAS) fly regularly from London to Copenhagen. For more information, visit Visit Sweden
Celebrity news, beauty, fashion advice, and fascinating features, delivered straight to your inbox!