There's Been A Sex And The City Wedding Over The Weekend…
Sarah Jessica Parker was bridesmaid to her former Sex And The City assistant Melinda Relyea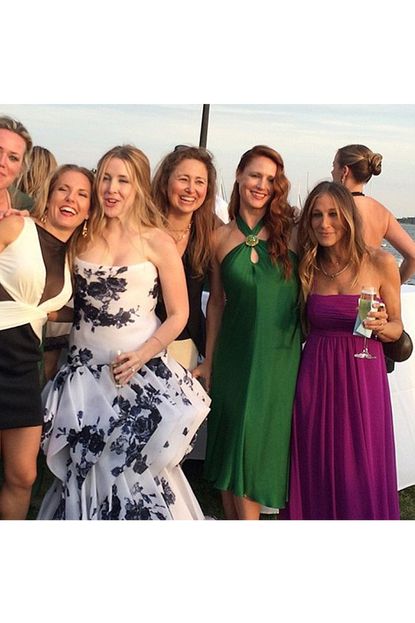 (Image credit: Instagram)
Sarah Jessica Parker was bridesmaid to her former Sex And The City assistant Melinda Relyea
Sarah Jessica Parker was on bridesmaid duty this weekend, supporting former Sex And The City assistant Melinda Relyea as she married James Kearns in a beautiful Connecticut ceremony.
The bride opted for a black and white gown with knife-pleat hip volumes (believed to be by Oscar de la Renta) and dressed each of her six bridesmaids in draped plum floor-length dresses.
The venue of choice was the First Presbyterian Church of Greenwich, with the reception being held at the Belle Haven Club – perfect for official photos by the sea side.
Attending with her husband Matthew Broderick, Sarah Jessica posted a bundle of stunning Insta-snaps from the event (see the gallery above for all the images). 'It's wedding day for Melinda!' she wrote beside a shot of her gown hanging up. 'My bridesmaid dress, stretching, releasing wrinkles and then a quick disco nap before heading towards church and a very joyous day and night. X sj'
Assistant to Sarah Jessica from 2000 to 2009, Melinda worked on Sex And The City series (even had a cameo role), Did You Hear About The Morgans (2009) and Failure To Launch (2006) in which SJP starred with Matthew McConnaughey.
After spending 9 years in the assisting role, Melinda was made an associate producer on both of the Sex And The City movies, as well as becoming vice president of Pretty Matches, SJP's production company.
Best boss ever? With the megastar graciously posing for selfies with the bride's family and friends, it certainly looks that way.
Celebrity news, beauty, fashion advice, and fascinating features, delivered straight to your inbox!