Robert Pattinson in good spirits during 'tipsy' interview
WATCH: Twilight actor in high spirits during an endearing appearance on Jimmy Kimmel's show last night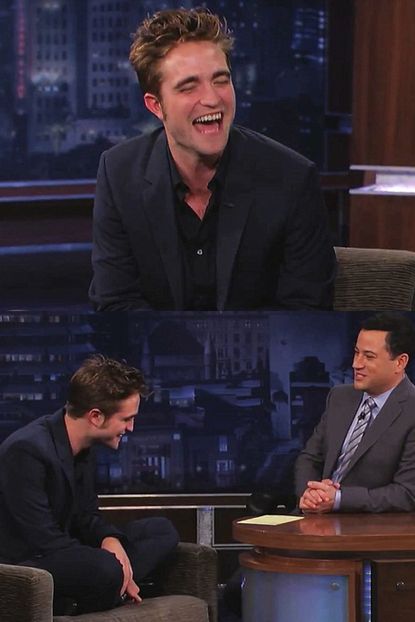 (Image credit: ABC)
WATCH: Twilight actor in high spirits during an endearing appearance on Jimmy Kimmel's show last night
A 'tipsy' Robert Pattinson was in a great mood during an appearance on Jimmy Kimmel's chat show last night.
The Twilight star looked great, sounded good, laughed and wasn't even the teeniest bit awkward during the engaging, interesting interview.
After admitting to sipping vodka backstage beforehand, the 26-year-old was a million miles away from his alter-ego Edward Cullen.
TWILIGHT BREAKING DAWN PART 2 PREMIERE PICS
Dressed in a very nice Gucci suit, the slightly flushed actor plonked himself next to Jimmy, prompting the host to say: 'I hear your shoes are too big.'
The ultra charming Englishman laughed, explaining: 'I feel like I'm a clown, I felt like I wasn't going to fall over.... and I just had a little bit of vodka backstage.'
'That is not a good combination,' he giggled.
Joking and laughing his way through the interview with ease, Rob even managed to keep the big bosses happy, sweetly admitting he hoped there would be a sequel to the Twilight films.
KELLAN LUTZ SLAMS R-PATZ FOR HINTING AT TWILIGHT SPIN-OFF
Rob also revealed that despite travelling the world he prefers to stay in his hotel room. 'I'm a freak, I want to stay in my hotel room all the time,' he says to Jimmy.
All in all, a funny, warm, cute interview.
ROBERT PATTINSON AND KRISTEN STEWART TO REUNITE DURING TWILIGHT TOUR
TWILIGHT BREAKING DAWN PART 2 PREMIERE PICS
Celebrity news, beauty, fashion advice, and fascinating features, delivered straight to your inbox!