Prince William on his proposal: 'I hid the ring in my rucksack'
The Prince carried Princess Diana's £28,000 sparkler around for days before he found the right moment to pop the question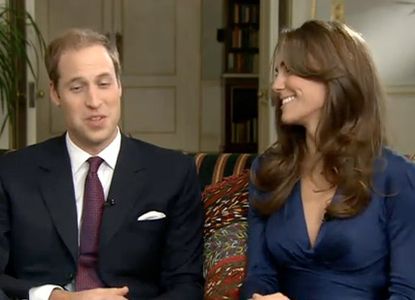 The Prince carried Princess Diana's £28,000 sparkler around for days before he found the right moment to pop the question
It was the day thousands had been waiting for. Yesterday Prince William announced he had finally popped the question to long-term girlfriend Kate Middleton, with an official spokesperson revealing they will marry in spring or summer next year.
And that's not all. In a single interview the sneaky Prince opened up on the details of his royal proposal, revealing he carried his mother's £28,000 sparkler around in his rucksack for days, before getting up the courage to ask Kate the big question.
SEE KATE AND WILLIAM'S FIRST PUBLIC PICS HERE!
Every inch the model boyfriend, William proposed to his Kate during a 'romantic' break at a luxury African lodge last month.
'I'd been planning it for a while but as any guy out there will know it takes a certain amount of motivation to get yourself going,' he told Royal reporter Tom Bradby. 'I was planning it and then it just felt really right out in Africa.
'It was beautiful at the time. I had done a little bit of planning to show my romantic side.'
But the Prince a little nervous about his proposal, and had been hiding Kate's giant rock in his rucksack for three weeks beforehand.
'I had been carrying it around with me in my rucksack for about three weeks before that and I literally would not let it go, everywhere I went I was keeping hold of it because I knew this thing, if it disappeared I would be in a lot of trouble and because I'd planned it, it went fine,' he joked.
'You hear a lot of horror stories about proposing and things going horribly wrong - it went really, really well and I was really pleased she said yes.'
And the solid sparkler is particularly special to William, as it belonged to Princess Diana. 'It's my mother's engagement ring, so of course it's very special to me. As Kate is very special to me now as well, it's only right the two were put together,' he said.
'It was my way of making sure my mother didn't miss out on today and the excitement and the fact we're going to spend the rest of our lives together.'
Meanwhile, the bride-to-be looked nervous, but smiled bravely for the cameras, and spoke about taking on one of the most important roles in the royal household.
'It's quite a daunting prospect but hopefully I'll take it in my stride, and William's a great teacher so hopefully he'll be able to help me along the way,' she said. 'I'm really looking forward to spending my time with William.'
WATCH the interview here…
Yesterday, well wishes were pouring in to the happy couple. Prince Harry revealed he was 'delighted' his big brother had 'popped the question,' adding: 'It means I get a sister which I have always wanted.'
And the Queen was equally thrilled, releasing a message on the Royal Twitter account. 'The Queen and The Duke of Edinburgh are absolutely delighted at the news of Prince William and Catherine Middleton's engagement,' it read.
What are your thoughts on yesterday's royal announcement? Let us know your thoughts in the comments box below.
PICS! KATE MIDDLETON'S ENGAGEMENT RING
PRINCE WILLIAM AND KATE MIDDLETON'S BEST MOMENTS
Celebrity news, beauty, fashion advice, and fascinating features, delivered straight to your inbox!