Prince William and Kate Middleton enjoy secret 'second honeymoon'
The Duke and Duchess paddled off to a remote Canadian island yesterday evening, where they ate a romantic meal alone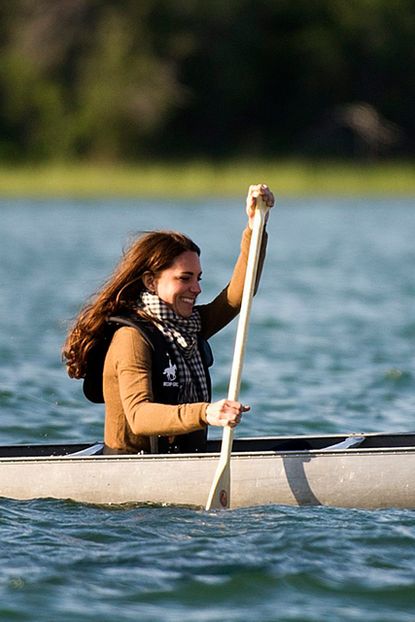 (Image credit: PA Photos)
The Duke and Duchess paddled off to a remote Canadian island yesterday evening, where they ate a romantic meal alone
They've been hotfooting it around Canada, attending a whirlwind of official engagements, but yesterday the Duke and Duchess of Cambridge finally managed to snatch some time for just the two of them.
Romantic Prince William whisked his new bride off for a secret 'second honeymoon,' on a remote Canadian island yesterday evening, after being made honorary Rangers at Blatchford lake.
SEE KATE AND WILLIAM'S CANADIAN TOUR IN PICS!
Official duties over, Miss Middleton's new hubby arranged a special surprise for his Duchess.
Leaving their entourage, security and assistants at the shore, the smiling pair paddled across the pretty lake to the uninhabited Eagle Island for a simple meal and an evening alone.
It's thought chefs had prepared a local meal of cranberries, bannock bread, caribou and white fish in advance, and left it on the island for the royal couple to enjoy.
'Its real name is Eagle Island, but ever since my wedding night we've called it Honeymoon Island,' local Tessa Macintosh revealed after Kate and William had set off.
'When I was taken there I thought my new husband was the most romantic man on earth and I'm sure that is just how Kate must feel now.'
She added: 'There is no doubt the island does have a special feeling. Once you are there you are surrounded by nature. Only the sound of the occasional loon bird in the distance breaks the silence.
'I think it is tremendous that they have decided to come here and spend time. They may not have long but after all the traveling and chaos of the past few days this really will recharge their batteries'
On their return, the Duke and Duchess are said to have described the evening as 'magical,' as they prepared for the next led of their tour.
SEE KATE AND WILLIAM'S CANADIAN TOUR IN PICS! MORE CELEBRITY NEWS
Celebrity news, beauty, fashion advice, and fascinating features, delivered straight to your inbox!