PICS! Gaga gets geeky at gay rights rally
The star dressed up to play politics, giving an impassioned speech at a gathering in the US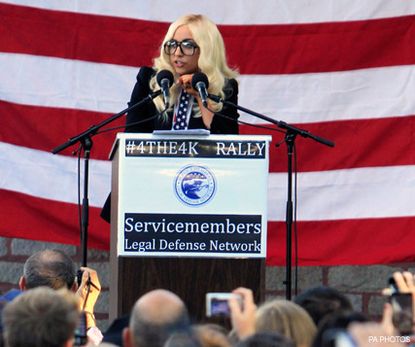 (Image credit: PA Photos)
The star dressed up to play politics, giving an impassioned speech at a gathering in the US
Is that you, Lady Gaga? The stay got geeky to play politics yesterday, dressing for business to give an impassioned speech at a gay rights rally in the US.
THE WEIRD AND WONDERFUL STYLE OF LADY GAGA
Donning a dowdy suit, stars and stripes tie, and thick specs, Lady G let rip tongue-in-cheek tirade, in the style of a presidential speech.
But the patriotically dressed star had an important message to deliver, urging others to help repeal the US military rule of banning openly gay people from serving in the forces.
'I thought equality was non-negotiable,' she shouted from a specially designed podium at the 4THE4K rally.
Gaga also blasted the 'don't ask, don't tell' mentality, urging those serving who don't support the gay rights movement to 'go home'.
'Don't Ask, Don't Tell is wrong,' she added. 'It's unjust and fundamentally against all we stand for as Americans.'
The songstress – who's recently been spotted out and about with ex flame Luc Carl - also fuelled rumours over her own sexuality (and threw in another bizarre meat reference) telling revelers: 'Equality is the prime rib of America, but because I'm gay I don't get the greatest cut of meat my country has to offer.'
WATCH Gaga's political speech here…
What are your thoughts on Lady Gaga's gay rights appearance? Let us know in the comments box below.
SEE GAGA'S SHOCKING MEAT DRESS
Celebrity news, beauty, fashion advice, and fascinating features, delivered straight to your inbox!