Justin Timberlake confirms he's releasing a new album after a six-year hiatus
Justin Timberlake is to return to what he does best: music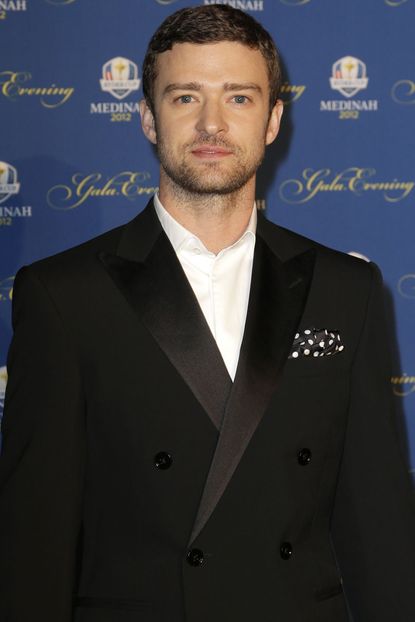 (Image credit: Rex)
Justin Timberlake is to return to what he does best: music
Justin Timberlake is turning his back on his film career for the foreseeable future and instead has announced he's going back to music and will be releasing his first album in six years.
JUSTIN TIMBERLAKE AND JESSICA BIEL STEP OUT AFTER PREGNANCY RUMOURS
In 2006, the former N*Sync singer took a well-deserved break from the music industry to tread the boards in Hollywood earning roles in Alpha Dog, Friends With Benefits, Bad Teacher and In Time. But now, after much speculation, the star has confirmed he's returning to his first love, music.
Instead of releasing a statement, Justin took a more inspired approach as he shared the news with fans in a video that he posted on his website yesterday (Thursday).
The black and white film follows the star in one continuous shot as he walks into a recording studio, taking to the mic at the end and simply saying: 'I'm ready.'
JUSTIN TIMBERLAKE HANDS OUT SUPPLIES TO HURRICANE SANDY VICTIMS
Via voiceover, Justin Timberlake explains why he took such a long break from making records as he reveals his passion for writing saying: 'Someone asked me the other day "So are you just done with music?" It means more to me than to anybody else in the world.
'Look I've only done two albums in 10 years that's the way I really look at it. What does the next decade mean for me? I'm the one who sits and is obsessive about it before you even get to hear it.'
And by the sound of things the six year wait is almost over, as a countdown clock has appeared on the website, with more news and hopefully a single to come.
To add to our excitement, Justin finished things off saying: 'As close as I get to it, I don't know that I could physically torture myself year in and year out and expect it to fulfill me the way that it does and the way that it is right now. I don't want to put anything out that out that I feel is something I don't love. You just don't get that every day. You have to wait for it... I'm ready.''
And, Justin, we're ready too!
What do you think of Justin Timberlake making new music? Will you be buying his new tracks? Have your say below.
WATCH! Justin Timberlake announces his return to music
JUSTIN TIMBERLAKE AND JESSICA BIEL'S RELATIONSHIP IN PICS
Celebrity news, beauty, fashion advice, and fascinating features, delivered straight to your inbox!