Jessica Biel and Justin Timberlake hand out supplies for Hurricane Sandy victims in New York
Newlyweds Jessica Biel and Justin Timberlake spent their weekend helping those affected by Hurricane Sandy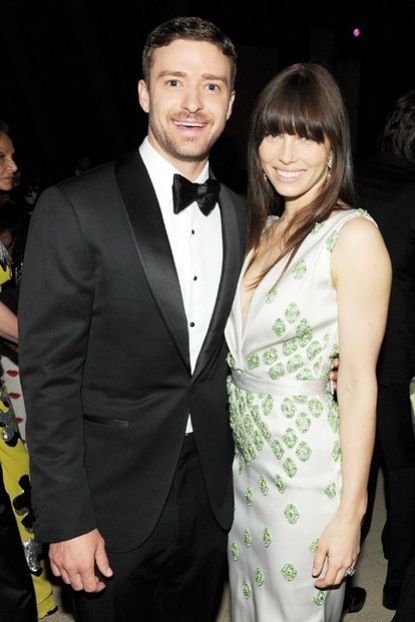 (Image credit: REX)
Newlyweds Jessica Biel and Justin Timberlake spent their weekend helping those affected by Hurricane Sandy
Jessica Biel and Justin Timberlake may have just returned from honeymoon, but they weren't interested in spending the weekend snuggling on the sofa, instead they got actively involved with storm relief efforts in New York in the wake of Hurricane Sandy.
JUSTIN TIMBERLAKE ON HIS WEDDING SONG FOR JESSICA BIEL
The celebrity newlyweds were seen handing out vital supplies to victims of the storm at the Rockaway shopping centre in Queens on Saturday.
TV station 13 WHAM reported the duo helped distribute food parcels and packages full of essential items to people who have been affected by the hurricane that struck the East Coast on 29 October.
Fresh from their no-doubt ridiculously romantic honeymoon in Tanzania, Jessica and Justin got straight into their charity work and even brought along their friend, and Justin's long-term colleague, producer Timberland, who also helped out.
JESSICA BIEL'S WEDDING DRESS DESIGNER SPEAKS OUT
Three days after Hurricane Sandy, Justin tweeted his support posting: 'Taking in the devastation caused by Hurricane Sandy... my thoughts and prayers go out to everyone that was affected.' Jessica and Justin aren't the only stars to show their support to New Yorkers, Lady Gaga donated $1 million (£629,000) to the American Red Cross while Justin Bieber has promised to donate a portion of proceeds from his upcoming concerts to the cause.
What do you think of Jessica Biel and Justin Timberlake helping out with relief efforts? Should other celebrities follow suit? Have your say below.
Watch Jessica Biel and Justin Timberlake's best moments in our video:
JESSICA BIEL AND JUSTIN TIMBERLAKE'S WEDDING VIDEO SPARKS OUTAGE
JESSICA BIEL STYLE HIGHS AND LOWS
LADY GAGA DONATES $1 MILLION TO HURRICANE SANDY RELIEF EFFORTS
Celebrity news, beauty, fashion advice, and fascinating features, delivered straight to your inbox!